Well, it's official.
The Summer of 2016 is over, Labor Day is past and kids everywhere are back to school! I know there's a whole lot of thrilled and excited parents around the world as well too! In fact, I have to admit I was rather giddy when Mackenzie started back to school on August 15th…and I can hardly believe that she's a second grader now! But before I start to digress and get all weepy about my baby growing up, I want to tell you about a new product that we LOVE…and I know you are going to love it too!
We recently started sharing a boat with friends (oh right, I didn't tell you about that yet?!) Boat days have become a weekly occurrence in our household, with lots of fishing, sun and fun.  There are few things better on Earth than spending a day on the water…
But what isn't so great are the tangles and rats' nests that develop in your hair after a day of being windblown and salty.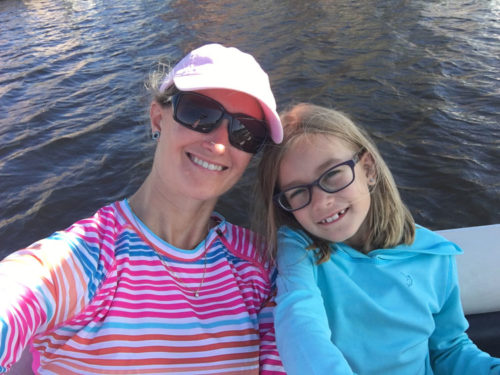 In addition to lots of saltwater torture, we also spend a lot of time in the pool (almost year round)…and that really takes a toll on your hair! No one wants to stand around for an hour after having a day of fun just to brush out knots, right?
As summer was getting started, the awesome people at So Cozy reached out to me and provided a few products that we couldn't wait to try out…designed especially for kids and summer hair! You may have recently read about how great their products are here on No Ordinary Homestead when we had the opportunity to try out there wonderful Boing line for curly hair.
We were excited to give them a go, and we did our best to punish our hair with lots of sunshine, wind, salt water, chlorine and more! Not only were we doing a lot of boating, but Mackenzie was at a different summer camp each week, some of which had here in and out of the water all day long.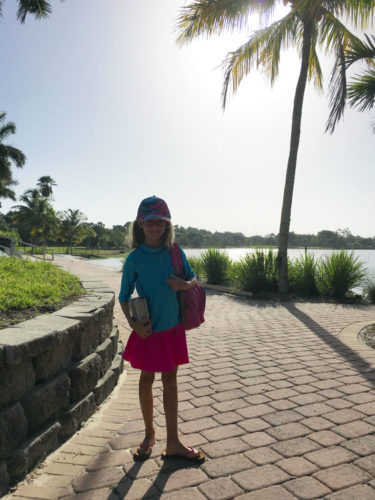 Meet the So Cozy Swim Collection
Swim 3-in-1 Shampoo + Conditioner + Wash is a great product that makes the after-swim process so much quicker. It cleanses and replenished damaged hair after a day at the pool, playground or beach, and leave you squeaky clean from head to toe. I love the fragrance of these products have, which is a limey vanilla they call Loco-lime. Activated charcoal adsorbs and removes unwanted green tones, calcium salts, and chlorine buildup from the hair. A special blend of antioxidants and vitamins infuse hair with moisture while restoring hair health.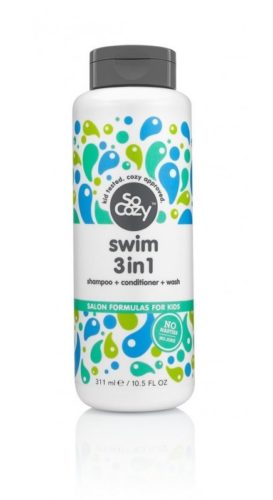 Swim Leave-In Treatment + Detangler is my all time favorite detangler now. Not only does it smell awesome, but it makes those tangles so much easier to tame! This ultra-hydrating leave-in conditioning treatment protects, repairs and restores damaged hair and is formulated with UVA/UVB filters, which will protect your hair from the moment you step out into the sun!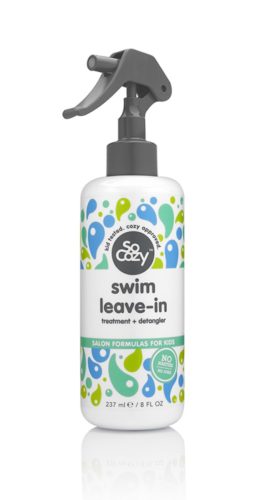 What I Love About So Cozy Swim Products
Super soft hair – After using these two products together, my daughter's hair becomes super soft, like a bunny rabbit! So nice to brush and style.
Awesome smell – I have yet to meet a So Cozy product with a smell I don't love. This Loco-lime is sweet, refreshing but not overpowering…and leaves your hair smelling heavenly and clean all day.
Fabulous ingredients – So Cozy products are salon quality, but meant for kids (don't tell Mackenzie I love using hers all the time!). The Swim line contains ingredients like activated charcoal, phytic acid & vitamin C blend, beeswax, sunflower seed extract, hydrolyzed jojoba esters, coffee seed extract and pomegranate juice extract to make hair luscious, nourished and clean.
Fun packaging, perfect for small hands – I love these little bottles, and the sprayer with this Leave-In is fabulous. Very wide and generous stream.
Stock up on So Cozy Swim products today on the www.SoCozy.com with their BOGO special. Just use checkout code SPLASH to save a bundle!
2