In keeping with the theme of gifts we've received so far…here are more of the goodies Mackenzie has managed to score in the last few months. We are so thankful to everyone who has sent us gifts and cards. You're all so good to us! 🙂
Our friends Daniel & Henni gave us this little collection of gifts. Actually there is a cup set and rattle that came with this too…but they were elsewhere when I was photographing stuff. Sorry guys!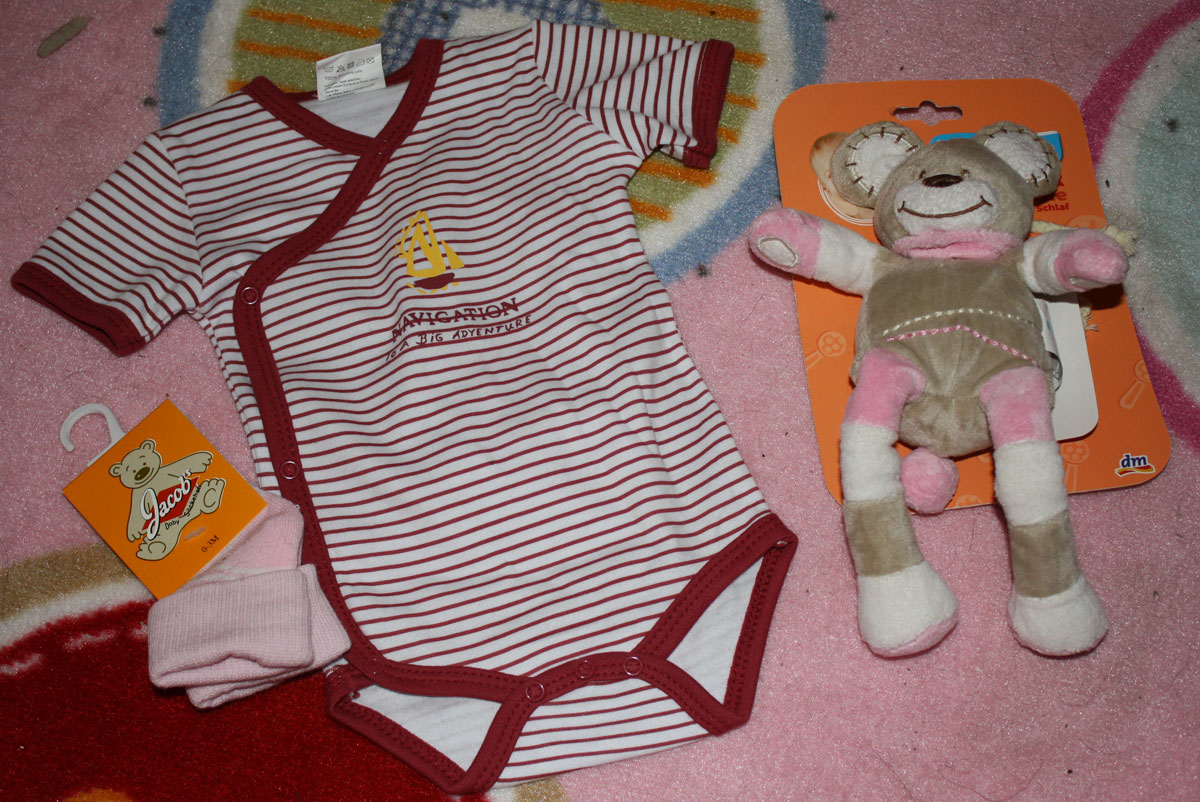 A gift from Stefan's Aunt Renate & the Emmertingers for when Mack gets just a bit bigger: the classic Bobby Car. These are legend here in Germany. You have to have one or you're just not cool. She can start using this when she starts learning to walk…apparently it's a big help for that. And the little shoe covers are supposed to be fantastic; otherwise kids will go through lots of shoes stopping themselves on the pavement. I think Stefan is already making plans to try this guy out himself in the courtyard…it has just enough incline to be fun without hurting anyone. I'm sure Ayla would LOVE that. 🙂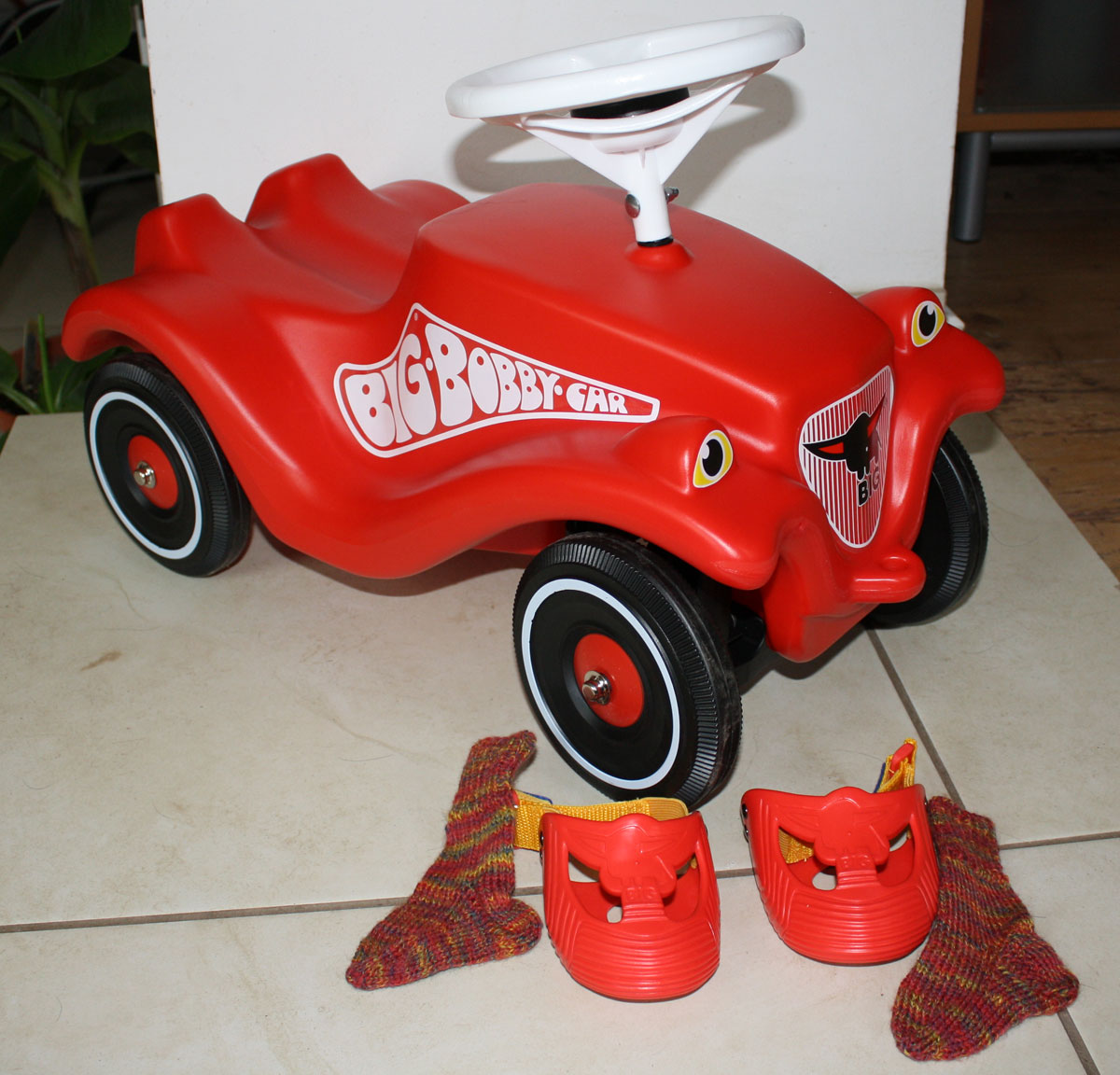 From the K-mer family (names changed to protect the innocent lol) we got this super cute little sun hat, a really awesome cloth book with all sorts of textures and colors for Mack to check out…and a little journal book which we are trying to determine how exactly we'll be using it. The grandmother of two little girls (and a grandson on the way) makes a diary entry every time she sees her grandchildren, documenting what she's done with them that day. And as they get older, they'll be able to go back in time and remember all the fun times they had together…a nice idea we think. 🙂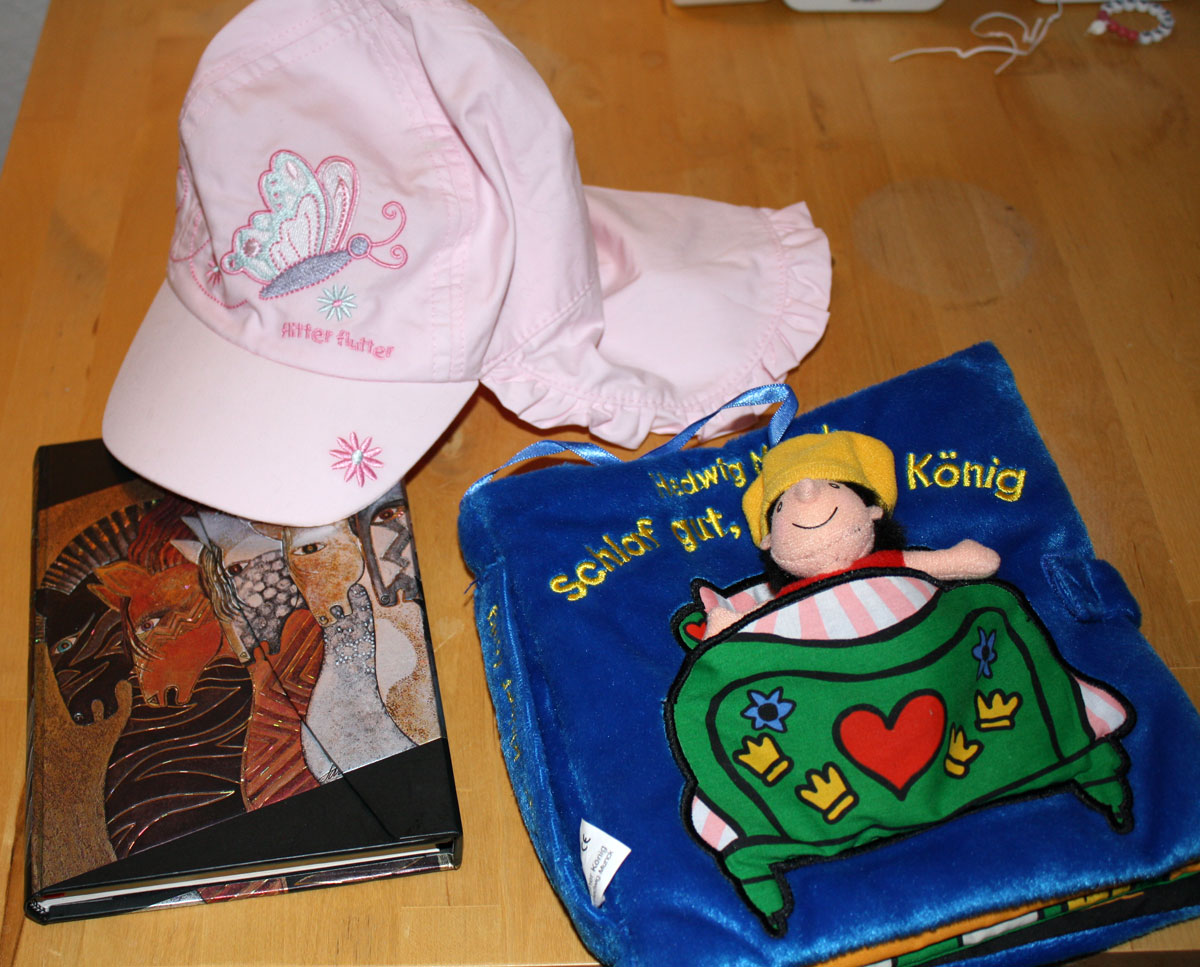 Stefan's grandmother gave us this ADORABLE outfit when Mackenzie arrived. Little shoes and everything….oh so cute! She also sent us a sinfully good box from Lebkuchen Schmidt…we've eaten most of them already. To keep them from going stale of course. 🙂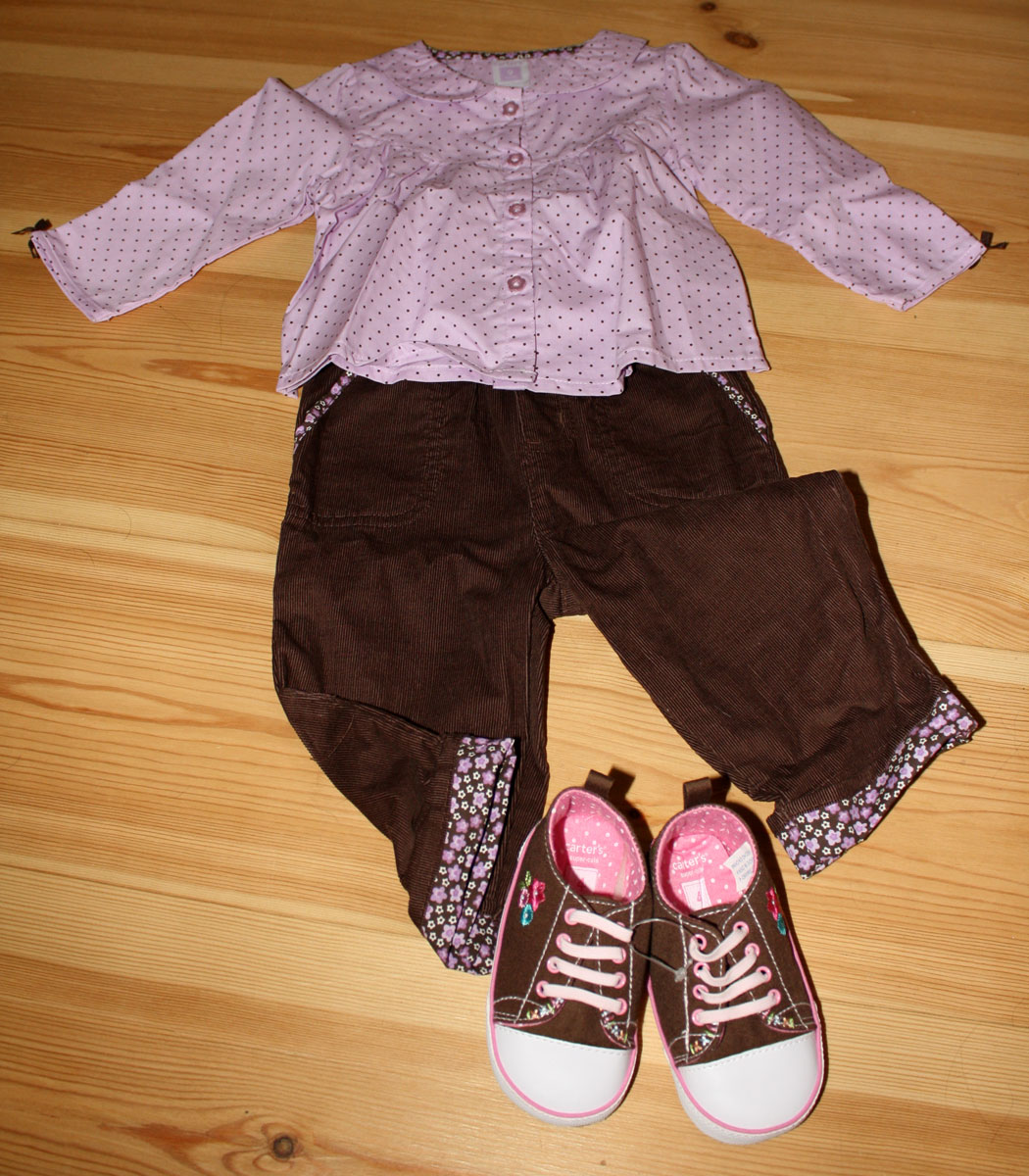 Some gifts from Stefan's family in Washington. I can't wait til she can wear this little jacket! How adorable are kids clothes these days? Mackenzie is going to be better dressed than we are.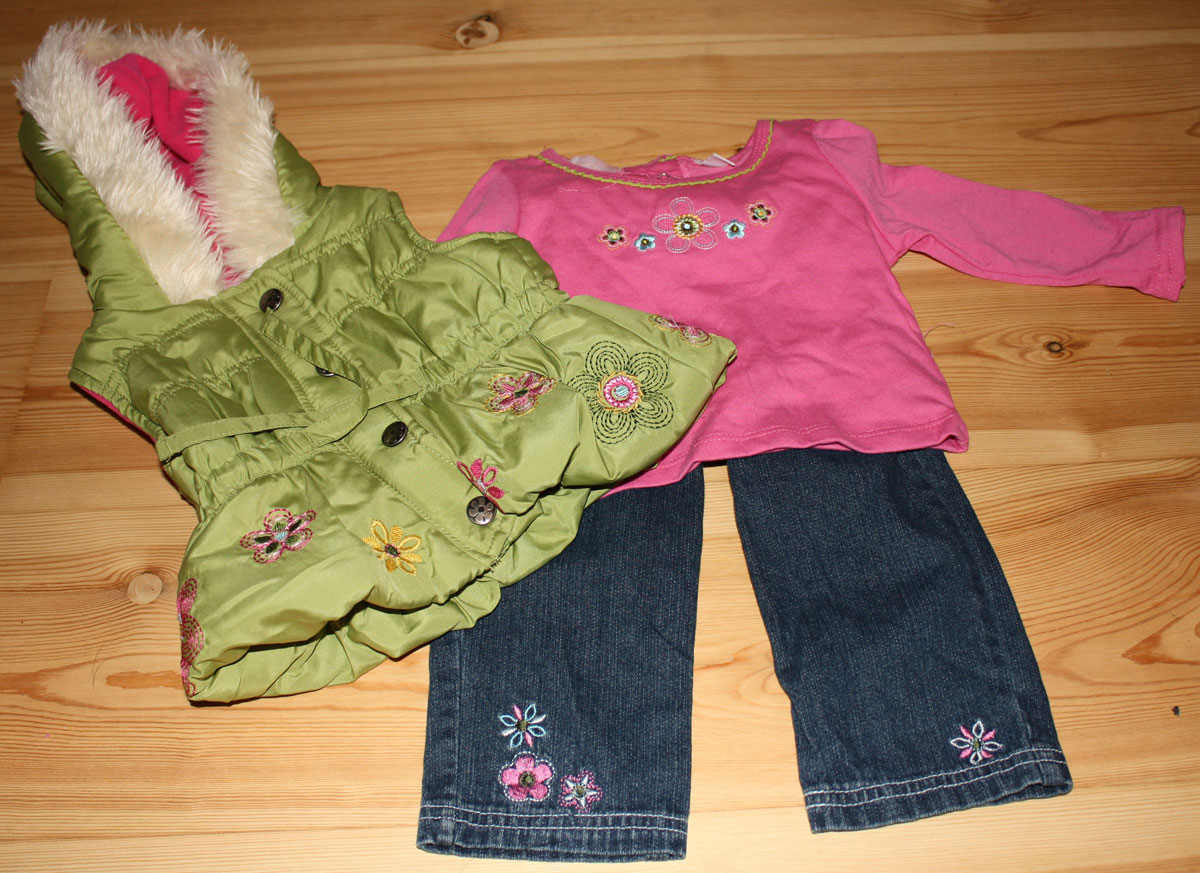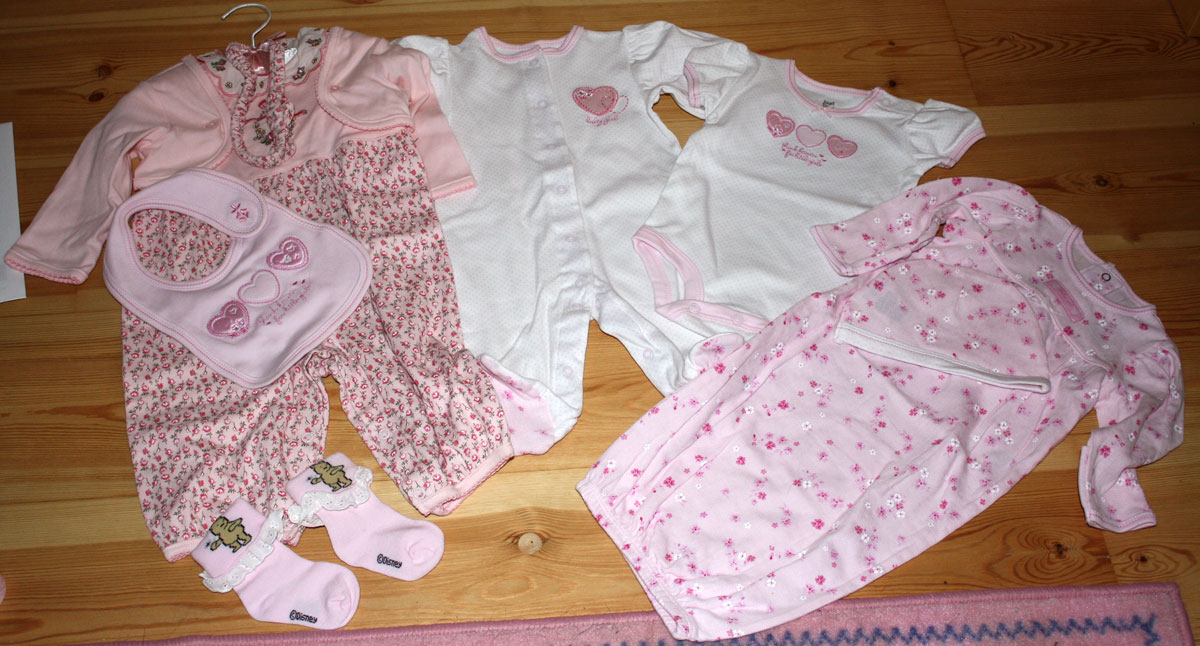 Now this is a smart little gadget. No more sticking a thermometer where the sun don't shine. A friend had just been telling me about how fantastic these things are when this one arrived from Stefan's uncle in Washington. Right on 🙂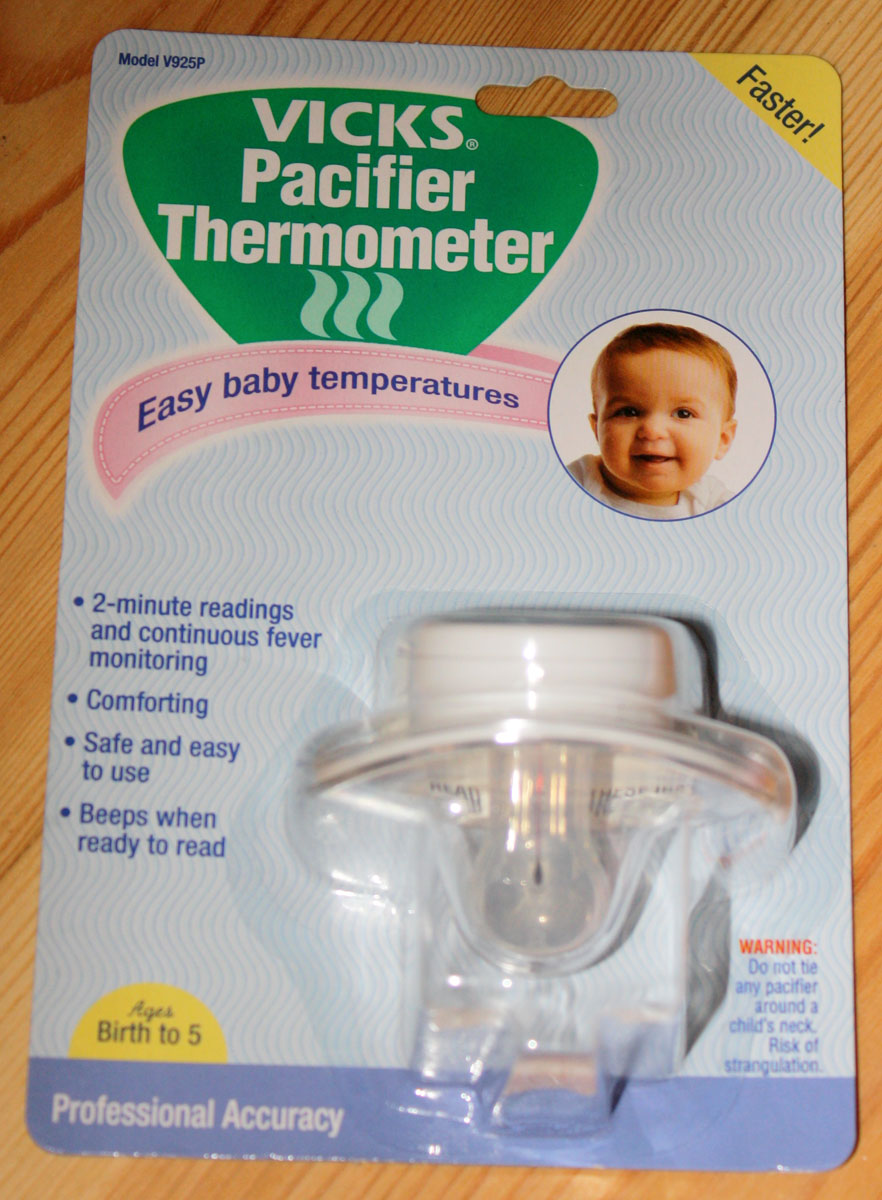 Sweet, don't you think? Something we need to find a home for in her room…or with photos of her. Not too sure yet.
Our wonderful friend Norma in Naples gave us this silver rattle from Tiffany & Co. I always hold things in these extra special little pale blue boxes dear to my heart since they also bear my name. 🙂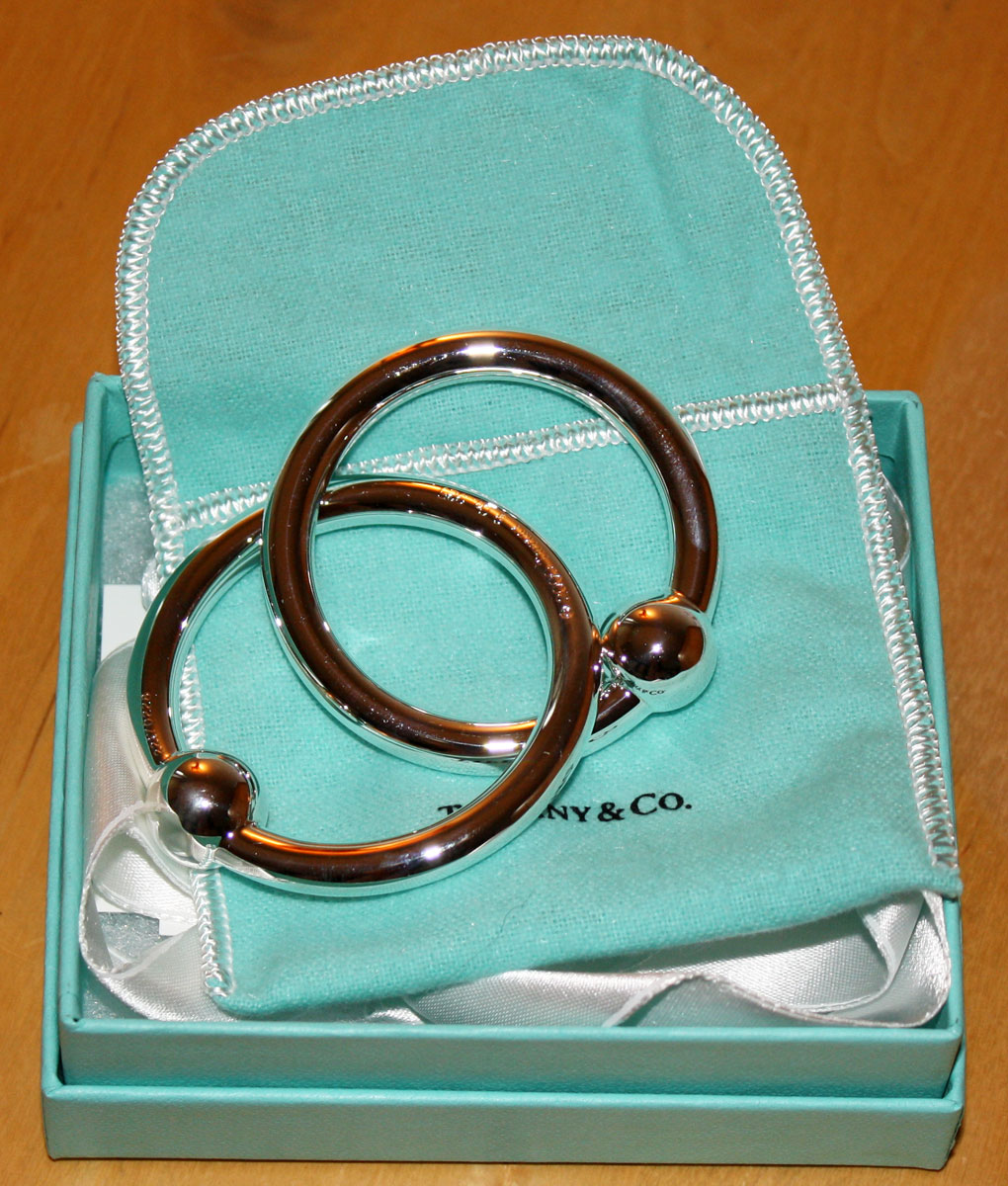 We received these super cute little Minnetonka Moccasins from friends in Naples, FL. Their other home is in Maine…hence they know the true importance of sheepskin.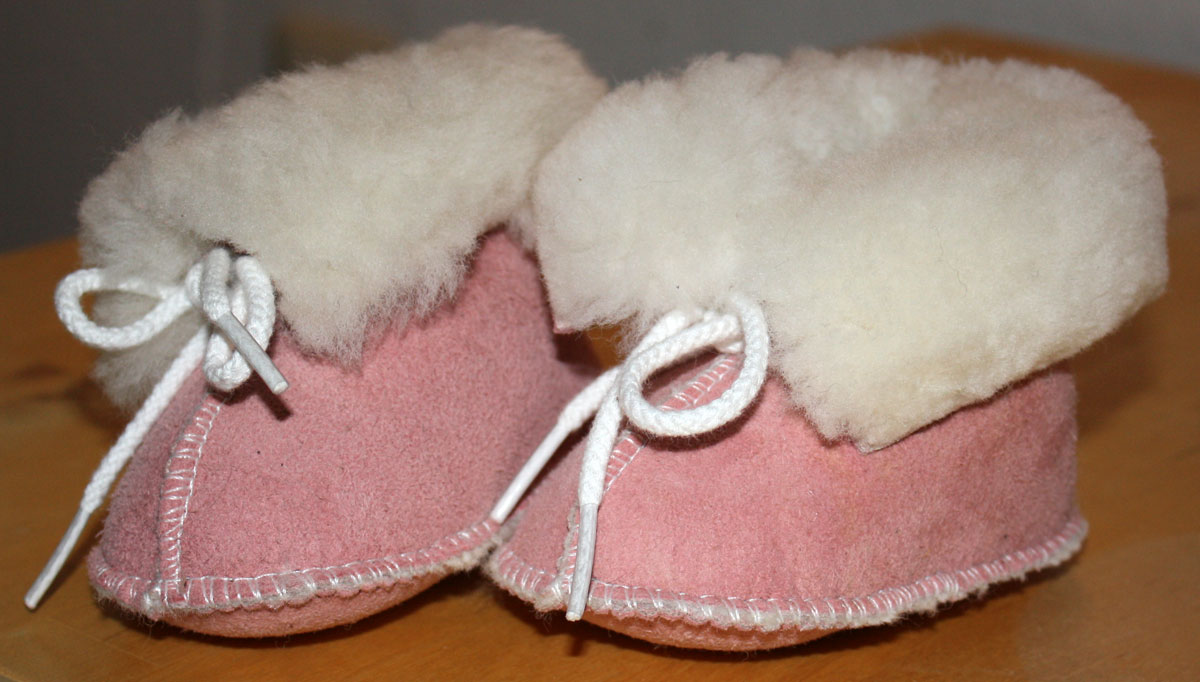 Annette & Juergen gave us this super cute little sweater & t-shirt. And how adorable are those little knit booties?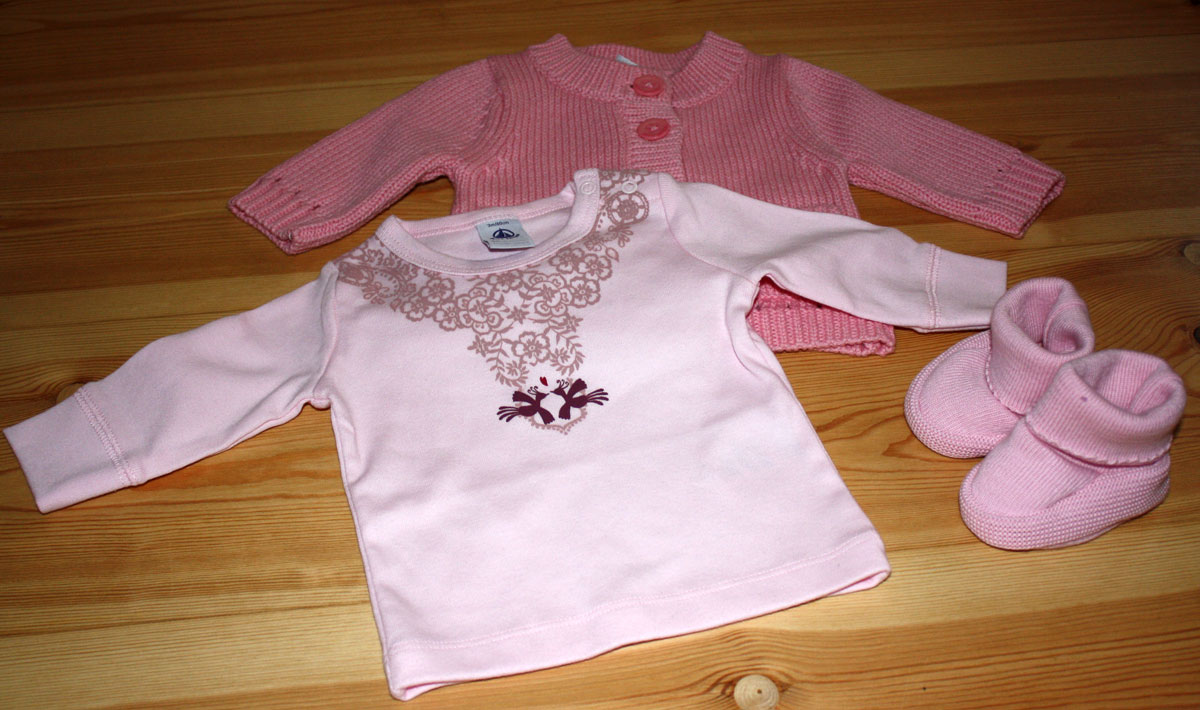 A gift from our friend Tanja which she gave to us months ago, before we knew if we were having a girl or boy…hence it's yello. This is one of the few things that actually fits Mackenzie right now since she's so tiny. 🙂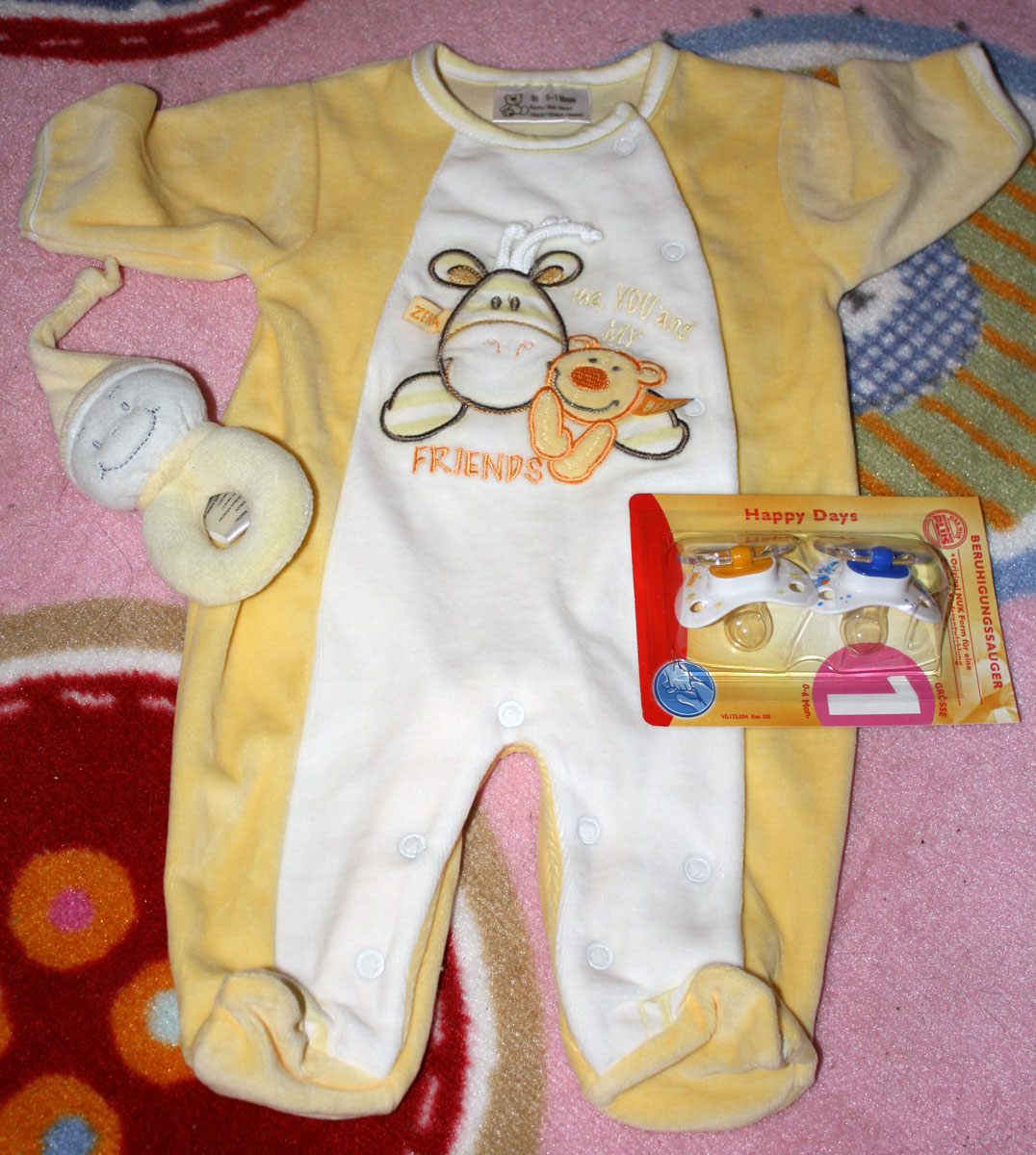 And this is a majority of the stuff from the hospital. I already drank most of the breastfeeding teas. The tall thing is a diaper pail that uses the trash bag cartridges. Unfortunately, they forgot to actually include cartridges so we have to get some before we can use it. Good thing we already bought another one…we'll have to see which we like better. 🙂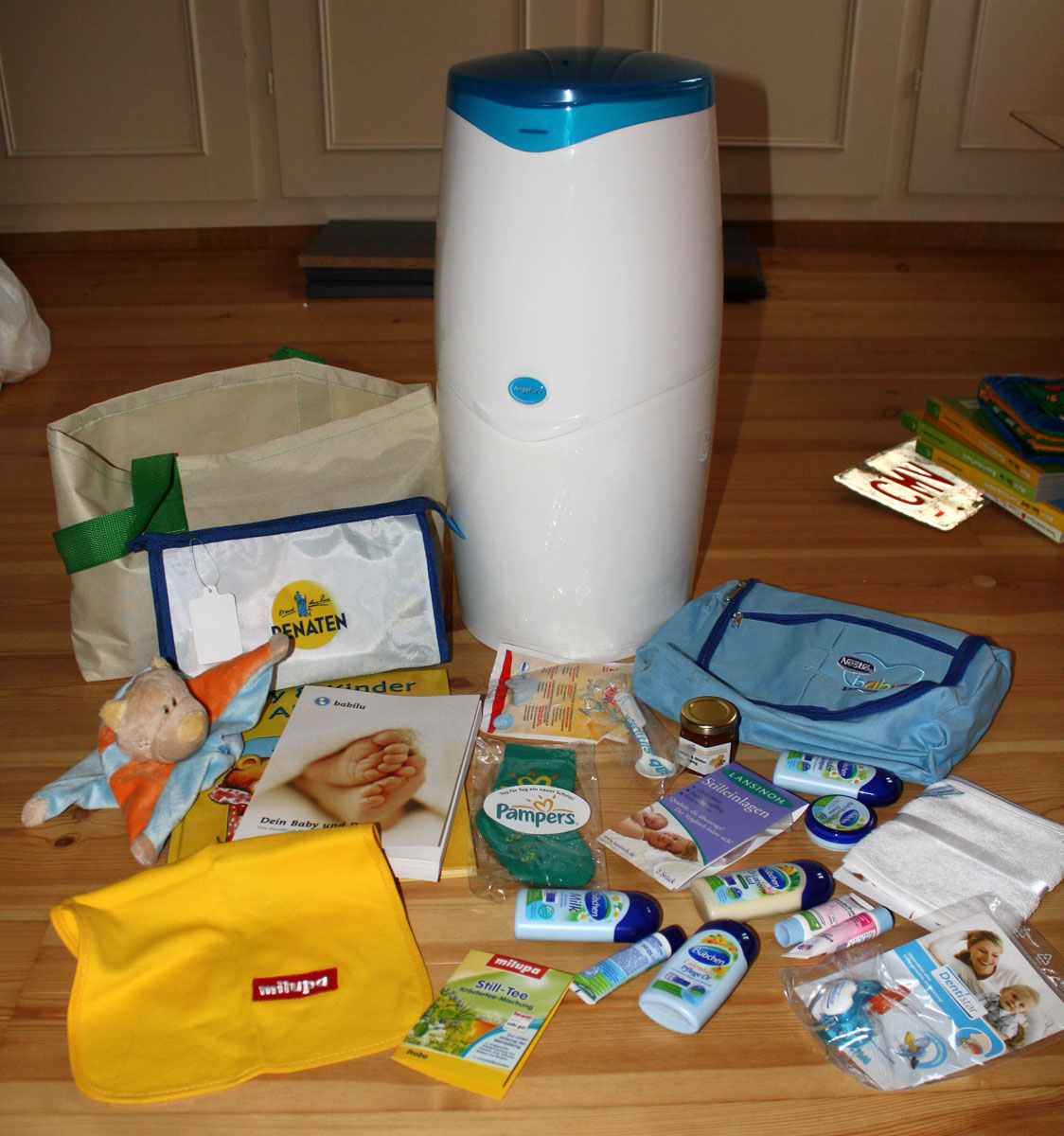 Thanks again to everyone!!! We appreciate the gifts so much and know Mackenzie does too…cause one things she really hates, is being cold. And with all these adorable clothes, that's not going to be an issue. 🙂
0