This past weekend has been a whirlwind of activity, excitement, learning and fun! Here in Berlin was the second ever European blogging conference, The Hive, and the first blogging conference I've ever attended. As I was saying on Friday I was rather nervous about what laid ahead, and mostly my public speaking engagement. But as you probably guessed, I did my best to rock it, and although we're all a bit exhausted after the action-packed weekend, we got a lot out of it!

Tomorrow, I am going to talk more about my presentation about the value of newsletters for bloggers and businesses, and how you can get started — I'll even share a link to the presentation I made– but right now, I wanted to mention some of the highlights of this great event.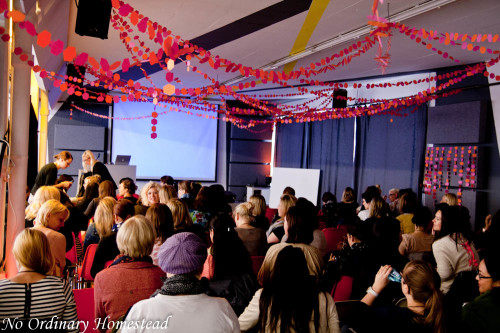 The Hive is a two-day blogging conference focused primarily on lifestyle and design blogs. Many of the bloggers are based somewhere in Germany but there were quite a few others from all over Europe there as well. The vast majority of participants were women (98% at least) with maybe 10 guys in attendance. 😉 It wasn't really because the presentations were geared toward women either — it truly was just general info and we had a few male speakers. But somehow that's just how it worked out.
Presentations I Enjoyed
There were some really great presentations held during the weekend and I really got a lot out of the event. Here's a quick recap of some of the highlights, in the order that I saw the presentations:
Blogging for Fun — I've always thought that I moved around a lot in life. But Tina Fussell from Traveling Mama has me beat when it comes to significant moves from country to country. We got to meet on Friday night at the dinner and instantly found we had a lot to talk about. Tina's presentation about making sure to have fun while you blog, regardless of what you blog about or whether you make money from it, was really thought provoking. I think she really managed to speak to the soul of many bloggers, and reminded us that when we lose the love and passion, we start to lose ourselves. And blogging (and the time we spend doing it) really isn't worth it if you can't say you love it. (Be sure to check out her blog and her incredible photography.)

Blogging for Business — Eleanor Mayrhofer (of e.m.papers which you've heard mentioned a few times on NOH but also of Wahlmünchnerin, her personal blog) gave a nice presentation about the important of blogging when you are a business owner, and gave us a few insights into her own processes for selecting blogging subjects (like keyword targeting in AdSense.)

Creating Online Classes — Since I've been publishing online courses for several years now, it was really interesting to hear how another entrepreneur and blogger, Sophie-Charlotte Chapman of Ma petite valisette, hosts her own online workshops. Although Americans have already fully embraced online learning, those here in Europe are just starting to catch on to this brilliant option in remote education. And after sitting in this class, I think perhaps I have often made things much larger and more complicated than necessary. So I'm looking forward to acting on some new ideas that are popping up in my head. 😉
Food Photography Workshop — Ailine at Aicuisine writes her love food blog in both English and German, and she can work magic in front of and behind a camera. She taught us a few tricks of food staging (just use what you have people, forget the crazy props) and gave us some tips about not only using our cameras better and using angles, but also opened a lot of people's eyes to the power of Lightroom.

Canon Workshop — If ever there was a presentation that made me want to drool, this was it. Canon brought a whole bunch of goodies for us to touch and play with, the most awesome of which were the Canon 6D with one incredibly awesome new telephoto-macro lens on it (the fisheye was also killer) and the new Powershot N, which is a pretty sweet little gadget for fun photography on the go.

What I Liked About The Hive
An awesome collection of speakers — Not only were they all very knowledgeable about their own topics, but these bloggers & business owners are amazingly open and willing to share their secrets to success with others. Rarely have I been in an environment that facilitated learning and encouraged questions long after the conference was over as much as this one. Learn about the speakers at this year's The Hive Conference here.
Finally getting to meet people I have known online for YEARS — In the blogging world, years may pass before you end up ever meeting people face to face — but you usually feel like you've known them forever by the time you actually meet in person. This weekend, I not only got to meet Eleanor (see above) but also Kate from An American in Wiesbaden and Melody from Global Family Treks, as well as reconnect with a few others who I haven't seen in a long while. Next time, I also hope to meet their family's too — but this weekend was just far more hectic than anticipated.

Onsite babysitting — I really appreciate that the organizers of The Hive noticed this need and fulfilled it. Two professional babysitters were hired for both days of the event and they managed to not only keep the kids amused, but totally wore them out. And the price really could not be beat! Mackenzie thoroughly enjoyed herself, and I didn't have to worry about what was going on back at home, half-way across the city.
Speakers-only dinner — Being a speaker at an event like this always has its perks. And the dinner we were invited to the night before The Hive started was definitely one of them. At conferences like this, it's nearly impossible for the speakers to get a chance to really talk to one another. So I really valued the evening I got to spend getting to know a few more of these great bloggers in person before things really kicked off!

Fun sponsor booths — The photobooth where you got to take fun and silly booth photos of yourself and the "Make Your Own Lip Gloss" stand from Etsy were by far the biggest hits when it came to sponsor booths. In fact, I think they would have rocked at any type of party too. 😉

The really awesome blogger map — This awesome map was created by one of the attendees of The Hive (unfortunately I didn't catch her name or the name of her blog) but I really love this idea. Bloggers in attendance were encouraged to grab a hole punch and some string and hang their business cards

What I Was Less Crazy About
The location — There are pluses and minuses about betahaus, and overall I'm kind of on the fence about what I thought of having this here in general. The space is fairly versatile and cozy, but being on so many floors at once made things a bit confusing and chaotic at times, especially when changes in the schedule arose. Once thing is certain — I was highly impressed with the quality of the food and loved the availability of drinks in standing fridges at the back of every room. Next time, they might want to only include drinks that can be closed up again since spills were very prevalent, but in most of the rooms this is only a temporary issue. But if The Hive grows beyond 250 people, I really don't see it being viable to hold the event there anymore, because it was already quite crowded and since there is only one staircase going up and down, I really don't want to imagine what it would be like in an emergency situation.
All in all, The Hive was a fantastic event and I look forward to the upcoming events that they will not only be holding in Berlin, but also Copenhagen!
0