This summer, we vacationed a bit differently than usual. We've done several camping, Orlando and cruise vacations in the last few years, which have all been a lot of fun. But we hadn't tried any rental houses yet, which we enjoyed doing several times while still in Europe.
When we lived in Germany, we went camping a few times, and also took several vacations to rental homes in nearby cities. It was always a fun experience, especially one stormy weekend trip to the Dutch island of Texel with Ayla, where we had a huge house and most of the island all to our selves. We also did an unforgettable weekend getaway to London with Air BnB which was an awesome experience, allowing us to move into someone's small 2 bedroom flat for a few days with Mackenzie.
There is something really special about staying in a home versus a hotel that makes you feel much closer to the local city life around you. To me, there are few things better than getting to experience a city through immersion as a "local", especially if it's not your first visit to that city, but you've never seen it from that perspective so you never realized what you were missing.
How I Wound Up Looking at Houses
In college, we were all about weekend trips to Key West in standard luckluster hotels with lots of alcohol to be consumed. Now that we're "responsible adults" and parents, we have slowed our party ways considerably. Most of the time….
It's hard to find a vacation spot with weather and scenery better than Naples. But Key West has always held a special place in our hearts. Last year, we visited a hotel in Key West that is rather unlike most others, consisting of a bunch of bungalow-style townhouses, built around four pools, a bar, the main house and tons of foliage. Its absolutely beautiful without being over the top and we really enjoyed ourselves there at the Parrot Key Resort.
It was great for just the three of us to have a long weekend getaway…but if you're planning to go with several friends or a couple of families, a hotel doesn't offer a lot of privacy…or the ability to stay up late and hang out. Not that we usually make it past 11:30pm. But in case we maybe DID decide to give it a try, we didn't want to get in trouble with hotel staff or security.
So we started looking around online and WOW are there a lot of cool houses in Key West! There are also lots of amazingly expensive houses in Key West. If you've ever walked around downtown and admired those beautiful old Victorian style homes with the big porches, then you know what I'm talking about. And if you've never looked up the sales prices, they start at around $2 million…for one that is kinda dingy and is only for private use. If you want to be able to rent it out, you're looking at $4-5 million and up. It's all about location when the whole island is only 4 square miles big.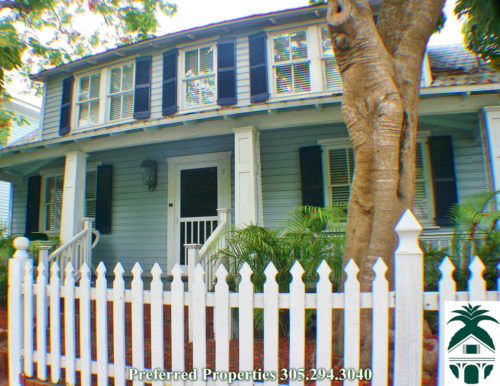 About The House
The house we ultimately rented is called the Pagitt House and it's a lovely little place, just a few blocks away from the hustle and bustle of Duval Street. It's also walking distance to Mallory Square and the many attractions around it. So once you arrive, you don't have to drive your car again until your vacation is over. Woohoo! That's a super good thing because parking in Key West can be a challenge!
If you want to experience the madness and partying that Key West offers around the clock, you absolutely can. Or you can just retreat to your pool and solitude to enjoy the peace and quiet…which is often what we did in the afternoons, after a day of exploring and sightseeing.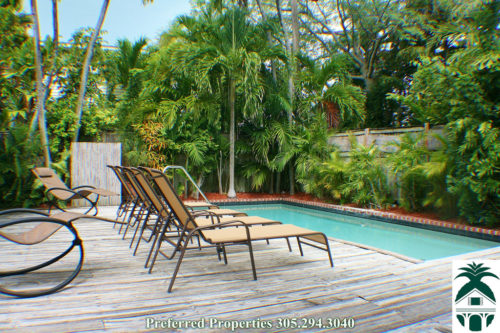 The Paggit House is not super fancy, and it definitely needs some TLC in places and serious work done on its decking outside. Even still, it's the perfect house for 2 couples and 2 kids who get along great…or 3 couples who just want to escape. We did a bit of both during our vacation stay and it was everything we hoped it would be. Relaxing, fun, exciting and delicious.
The house has a master bedroom, living room, dining, kitchen and large bathroom downstairs. Upstairs are two bedrooms and a bath. If you go in the summer, you'll be happy to find that there are separate A/C units in each bedroom to cool things off if the central A/C is getting the job done. Downstairs, we found the central air to be plenty, but upstairs did get warmer with the summer heat.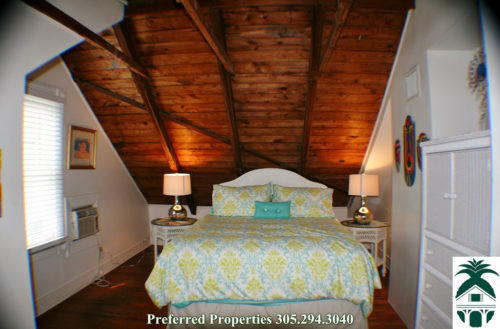 We found the house to be stocked with virtually everything we could have needed, and then some. Towels, sheets, sunscreen, kitchen staples, pots and pans galore….The only thing lacking were the knives. So if you plan on doing some cooking, bring your own.
Want to do laundry? You've got a washer and dryer. Feeling a bit warm? Just turn on a fan…you'll find one in almost every room!
Discovering A New Side of Key West
Because the house was so centrally located, we could walk to any shopping, restaurants, bars, ferry docks, etc. that we needed to reach.
Since we had an entire kitchen out our disposal and a nice gas grill, Stefan decided to cook a gourmet meal for us, including fresh grouper from the wonderful Eaton Street Seafood Market around the corner (801 Eaton St, Key West, FL 33040, and many other goodies from Fausto's, Key West's fabulous fine grocery experience (522 Fleming St, Key West, FL 33040). There was also more than one drug store within a few minutes walk.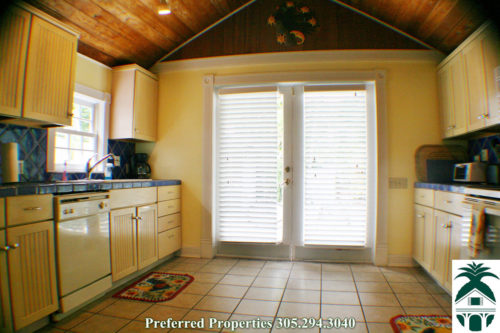 Naples is nice and the weather is awesome. But after being in Naples for nearly three years now, I had rather forgotten how nice it is to be able to walk to places. In Naples and many other areas, you are forced to drive to everything because there is no urban density. We are slowly starting to see trends toward more "walkable" cities, but after spending 18 months in Berlin, that was one of the things I loved the most. I actually was able to walk everywhere I needed to go in Berlin within 30 minutes. And if I couldn't reach my destination within that time frame? Well, then I might just stay home. 🙂
There are always two extremes and two sides to the coin. I'm glad that we had the opportunity to experience a more laid back, relaxed Key West this time. We did experience a few power outages…and a short period of time where we were not allowed to drink the water without boiling it first, but hey, it's an island.
My eyes have been opened to vacation houses and I see many more of them in our future. Maybe we'll even find some that don't require a minimum of a week…or more…to stay.
Also, if I win the lottery, a house in Key West would be towards the top of my list!
Have you ever vacationed in Key West? Or in a vacation home? Share your best sand worsts with us!