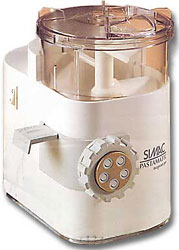 We eat a lot of pasta and there is nothing like fresh pasta. So we figure that an investment into a pasta machine wouldn't be such a bad idea. But we are picky and if we buy something, we want it to be something we're going to love and get the most out of it. So we've found a pasta machine that we think is quite fantastic: The Simac Pastamatic PM 1400. This puppy is the Ferrari of automatic pasta makers.
I know it takes some of the authenticity out of it, but I really don't have 3 hours to spare on kneading the dough and all that. If I can just pour the ingredients into a container, push a few buttons and get the process rolling, I'm quite happy and will enjoy the pasta just as much if not more. That's part of the reason why I love my bread maker so much. This allows me to focus my time on other stuff like gardening or one of the million other projects around our house.
This website is pretty good and gives all the important information about the appliance…but their prices are rather high so shop around. eBay has some really good deals here in Germany.