The wedding season is upon us and you may soon find yourself looking to decipher ever-changing fashion trends or even attending a more traditional wedding that includes an ethnic celebration. If you have the pleasure of attending an Indian wedding, Wedding Saree is the most versatile garment ever, and wherever you go be it to a party or wedding, you can drape it and look absolutely ethereal. These tips from an Indian friend will have your on the right track to a beautiful, elegant saree for your next event.
Top Indian Wedding Sarees Which are on Trend
We Indians cannot think beyond and opt for sarees to make us look elegant, stylish and stunning at weddings. It can hide a multitude of sins and make us look slim and sensuous. But the sarees too have undergone a myriad of changes, but it has always kept with the times, never falling behind. Even when the fashion scene has been bombarded with fresh new styles every season the wedding saree has taken bold strides on the runway. So, let us discuss some of the fresh and in vogue styles which are giving a stylish twist to the latest wedding sarees.
Traditional Sarees – We have, to begin with, traditional sarees for a wedding. Any wedding is incomplete without the resplendent kanjeevarams, the cotton of Bengal or Andhra Pradesh, the gorgeous bomkai from Orissa, the muga silk from Assam, the list goes on. The rich textiles of our country should never be ignored. In fact, this should be your go-to look if you want to look elegant and classy.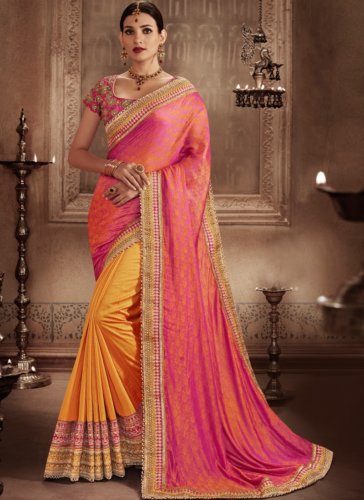 The Saree with Cape Blouse- The cape has been able to stir the fashion feathers of most fashionistas, in the right way of course. It is a bold new trend which can make you look uber stylish and beautiful at the same time whether it is a sheer cape or a heavily embroidered one. It makes your saree stand out amongst a crowd. Be it pastel-hued or bold bright colors, it is just going to make you look stunning. Get your blouse stitched now and give right company to your saree.
Saree Without Pleats – Saree with pleats becomes too difficult to carry for some newbies in the fashion circuit. Wear it with ease, no such worries of your pleats slipping and catching you unawares.
Color Blocking Sarees – We have a penchant for pastel colored sarees. But trends are made to be broken and made again. Color blocking saree is the way to go now, the wedding season gives you ample opportunities to flaunt your beautifully color blocked sarees, color blocking is amalgamating contrasting hues in one saree. It can be on your pleats or pallu, anything but it gives a dramatic element to your saree. Try it at the next wedding you attend and floor everyone with your glamorous avatar.
Shimmer and shine – One of the hottest trends in wedding wear sarees is shimmer and shine sarees. Metallic hues are all the rage now, be it silver, gold, bronze or copper, the more your saree shines, the more you will dazzle at the party. Make sure you keep your accessories to the bare minimum and let your saree do all the talking. Keep your makeup muted but you can highlight one part of your features, either your eyes or your lips, a bold mouth can do its trick here.
Geometric Prints – You can never go wrong with bold and beautiful geometric prints. It can be one big print on your pallu or myriad small prints all across the body. One of our Bollywood actresses flaunted a printed saree with a printed blouse, and both were in the same print. Who would have thought of such an unconventional pairing? But it worked and how! Winged eyeliner and poker straight hair did the rest. You will set a new fashion trend. You are bold and you are not afraid to break conventional norms right over its head. If and when you plan to do wedding saree online shopping, make sure you buy, a bold geometric printed saree like that!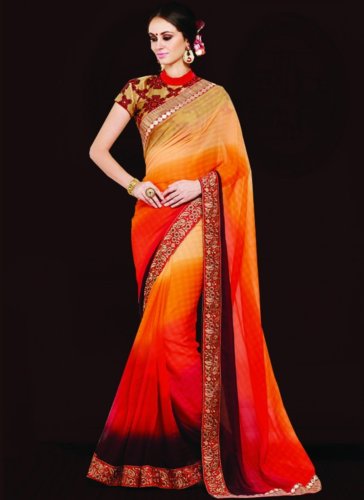 Fringe and Tasseled Trimmings – Fringes and tassels are no longer limited to your bags and accessories. They make you look uber sensuous. The pallus can have tasseled trimmings so can your border. It just adds a whole new meaning to a bold and a bohemian look. Designers are giving it their all beautifying staid sarees with tassels and fringes. We are loving this trend!
Bold Blouses – Conventional blouses are passe'. If you do not want to commit a fashion faux pas make sure you highlight the saree with the right kind of blouses. Cold shoulder blouses are our current favorite or one-shoulder blouses. Also, the off shoulder crop tops and blouses ain't going too soon. So stock on them to highlight your shoulders and collar bones.
The Fabric Forecast – Besides the color, what is doing the rounds, is the fabric. Clingy materials like lycra, georgette are giving the other conventional fabric some serious competitions. The unconventional fabrics are on the pedestal, getting all the attention it deserves. Vivid hued and organic materials like cotton and linen are also causing fashion fervor. Yes, summer weddings are made of these! Utterly gorgeous, even fashionistas are flaunting cotton sarees at posh do's and weddings, pairing these sarees with batik blouses. Pairing the traditional with the modern is the coolest way to go! We think it is a total scene stealer!
The Border Saga – When the pallus are in the focus could the borders be far behind? Yes, large borders are now back in focus. Sometimes ornate, like the use of velvet with heavy embroidery or sometimes shimmery, they weave a different kind of magic. Out top designers are putting this trend to good use. You need an embellished bordered saree right now in your wardrobe!
So now that you have got an inkling as to what to buy for the next wedding you are planning to attend, start to do some wedding sarees online shopping. In fact, if you want to be the cynosure at a wedding make sure, you turn up in an ethereally beautiful saree; it will surely stand out amongst a host of other outfits. In fact, the saree has the aura of making all other outfits seem mundane! Such is the power of the nine yards.