We thankfully don't see many new bathroom remodeling tasks in our immediate future, but if you've been giving some thought you'll want to check out these tips below from today's guest poster. Menage Lourdes comes from an intergenerational family of interior designers. She studied in Italy and France before returning home to start her business.
Gone are the days when there are remodeling ideas for the bathroom that are off-limits. Today's bathroom space can be whatever you want it to be — with no exceptions. Some of today's bathroom remodel ideas are edgy and exciting while others make minor modifications to play up one or more aspects of the space. The key to designing a bathroom space that says "you" is to let your imagination roam free from "shoulds" and "shouldn'ts," and explore what might be possible or enjoyable. It can be helpful to learn about what other homeowners are doing to remodel their bathrooms in unique ways. This can serve as a launchpad to help you generate your own ideas.
Relaxation-Centric Bathroom Spaces
Because of the stressful pace of daily life, sometimes it can feel like the bathroom is the only true retreat space you have left. The shower and/or bath continues to be the focal point of nearly every master bathroom in most modern day homes. So the bath and/or shower combination you choose is key to enhancing relaxation. It is not enough to install a relaxing shower massagehead or a slow-soak tub. To play up the relaxation element, today's bathrooms are adding reflection pools, hot stone saunas, natural greenery, skylights, soothing lighting and scents, music and electric fireplaces to adjust relaxation to the time of day, season and mood.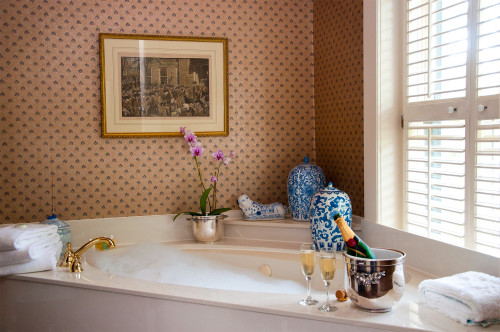 Sitting Areas With Reading Chairs and Fireplaces
One of the newest bathroom remodel trends is to expand the bathroom's useful function beyond a place to bathe, groom and dress. Today's bathroom can double as a relaxing area to read, catch up on television programs and relax in front of the fireplace (natural log, gas or electric-based). Some bathrooms are annexed to a larger dressing room area as well where foot and back massagers, settees for reading, televisions, shoe polish racks and other amenities are installed. Adding carpeting in this area can enhance the feel of a retreat space where bathing and grooming can be interspersed with rest and relaxation.
Innovative Décor
From stripes to kaleidoscopic paint or wallpaper patterns, vintage vanity pieces to ultra-modern Asian-inspired amenities, some of today's most innovative bathroom remodels feature the kind of edgy, exciting décor typically found in a dining area or foyer. Certain patterns such as wide stripes can make a small space seem bigger and unique lighting can brighten a dim space. Plus, adding oversized vintage vanities and faux windows can bring together a large but disjointed bathroom space and make it feel cohesive.
Textured or Heated Floors
A new and popular trend is to add texture and heat to the bathroom flooring. Textured flooring, such as a pebbled floor or hot stone floor area, can serve as a natural foot massager. Adding heated surfaces throughout the bathroom or in certain areas can be a natural relaxing agent. Medical professionals now understand the feet are one of the most sensitive areas on the human body, and the feet contain many pressure points that massage alleviates. As such, you can now receive a natural massage even while you are taking care of daily grooming tasks — without having to schedule any extra time to do so.
Themed Bathrooms
Another emerging trend in bathroom remodels is themed bathrooms. For instance, eco-friendly bathrooms feature natural bamboo storage cabinets, all-natural fiber towels, low-water flush systems and faucets, motion sensors for lighting and recycled paper products. Another popular design theme is one of high-end spa opulence. This theme features hanging crystal chandeliers and other decadent lighting fixtures, decorative water fixtures, freestanding spa tubs and sauna rooms.
Regardless of how traditional or innovative you want to be, when your remodel is finished you will have a bathroom space tailored to your needs — and is as unique as you are.
What kinds of things have you always dreamed about having in your bathroom?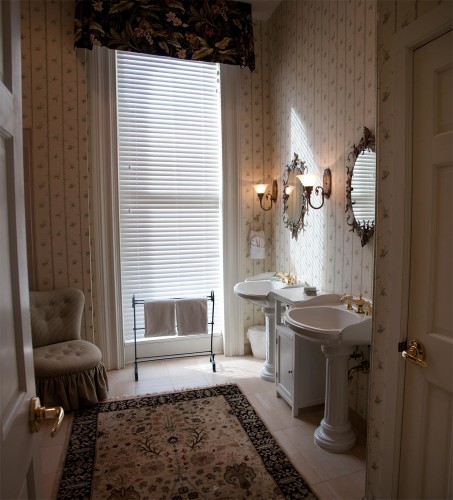 0