A couple of weeks ago, a friend of ours from college visited us for a few days. He didn't really have any specific agenda in mind, so we decided to take him down to Rüdesheim for a quick tour of the city. It's got to be one of the most well known tourist spots around, but it's always fun, there's a lot of cute houses to look at, and you can combine it with a trip up to the top of the mountain (big hill might describe it more accurately) and glimpse an amazing view of the Rhine river and surrounding areas.
This area has some incredible decorations on the houses. I sometimes wish our house had more detail on it like this. Some of the houses in villages nearby almost have a quilted look to them –and they are far older than our nearly 200 year old house.
The city wasn't overly packed this Saturday, probably because it was a bit overcast and kinda chilly. I was really thankful I'd thought to bring a sweatshirt for myself and Mackenzie. But maybe I should have packed something for the manly men also. Actually, down in the city it wasn't bad — it was just up on top of the mountain and in the forest that it was really chilly.
There really are just so many precious houses and building there. And plenty of good wine. In fact, it seems that just about the only types of places in this town are wine stores, bars, restaurants, hotels or tourist stores. But it's still an oh so cute place!
We decided to take a gondola ride up to the top of the mountain. For €20 you can actually take the gondola to the top, walk the forest trail for a while, take a ski-lift down in another part of Rüdesheim, then ride on a boat back up the river. It's a really great way to see the area…but better on a warm day, or at least when everyone is properly attired. Plus we worried that Mack may be a bit small for the small ski-lift chairs — but she did seem to think the gondola was pretty cool (except for getting on and off which was too loud).
You go right up over the wine fields and have a great view of the Rhine river and the cities along it.
And it's pretty amazing to be riding up there and see nothing but wine fields below you. They are really just everywhere, all over the hillside.
There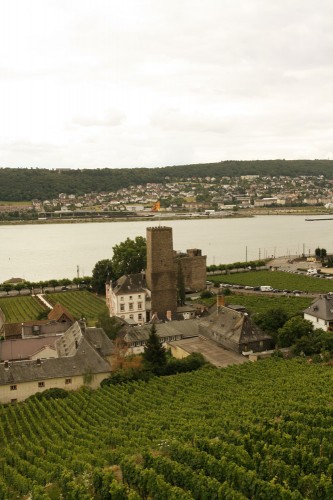 Once you get to the top, there is a restaurant, and a very short walk to the 10.5 m/33 ft high statue of Germania which commemorates the creation of the German Empire in 1871. It was under construction while we were there this time (of course) but Mackenzie had a great time climbing up and down all the stairs in front of it. I'm surprised she didn't pass out in the car on the way home because she literally walked everywhere during the day.
We got our friend to snap a typical tourist photo while up there…kinda funny since we have lived here so long. But we have so few photos of us three together since someone is always behind the camera…
We had a great time, some mediocre food in one of the tourist trap restaurants there (although there are some pretty awesome restaurants as well – we were just too hungry at that point to care) and just wandered around for about half the day. It was a nice relaxing tour and taste of Hessen.
And I found something new that I really want to try in our lilac trees — I've just got to start collecting snail shells (and I am pretty sure I know just where to start). One of the restaurants (where we often go and should have eaten at that day) had trees in their courtyard with these snail shells hanging from the branches. They just tapped or drilled holes in the shells and hung them with wire. Our Dremel with the stand will work beautifully for this. And I think it will look really fun. Just a little project that I might somehow manage to get done before Lanternfest (and travel and more visitors!)
1