Having guests in town is always a good reason to drag everyone out of the house on a sunny day and go do something incredibly touristy. We thought about making them do some work around here…but the weather was just too nice so we bundled ourselves up a bit (it was sunny but not necessarily warm), piled in the car and headed over to HessenPark. Stefan and I have been talking about going there for years but just quite made it there. Now I'm not sure if we will ever go more than a month without finding SOME reason to go visit.
Now that you're thinking, "And just what is so special about where ever it is that you went this weekend??"
I'm glad you asked. HessenPark is an open-air museum of sorts; like many of the places you find in the US where they have restored old houses, have people walking around in authentic costumes that tell you how to do stuff and otherwise let you relive the past a bit. You won't find amusement park rides or too many other high-tech things…but you will learn a lot about history, timber frame houses and how to live self-sufficiently. We found it FASCINATING. But yes, we are big dorks in the eyes of many. We're ok with that, though, so make fun of us if you want. 😉
From the parking lot, you'll come into the market square. You don't need to pay an entrance fee to get in to this part of the park; but it's still quite impressive. They've built around 20 houses which contain several businesses (bakery, cheese maker, brushmaker and soap museum to name a few plus a hotel and restaurant.) Everything you see in front of you is part of their market square. You can even get married there, which apparently two couples had decided to do on Saturday.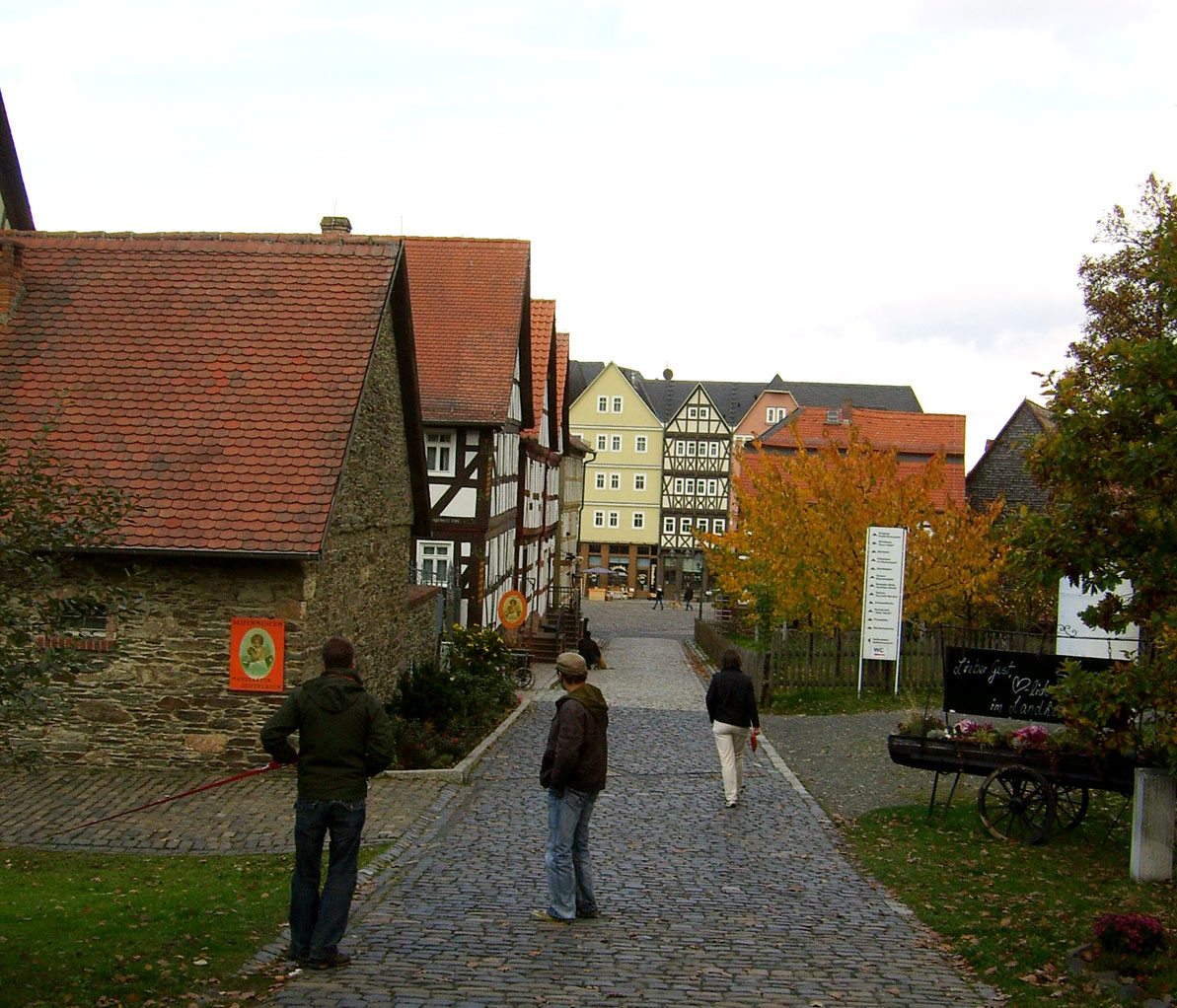 Several of the houses have rooms set up for you to view behind glass, such as the apothecary / pharmacy, where you can see what things looked like 400 years old.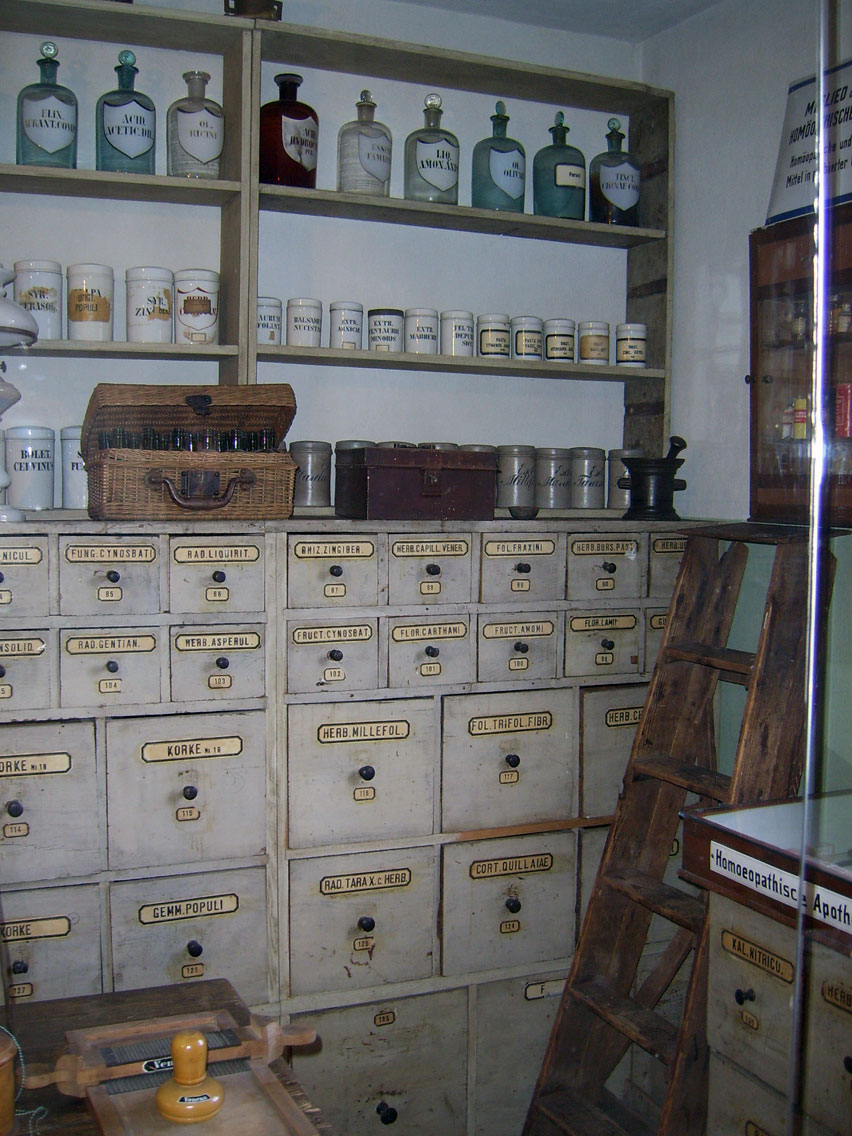 When you've had enough shopping (or if you decide to visit on your way out so you're not lugging a bunch of stuff around with you), pay your admission fee (€5 for adults, €1 for dogs) and enter into the real "museum." Houses and farms here were originally built from the 1600's until as recently as 1950. But everything has been taken apart from its original location and moved piece-by-piece to this park, then reassembled. There are actually a bunch of stacks of housing pieces further back on the property and it's incredible to think about the amount of time that goes into moving and reconstructing these places.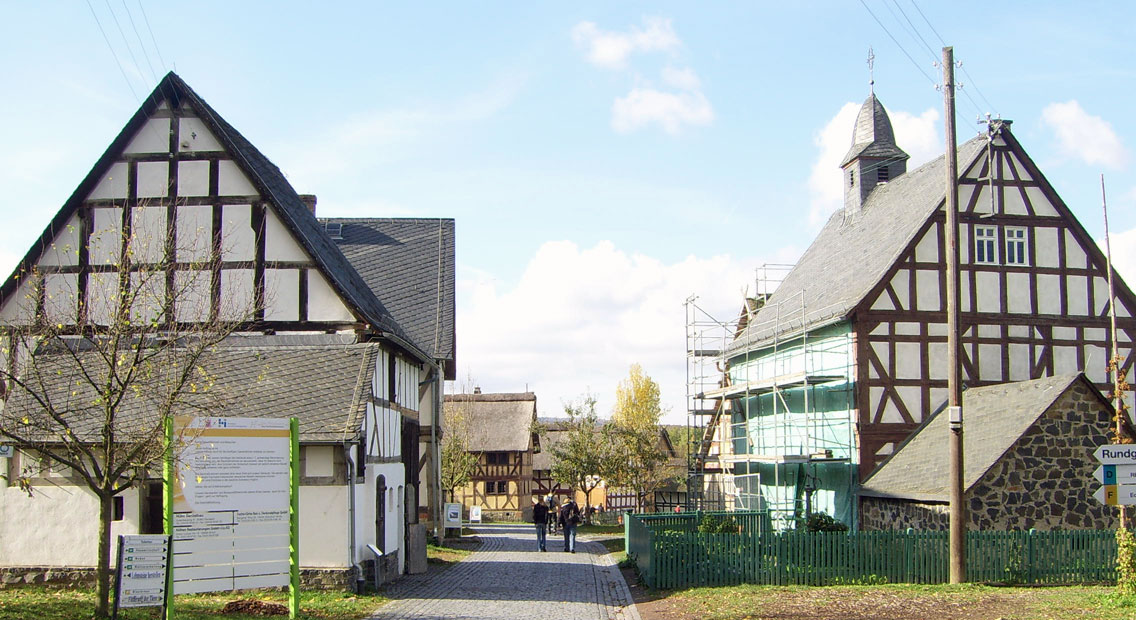 We wandered across one house with a barn across from it that was shockingly similar to ours. Of course, there is another area of the park that we didn't even make it to that actually has houses from our area of Hessen…so there may be other even more similar places. But aside from being a bit smaller, the general layout of the house was just the same. We would love to some day change our front steps to something like these, giving access to both sides and a landing on the top. Maybe after a few more visits to HessenPark and comparisons to our own place, we'll find the means to take that on.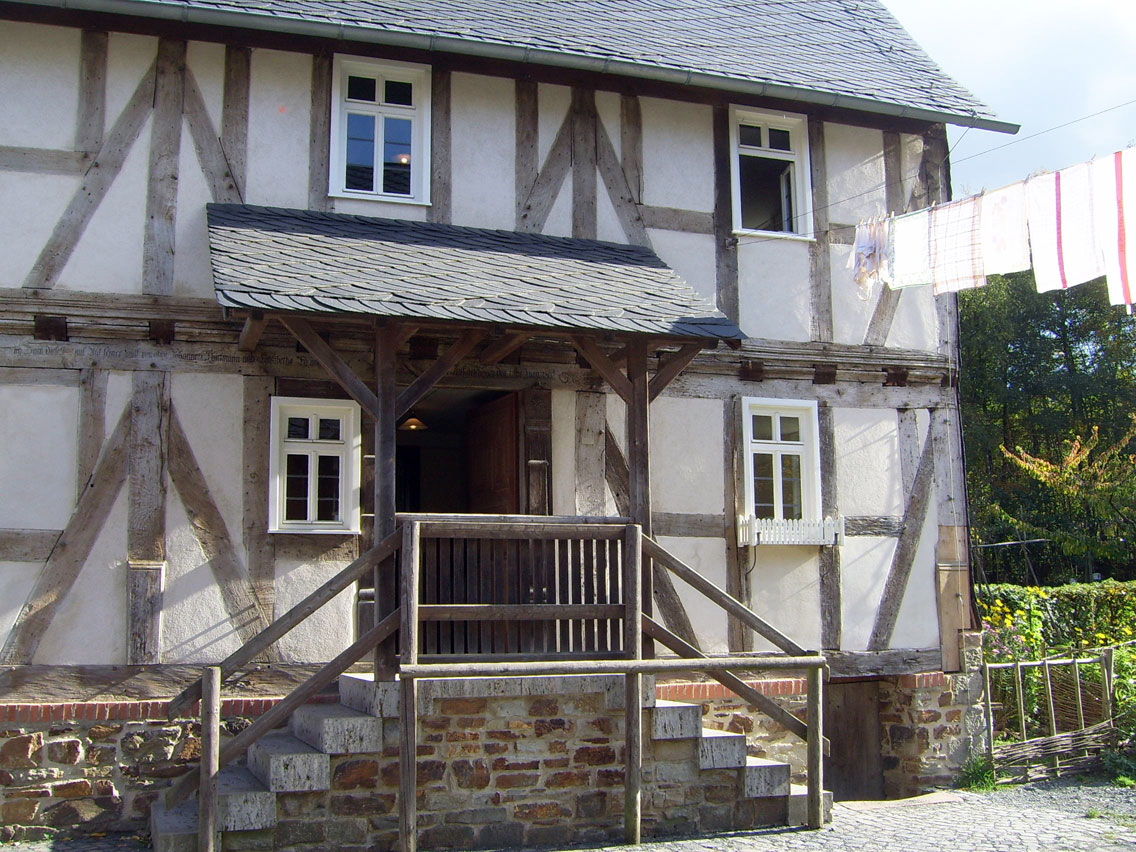 Inside they had apparently been doing a cooking demonstration because it smelled delicious. We unfortunately were too late…but we did find the kitchen area rather fascinating and are wondering if we should do something along these lines for our canning kitchen in "storage room B." It just so happens that we have one of those washing kettles (the big round thing in the corner) in that storage room so we'd just need to find ourselves an old wood burning stove…or even gas.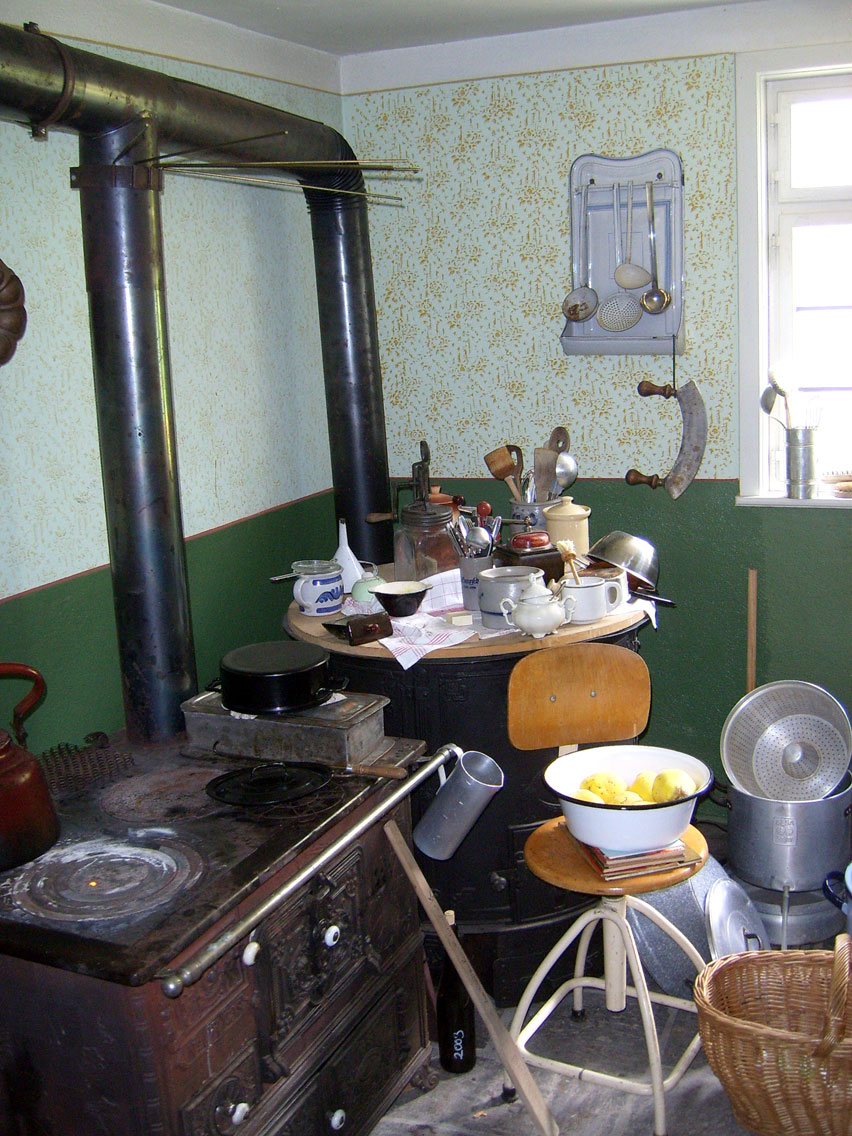 Clearly not a very large kitchen but they were using every bit of space they had. And they also had this huge apple storage container in there which we adored. Of course, we would put it in our wine cellar area (which is quickly starting to look like it may become a root cellar as well, instead of just some posh wine cellar that we rarely use.)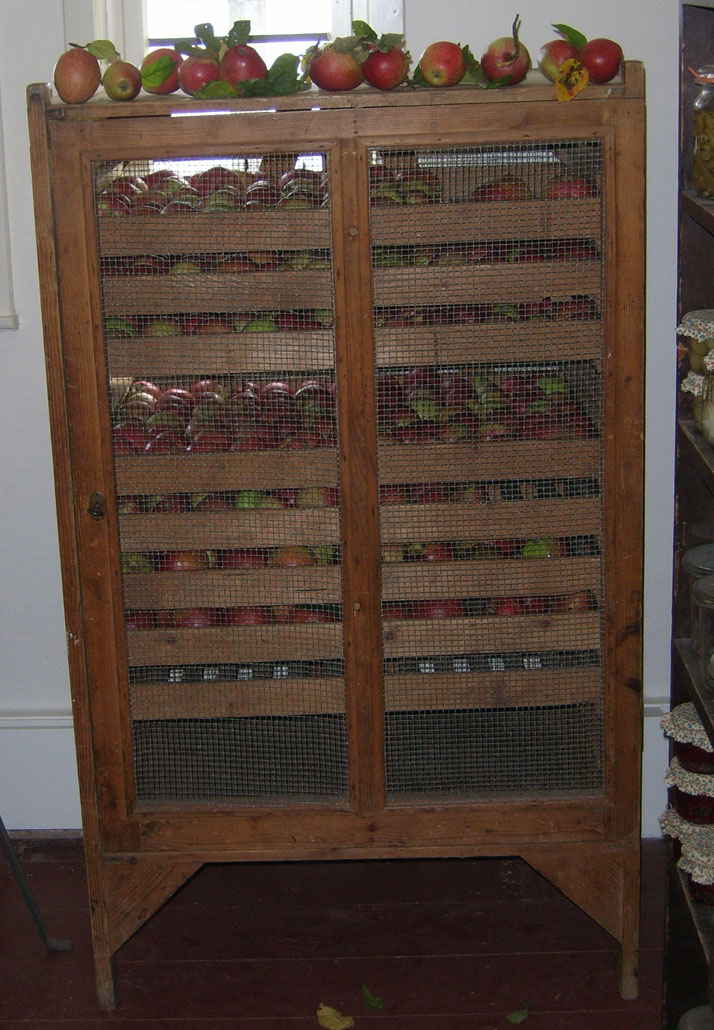 I took over 130 photos while we were there. Thank goodness for digital photography! I could go on and on…but I wrap up thisthis post with one last bit of inspiration for ourselves which was some of the wine vines they had growing on the wall of one of the houses. Using a couple hooks and pieces of wire, they created the trellis and had grapes growing along two sides of this house…which is what we're planning to do across from our own house on the storage buildings where the oh so evil vines are growing now.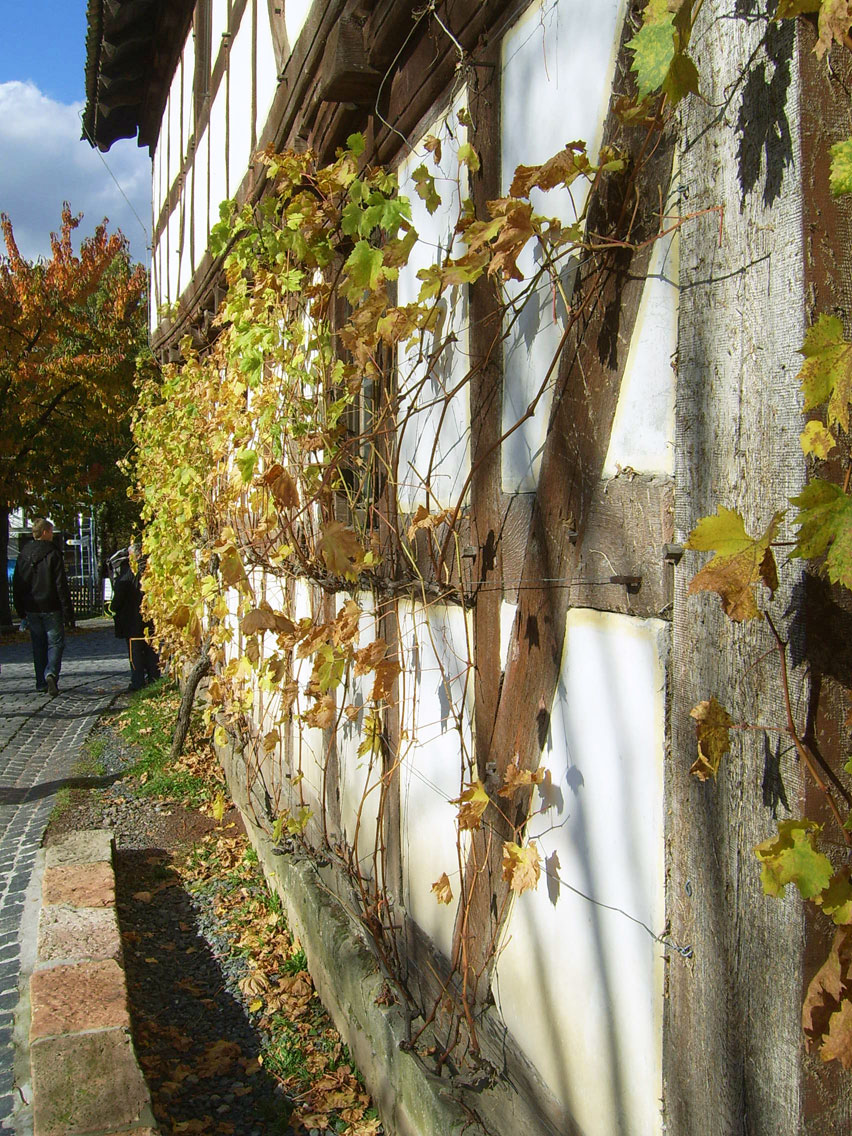 Wait, one last thing in case you've made it this far. I briefly mentioned before that not only can you learn just by walking around there, but they have people giving little teachings and seminars everywhere too. There is also a puppet house for kids where they can go and make their own toys to take home with them. Those who might venture there this weekend would also find a seminar which we can't wait to be part of next year which spends the entire day telling you exactly how to repair your timberframe house with clay, woven stick underlays and so on…everything we need to learn to properly restore our own house. You can even bring in photos to ask about specific issues you have. They give that seminar about once a month. Just have a look through their calendar of events and you're almost certain to find something that interests you.
At any rate, last weekend was mushroom knowledge weekend and they had a guy there talking about using mushrooms that grow on dead trees, like the ones below, as fire starter. Sounds a bit absurd but we saw it with our own eyes. In this photo, he had taken a bit of mushroom powder that he'd made just by grinding a piece of the mushroom against a big piece of sandpaper and two fire stones that spark when you hit them together. In just a few minutes he had produced a spark and had the powder smoking right there in front of us. The full mushrooms he stretched and played with until they became leatherlike and used those as tinder also. It was really quite something. And we just assumed those were something you couldn't do anything with at all because they are posionous.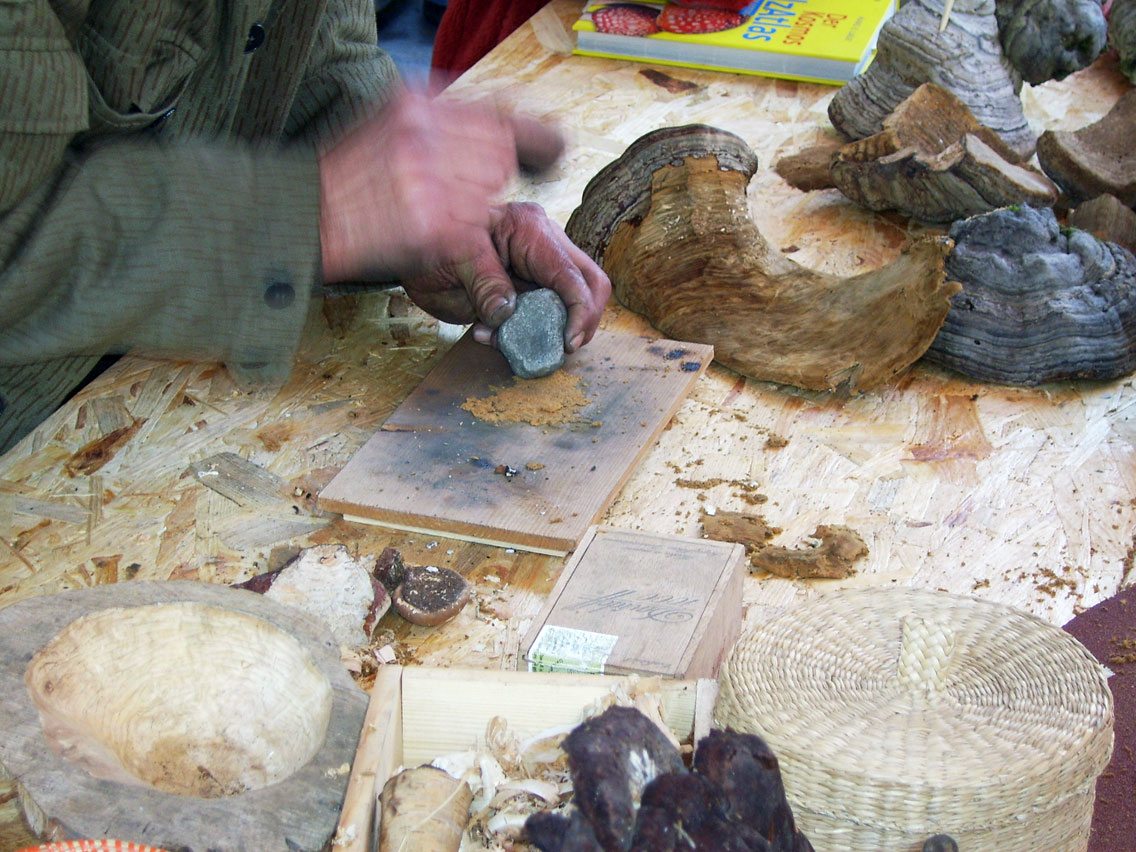 1