Well hello again!
I know I haven't really been so good about posting every week lately, but honestly, I've been busy. Dodging an almost 3-year-old all day is HARD WORK! I've never been so exhausted in my life. Plus I've really been trying to enjoy as much of the lovely crisp fall air as I can. We haven't had even one flake of that strange white stuff that falls from above….but we have had a lot of crunchy popsicle grass which I have to admit is one of the best treats on the planet!
Although my family is planning to hit warm, sunny Florida this Christmas without me instead of taking an awesome family ski holiday to East Germany (like we've done a few times in the past before the snow melted away), I just can't be too sad about it. …because I get to spend two weeks with one of my favorite families in the world (besides my own of course). They are just awesomely good to me and I can't even contain my excitement about all this!
What makes them so much better than my humans, you ask?
Well, for starters, they can be persuaded to give me extra food if I look at them very, very sadly — and let me assure you, I have that look mastered!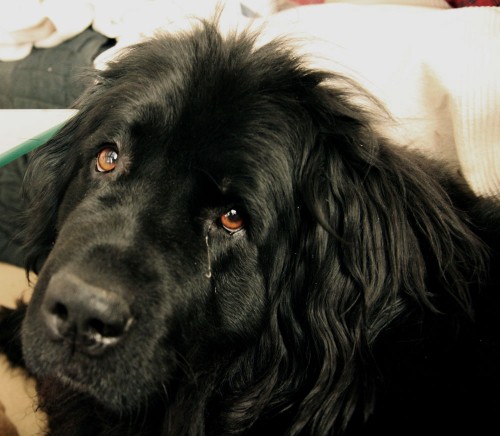 They also carry treats around with them. ALL. The. Time! And in case you are wondering, I am highly motivated by food! Motivated to drool huge puddles of saliva that is.
You know what else? Even though they have their very own dog (he's a Golden Retriever), they never get tired of loving on me. Their own pup is not all that crazy about standing around for the love — but he is a big fan of having rocks thrown for him! So they cuddle me and pet me and just love that I am so enthusiastic about PDA's (personal displays of affection, not those silly computer things). Plus I could really use a short break from the kiddo, who insists on using me as a table, putting strange articles of clothing and blankets on me and all sorts of other nonsense.
Now of course, I love that I have another dog to play with on walks who loves to romp in the mud and get dirty even more than I do. But what's really funny about him doing it, is that he comes out as a Brown Retriever, while my black fur hides all the filth we pick up.
But do you know what the absolute best part of staying with the neighbors is?? I get to sleep in their bed! Seriously — that's a treat that is only allowed when we go camping since the cats have control of the master bedroom in our house.
And I guess I also like the fact that when they come back, we get to have a happy family reunion while my humans remind themselves how awesome I am and that having a big dog is the greatest thing ever!
Slobbery kisses to all!
0