One of the challenges that modern man faces when attempting to buy any sort of object is overcoming the sheer variety and number of options that are being placed in front of him. This also applies when purchasing a sofa. There are so many things that have to be taken into consideration but hopefully this article well help save time and make purchasing one a bit more efficient.
Size is important
The size of the room where you want to position your sofa should be your first consideration when deciding the furniture itself. Determining how much space can you afford to have used by a sofa is integral to ensuring the overall comfort of the room. You do not want one which takes over the entire area and will become more of a hindrance than an object of comfort, nor do you want one that is too small to provide any actual benefit in the room and will just look out of place.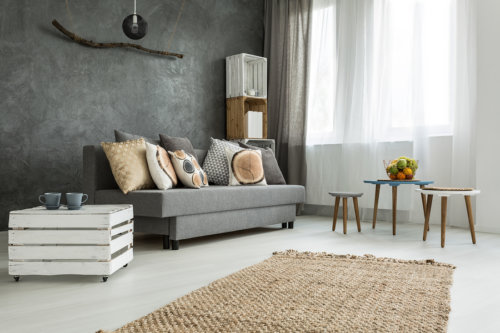 Shape determines function
Once you've decided the approximate size of the sofa that you want to purchase, you now have to see the exact shape of it. An L-shaped sofa is a good choice for large spaces in your room and for the purpose of separating different areas – for example, the dining room from the living room.
Modern Sectionals have the benefit of flexibility in how you place them. Being modular, you can switch around which side you want the L shape and as such adapt to ever constant changes to your room environment.
Rounder shaped sofas are mode designed to be used as a social gathering implement for groups of people and are great sofas for a Media Room. You can have friends over and enjoy a good movie and you will not feel far apart from each other.
If tradition is not your style, a daybed or chaise can be a good alternative to the classical sofa. Although not providing seats for as many people as a sofa, it's a much more sophisticated style of futon.
Materials are essential
The material of your sofa contributes directly to end-result that is your comfort. While aesthetics are important, you will not be happy with a sofa that is not comfortable to sit on for hours on end at a time. Many people enjoy a plushy, suede sofa and they describe them as being lovely. However, they also represent a safety issue – especially if you have pets or small children. Leather is a stylish and classy option which generally endures the passing of time with grace and is simple to clean. Perhaps a more daring alternative is to have your couch or sofa upholstered in fabric which is more design for outdoor use. They are usually water and stain resistant and can resist fading caused by the sun.
Although there are more things we can say about the process of purchasing a sofa, these three tips should help you decide more efficiently what is best for you and the room you want the furniture placed.