Stefan and I had the pleasure of attending the soft opening for one of Naples' newest restaurants, True Food Kitchen. This restaurant opening is certain to be a big success based on the buzz it's creating already. And it will undoubtedly become one of Naples favorites if they keep up the quality…and I will look forward to frequenting the place often, especially for lunch.
True Food Kitchen is based on the inflammatory food pyramid of the celebrity chef, Dr. Andrew Weil and offers a nice range of dishes including a variety of gluten-free, naturally organic, vegetarian and vegan offerings. The options are health conscious and balanced to include vegetables, fruits, whole grains, fish, Asian mushrooms, spices, other types of protein, and chocolate (within moderation of course.)
True Food Kitchen is part of a small chain of restaurants with a total of 14 True Food Kitchen locations across America currently, and the Naples location opening on Tuesday, March 28th. Another 6 locations will be added over the next year around the United States.
Getting to Know True Food Kitchen Naples
The first impression was a good one. The restaurant is rather stunning when you walk in, with a crisp, vibrant, somewhat industrial yet fresh vibe to it. The booths are bright green (the color of lush summer grass) and there is a natural vibe to the atmosphere. With a large bar area and open kitchen, you have the ability to observe a lot of the action throughout the restaurant and beyond due to its light, airy nature.
One of the things I love about a soft open is the hustle and bustle of the new establishment, mixed with the excitement that hangs in the air. And when the restaurant is open, you can really see how the staff interact and if things are running well. I have to say, there were smiles on faces all around. And the service was very good. Shayne was serving at our table and we found him to be pleasant, very knowledgeable on the menu, and he never left us alone for too long.
We started off with a couple of fresh juice beverages (sans alcohol). I chose the Cherry Chia Limeade ($5) and Stefan the Hangover Rx ($5). On round two, we switched drinks. Both were absolutely delicious and very refreshing. They press their own juices and you can always taste the difference. Next time I will go later in the day and have a cocktail, which will likely be outstanding and dangerous because the juice flavors will mask the alcohol.
We were eager to try as many dishes as possible because there were many interesting things to try but decided to share a single appetizer all the same. Stefan selected the Edamame Dumplings ($9) with dashi, white truffle oil, Asian herbs, which Shayne also recommended and we were not disappointed. They were light, tender and devoured quickly. And although it looked like a lot of parsley, which we mostly left on the side, it only gave a light flavor to the dish.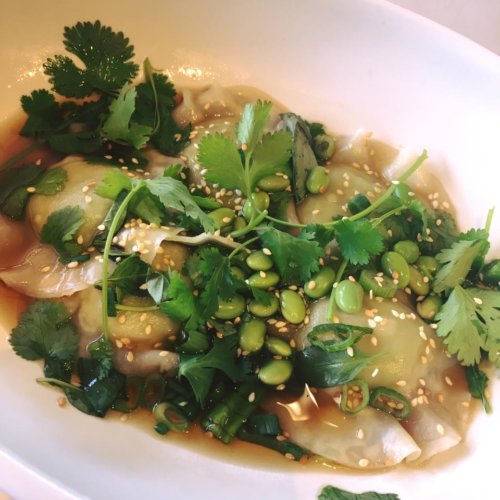 For my entree, I ordered the Poke Bowl ($22) with wild caught albacore, avocado, quinoa rice, mushroom, snow pea, cucumber, cashew, turmeric ponzu and a jalapeno vinaigrette. It was everything I hoped it would be – but better. The combination of flavors, especially the cucumber with the tuna was fantastic. I also really enjoyed the cashews in the dish which were very fresh and tender.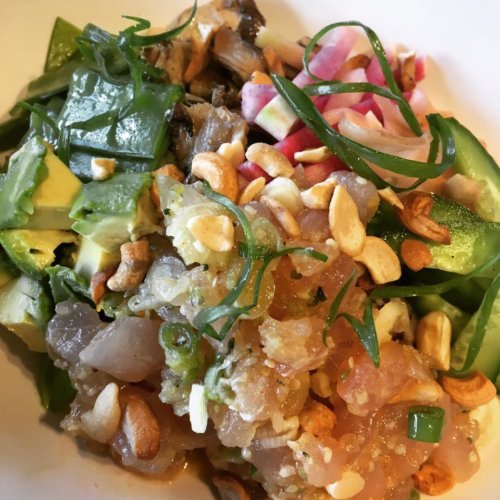 Stefan ordered the Grass Fed Burger ($16) with umami mushroom, caramelized onion, arugula, parmesan, mayonnaise and a flax seed bun. I was a bit skeptical about the bun because I've not eaten a lot of flax seed products. It was pleasantly surprising to learn that it was absolutely delicious and ideal for this burger. The combination of flavors was perfect and balanced. Stefan even said it was the best burger he's ever eaten, and I may have to agree.
Although we really weren't all that hungry anymore, we had to try the desserts. I selected the Key Lime Pie ($7) with coconut chantillyThe key lime flavor exploded with every bite and there was a hint of cinnamon in the crust. The slice of pie was easily large enough to share but Stefan was devouring the Coconut & Chia Seed Flan ($7) with caramel and mixed berries. In my opinion, this flan could possibly be the perfect dessert to end a meal. It was light and creamy, more like a panna cotta or mousse than flan…and oh so delicious.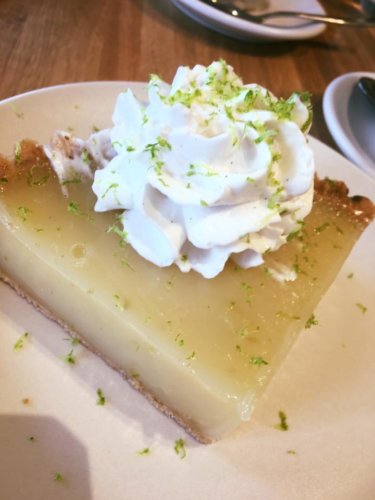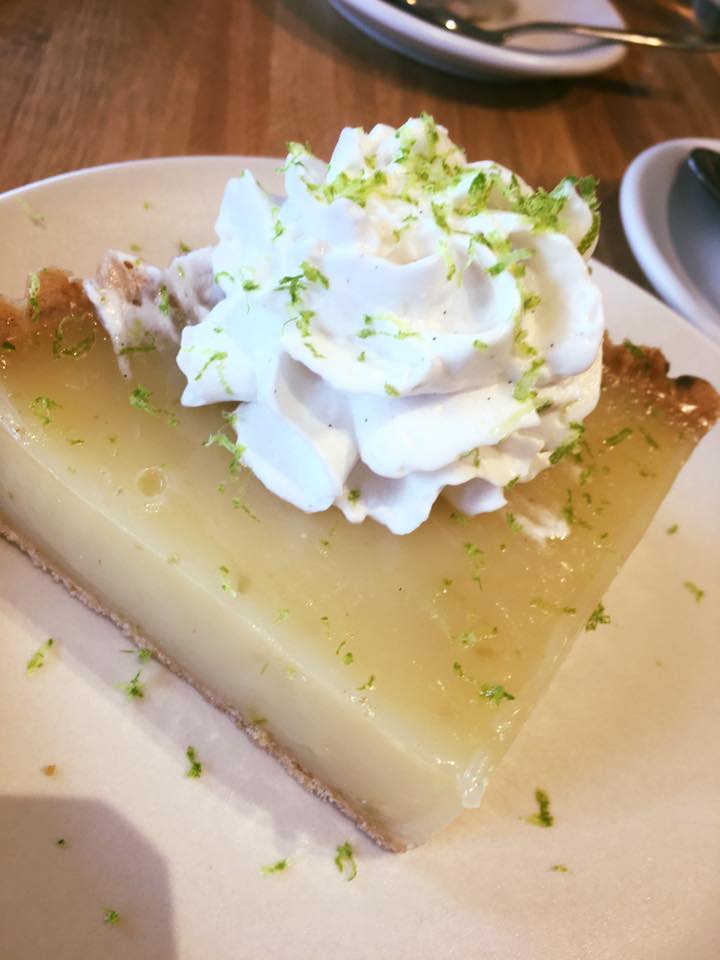 Overall, I really enjoyed the experience, and truly appreciate that this restaurant is not afraid to use really bold flavors — and lots of them. Plus it's not just the same old dishes that you find everywhere. I look forward to trying more of the menu again very soon.
True Food Kitchen Naples
Waterside Shops
5375 Tamiami Trail Suite 15
Naples, Florida 34108
239-431-4580
www.TrueFoodKitchen.com
Enjoy a few more images of some other dishes at True Food Kitchen Naples: