Do you think that dieting can only be associated with bland, boring food? Have you ever read a book that took a look at healthy eating and dieting, based upon the spice blends you added to your food?
Me either — until I ready Skinny Spices.
SKINNY SPICES: 50 Nifty Homemade Spice Blends That Can Turn Blah Healthy Eating Into Flavor-Rich Delicious Dining is the first and only enhanced multimedia cookbook that offers you a fast way to cut salt, fat and calories without giving up taste, pleasure and deliciousness. A new fully-searchable and easy to click through version was recently released — and you can get your very own copy just by entering below!
As the name suggests, you'll find 50 master spice and herb blends in this ebook. But not one of them requires any special grinders or equipment. Plus, there are more than 100 tasty recipes that you can fix in a hurry, whether you know how to cook – or have never even set foot in a kitchen!
The author, Ericy Levy Klein, actually knows quite a bit about what it takes to lose weight and keep it off. After struggling with her own weight for many years, and eating lots of boiled, broiled and steamed bland food, she discovered that she really didn't have to put herself through so much agony. Here's a quick quote from the book:
"Are Skinny Spices really all that skinny when it comes to calories? Happily, the answer is yes. Most spices and seasonings weigh in at between 3 and 10 calories a level teaspoon, according to the American Spice Trade Association."
Inside Skinny Spices
One really neat feature of Skinny Spices is that they have linked everything together. So you can each spice blend and its accompanying recipes are clearly and easily linked to each other, letting you jump over to a particular flavor range or international cuisine quickly. Or you can create a healthy meal in minutes by using the exclusive eSpice Cabinet® and the herbs and spices you already own.
Here's how it works. You've got an overview page of all the spices and herbs used in the ebook. This is your eSpice Cabinet®.  When you click on one of these herbs or spices, you are taken to the section for that herb which gives a quick description of the herb or spice. And below that is a list of recipes from the book which use this spice.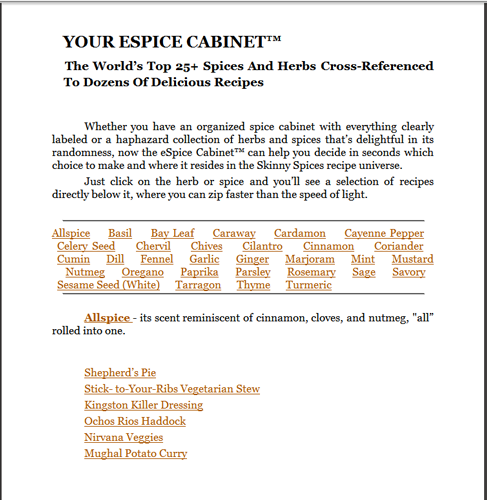 Most of the time, that recipe will actually contain a spice blend with that herb or spice in it. And then you can click on the spice blend name to be taken to its recipe. And below each spice blend recipe, there are also links to the recipes which use that spice.
There are a large range of spice blends, and they cover pretty much every corner of the globe:
All-American Spice and Herb Blends
Salad Spice Blends
French Spice Blends
Italian Spice Blends
Mexican and Latin American Spice Blends
Chinese Spice Blend
Japanese Spice Blends
Indian Spice Blends
Thai Spice Blends
Russian and Hungarian Spice Blends
Greek and Middle Eastern Spice Blends
Hot Spice Blends
Sweet Spice Blends
Since there are all kinds of different spice blends in this book, there are also all sorts of recipes. Salads, soups, appetizers, side dishes, mains and even desserts. Try out things like the Voodoo Queen Vegetables, Golden Temptation Chicken or Cherry Italian Ices — and all containing some sort of spices and that won't kill your diet!
Skinny Spices is currently available for purchase for your Kindle at Amazon and Nook at Barnes & Nobles. Or, if you're feeling lucky, you just might win a copy this week!
The Giveaway

Grab one copy of Skinny Spices for yourself ! (Open Worldwide)

To enter, just use the Rafflecopter form below.