As you may have noticed, I'm all about trying out new things lately. So when I heard there was a new book out about baking bread in 5 minutes a day, I was intrigued. Then I discovered that one of my favorite foodie bloggers, Big Black Dogs, was actually hosting a challenge to try out the recipes in the book over the next year. So naturally I had to jump at the chance.
I won't be sharing any of the actual recipes with you because the book is still so new — but if you want to join in, grab yourself a copy of the book, Healthy Bread in 5 Minutes A Day at Amazon.com
or Amazon.de
and let's get baking. Oh, and be sure to hop over to Big Black Dogs and contact Michelle who will give you the baking schedule and hopefully get you signed up to their support group. I'm sure it's a magical place but for reasons no one knows, Google doesn't want me to be in the group. Whatever.
Anywho, our baking challenge for September 1st is to try out the 100% Whole Wheat Bread, Plain and Simple (pages 79-80) and make a regular loaf of bread, 1 Zucchini Flatbread (pages 208-209) and 1 loaf of Msemmen (Algerian Flatbread) from pages 228-230.
I've never been very good at following instructions…and in fact I didn't have the info about the baking challenge until I'd already tried something out of the book…which just happened to be made with this same whole wheat bread starter: Focaccia with Garlic Shards, Artichokes and Rosemary (pages 216-217). So I made two variations of that instead of the Msemmen.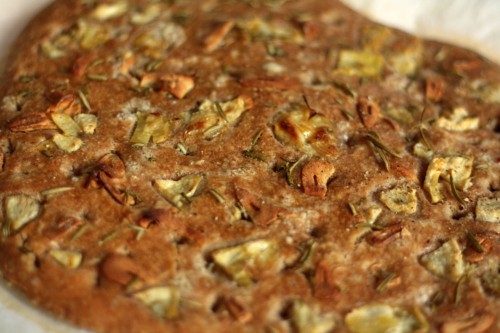 Maybe I should preface this by saying that I have always been a bit handicapped when it comes to baking bread. I don't know why but I often just don't get the rise out of it that I should (literally)…especially when using whole wheat flour. Let me bake a cheesecake, a fruit bread, a huge Thanksgiving dinner; I'm fine. But an actual loaf of bread is just not my forte. I'm working on it, though.
So anyway, don't laugh too hard when you see my pictures. Everything did actually taste really awesome, even if it was extremely flat.
We invited our neighbors over for dinner a couple weeks ago as a thank you for watching Ayla and just being there for us in emergencies over the last few years. Stefan's parents were also here and we made it a grill party. So I decided to make a couple focaccias for the occasion. Now normally I never try out new recipes on guests…but the book made it all sound so easy that I just went for it.
Many of the recipes in this book are made from simple bread starters. You mix up the dough one day, let it sit in your fridge for up to two weeks, and can bake a variety of things from just that one piece of dough (usually enough for about 4 pounds of bread). Awesome concept and good in theory. Unless you get really wet, runny dough like me…that no matter how much flour you add to it, it's just the same goo day after day.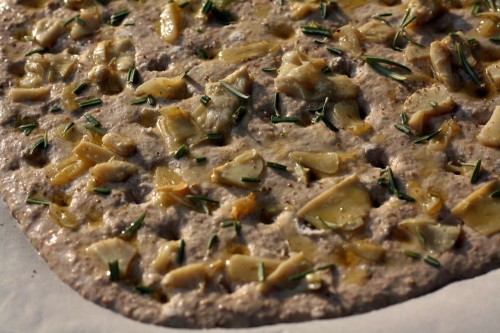 The sticky, wet dough was quite difficult to work with so I was extra thankful to have Stefan's mom around who has a few more years of baking and cooking experience under her belt than I. She helped me roll out the dough by sprinkling flour on top and using a sheet of plastic wrap to cover it…works really well as long as you have enough flour on it! And she also gave me a trick for making the holes in the focaccia: dip the end of a wooden spoon in flour and dimple away!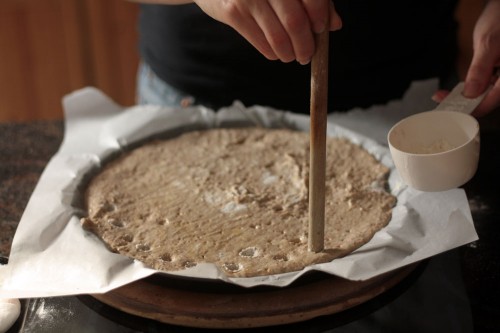 Since our neighbors have two kids in their early teens, I also decided to make a plain focaccia. Wasn't sure how well the rosemary, garlic and artichokes would go over…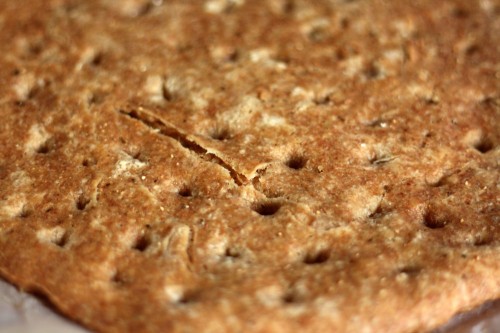 So you may notice that they look lovely…and in fact they tasted fantastic! I just wish they had risen more like a focaccia. Something to strive towards anyway. Because a good focaccia with steaks and a salad is a very tasty treat!
After making those two breads, I still had half of my whole wheat dough mix in the fridge…and since I finally opened the HBin5 baking schedule, I saw I was right on track to bake a regular loaf of bread plus a zucchini flatbread. By some stroke of luck, I actually had everything for the flatbread in my fridge except pine nuts. So I skipped them.
My bread was a disaster as you can imagine. It's like a naked pizza. Didn't really rise for me at all on the counter and I didn't bother to take a photo of it.
But the zucchini flatbread was really tasty…sort of like a zucchini pizza quiche.
All you have to do is cut a couple shallots, grate a large zucchini, sauté them in olive oil, add salt & pepper and let it cook until the liquid is gone from the zucchini (about 10 minutes). Then let it cool and once cooled, mix in 1/4 cup Parmesan cheese. That's the recipe from the book but the next time I make this (and there will be a next time) I'll put some garlic in there and probably a bit of crushed red pepper for some bite. I also had to leave it in the oven longer to get it to a crunchy state on the bottom like pizza.
The zucchini flatbread tastes really good warm and Stefan even liked it cold. I was actually a bit scared to let him try it because he  can be a rather picky eater…but the fact that he actually liked it cold says something for it. And Mackenzie seems to think it's some of the best pizza ever.
So there you have it — my first experiences with the Healthy Bread in 5 Minutes book. It's going to take about a year to get through the whole book, trying out a few new recipes every two weeks. And actually…the group started this challenge back in January so I have some other recipes to explore in the meantime if/when I get the chance. I'm just hoping that at some point during this process I finally start getting the whole bread baking process right!
0