It's nearly springtime, which means that British gardeners will soon be out trimming back overgrowth and planting bulbs, ready for summer. 
Before that starts, it might be a good idea to sort out your garden shed. Often, we use our shed as a dumping ground and this can mean we waste a lot of time searching through children's toys, bike helmets, and potted plants you meant to put in the flowerbed before winter, in order to find the trowel we actually needed.
Of course, a tidy garden starts off with a well-maintained garden shed, because who wants an eyesore in the back of their neatly maintained garden after all? A particularly low-maintenance type of shed is the metal garden shed as there's no need to do all the maintenance that's necessary for wooden sheds. 
But if we're completely honest, it's usually the inside of the shed that's a mess, rather than the outside. And it might seem a little bit daunting at first, but you can soon declutter your shed and be relieved knowing everything is in its rightful place.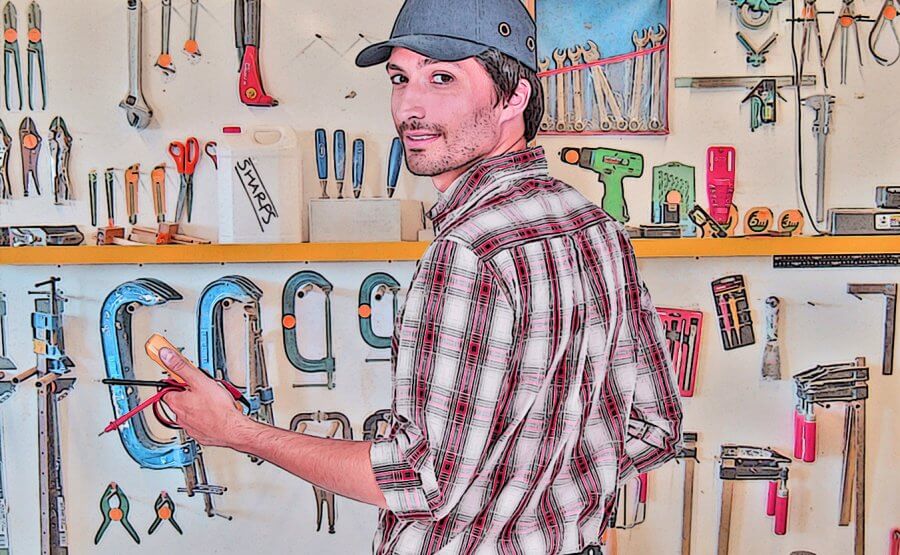 Clearing out the shed
The first thing you should do is remove everything from your shed and decide whether you still need an item or if it should be stored elsewhere. (There's not much point in finding a place to put your daughter's tricycle if she's well into her teens, is there?) Choose a dry day and clear your shed out, so you can get an idea for the space there is and what you want to put in it.
Anything surplus to requirements should be sold, donated, given away on a site like Trash Nothing, recycled, or binned.
Shed Organisation Hacks
Now, we're going to look at some neat hacks that you probably haven't thought of, which should make organizing your shed a snap.
Magnetic Tool Bar
These are especially ideal if you have a metal garden shed, but can be put up in any shed. The idea is that you get a magnetic bar from your local hardware shop and it holds up small metal tools, like trowels. That way, you can see automatically where they are rather than searching through boxes.
Tool Pegboard
On a similar vein, you could use a pegboard to hang up small tools. It has the benefits of being able to see everything, but it's slightly more effective for tools with plastic or wooden handles.
Hanging Jar Organizer
This is an excellent choice for storing the small items, like bolts, nails, screws, and tacks, that can get easily lost down the back of workbenches and only found again when you step on them.
The idea is that you take several jars with screw-top lids and glue them to a plank of wood, which is suspended from the ceiling. When you need the item, just unscrew the jar and lower it carefully.
Chemical Storage Boxes
Many people have chemicals, like weed killer and paint, inside their sheds, but you should be cautious as they can be toxic if they get onto the soil or into the water supply. Some can even be flammable.
It might be a good idea to invest in some sealable storage containers so that you can make sure that if they're accidentally knocked the product won't get onto you or the floor. Also, try to keep them in their original bottles if possible and make sure they are out of sunlight, as well as away from children and pets.
Free Standing Shelves
Shelving units are one of the best ways to free up floor space in your shed and get organised. Choose a unit with shelves deep enough for the items you have and bolt them to the wall if you want to store heavy items on there.
If possible, see if you can get wire shelves, which will help brighten the shed and will also withstand water more easily if there's a leak.
Hose and Cord Organizers
We all know how easily cords can knot, even though you could swear you wrapped it up perfectly before putting it away last time. Worse still is when they unravel on the floor and create a trip hazard. 
Invest in a hose hook for your shed wall and loop the hose or cord around it. For a free alternative, screw an old paint bucket to the wall and wrap the hose around that. As a bonus, you can store paintbrushes inside the bucket.
Remember, your shed doesn't have to look perfect. You're not appearing on a show called "Britain's Best Shed". You just need to be able to access your tools safely and easily.
1