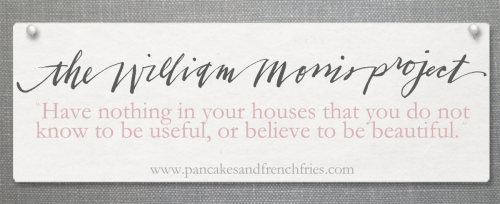 Ah, William Morris Project. Just so you don't feel like I've given up all hope of being organized and finding stuff in my home, it's time for a much needed post.
I feel like I've done this particular post so many times before. I've written about one of those areas that plagues so many kitchens many times in the past — organizing my spice cabinet. But that's what happens when you move. And in fact, in Berlin, our spices were a total disaster. Our fabulous little IKEA jars didn't fit anywhere and they became a stacked pile of crazy. Spices and oils and so forth were spread throughout 3 or 4 locations. It was just not fun. So at least we have gotten past that fiasco, but somehow it just wasn't feeling quite right.
We've got all of our basics unpacked by now…but there are some things which are still a bit wonky. Like the spice shelf. And the pantry. And the closets. Anything relating to storage really. But seriously, the pantry and other storage areas need a whole lot more help than just one shelf divider. They need a $1000 shopping spree to Home Depot or a closet makeover. But that's for another day.
So this is what things looked like yesterday morning in our spice cabinet…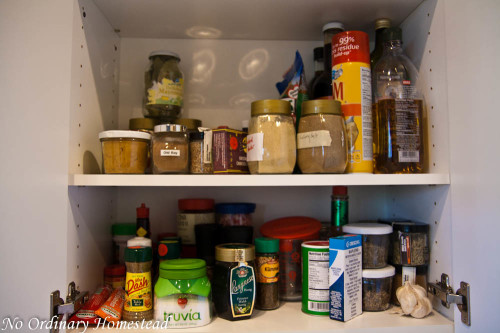 Not too horrible, I admit. But that has a lot to do with the fact that before we moved away from Germany, we did a huge spices purge. Spices are one of those things that you just seem to collect over time. And at some point you wonder if you are actually using them all or not. Or why you have some of them to begin with, especially when you buy something for one recipe and it's awful or the recipe is pretty good but you just never get around to making it again (not that I would be guilty of that at all. *whistling & looking away* 😉 )
At any rate, now our spice cabinet is lean and mean — and full of yummy stuff we actually, mostly likely use. Here's the after pic, which still may look a bit crazy, but it's definitely easier to see everything and I found I can even take a few more jars out to add into my spice warehouse boxes (two bins where I keep all the bulk spice we've purchased and are trying to eat through). Unfortunately our cabinets are about 1/2-inch too shallow to use our existing carousels in, which I always love to spices.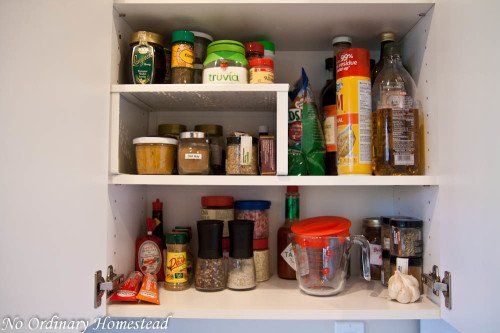 I also decided to do something to help resolve whether we are using certain spices or not. Things that are questionable now have a red sticker on them that says "5/14". I am giving us 6 months to try the various spice blends and so forth that have found their way into our hands…and if we don't try them, they are outta here. Also, if we do try them and don't like them, they hit the trash. Anything that we like gets the red sticker removed and we make a permanent home for it on the shelf.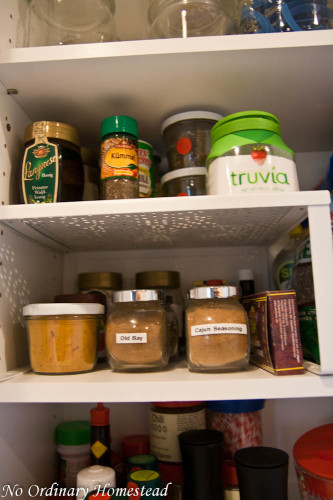 How are things looking in your spice cabinet? I know people seem to love to give spice blends for the holidays and there are so many great ones out there. Maybe it's about time to look through your own spice collection to see if you are actually using everything still. Or if any of your spices no longer smell like they used to (or not at all) — that's always a sure sign that they are ready to be tossed.
0