A classic side dish to BBQ is and will always be baked beans. There are many ways to make them; some include a bit of brisket, others bacon, some just one kind of beans, others many. There's no wrong way to make baked beans although just opening up a can of baked beans from the supermarket will never cut it in this house.
These baked beans are an awesome addition to any cookout, BBQ, family dinner or other potluck. Even though it makes a lot, they always disappear fast!
Baked Beans Discovery
Although I may seem like the ultimate cook who has control over everything in my kitchen, there are indeed times when my recipes don't turn out quite as I would have liked. I made a version of these beans a couple weeks ago when Stefan's parents were visiting because I wanted to try out the recipe. They were great and received approval to be served at our Lanternfest feast.
When I first made these back in 2006, we were living in Germany. And you may be surprised that canned beans are not always easy to find…not to mention you have to translate their names which are often far from what you'd expect. So in case you're reading this in Germany and want to try this recipe, here's what the beans are called:
Pinto beans – "wachtal Bohnen"
great Northern – "grosse weiße Bohnen"
baked beans – "baked beans" 🙂 or "weiße Bohnen in Tomatensauce"
red kidney beans – "rote kidneybohnen"
garbanzo beans – "Kichererbse" (which are also used to make your own hummus)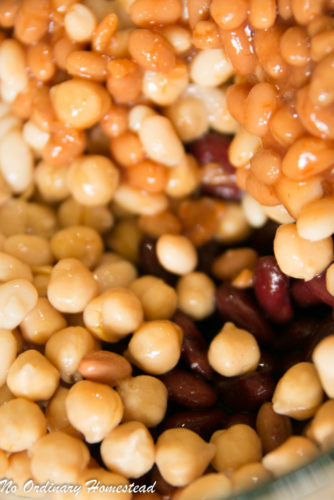 I never managed to find pinto beans in a can in Germany, so I always had to resort to using the dried ones (which also aren't all that easy to find.) Unfortunately, I'm not much of a pro when it comes to dried beans since I rarely make them that way, and always had a little trouble getting them to move past the crunchy state. I'm fairly sure if you use dried beans as one of the ingredients, you will want to cook them a bit on their own. Baking these for an hour in the oven 375 degrees F (190 degrees C) is definitely not enough to cook them down.
Also, in Germany, getting the bacon to leave a lot of grease behind was always tricky — so you may need to substitute in some other lard or oil for frying the onions. Can someone explain what is so different about the bacon here that it doesn't produce very much grease? How am I ever supposed to make a decent pot of refried beans if I don't get some decent bacon lard for flavor?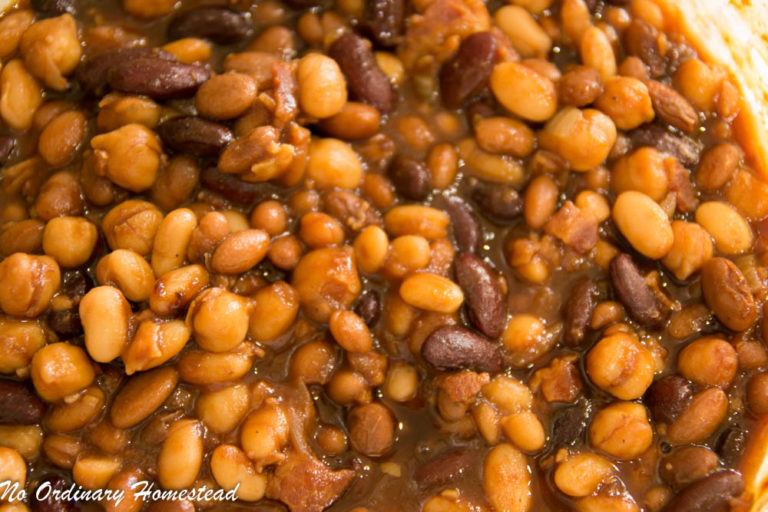 | | |
| --- | --- |
| | |
Preheat oven to 375 degrees F (190 degrees C).

Place bacon in a large, deep skillet. Cook over medium high heat until evenly crisp. Drain, reserving 2 tablespoons of drippings, crumble and set aside in a large bowl.

Cook the onion and garlic in the reserved drippings until onion is tender; drain excess grease and transfer to the bowl with the bacon.

Add to the bacon and onions in the pan, pinto beans, northern beans, baked beans, kidney beans and garbanzo beans.

Mix together ketchup, molasses, brown sugar, Worcestershire sauce, mustard and black pepper in a small mixing cup and stir into the beans mixture.

Transfer to a 9x12-inch casserole dish.

Cover and bake in preheated oven for 1 hour.
78