There are few things in life quite like true Buffalo chicken wings. And although I've never eaten them in Buffalo from "the source," I have sought out the best wings I could find wherever we have lived, from Miami, FL, to Frankfurt, Germany. But by the time we reached Berlin, I'd basically given up hope of finding a restaurant here those knows what a Buffalo chicken wing is supposed to taste like and just started making my own. Because trust me, people over here really don't know what a real Buffalo wing is. Or if they do, they just can't get a grip on how to make it themselves. Maybe they lack the right types of hot sauce, which should be a nice round hotness, like Louisiana Hot Sauce, but not tangy like Tabasco. Because most of the time we go to one of the most popular wing joints nearby when we visit Florida, it is wall-to-wall German tourists. And despite the fact that most Germans don't seem to like spicy foods, they sure do seem to like those wings!
But before I get off on a tangent about Germans and their preferences and food, and what they consider American- or Texas-influenced, I will just get on with this Buffalo chicken wings recipe!
One of the first small appliances we bought for our kitchen was a fryer, and we've had several of them over the years. But the problem with having a fryer is that you make an excuse to fry foods all the time (which really isn't healthy at all). And then your home starts to smell like fryer grease. It's just not pleasant at all. So when we moved to the new apartment in Berlin, we decided that the fryer was hitting the trash bin…and we would never buy one again.
So far, we haven't missed the fryer even a little bit. Sure, it takes a lot longer to make French fries in the oven — but they're a whole lot better for you that way. And we rarely eat them anyway.
And then I realized that we'd really only ever made Buffalo chicken wings in the fryer, the traditional ways that wings are made. And I knew there had to be another way…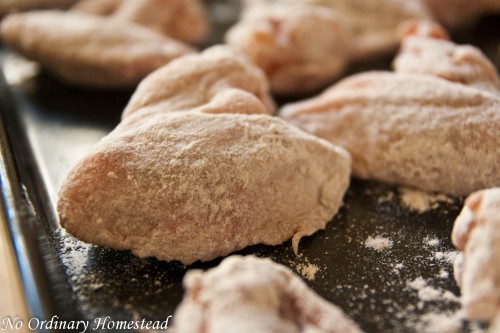 Meet my lightly floured, baked Buffalo chicken wings! This recipe is quite simple and the wings stay meaty and delicious. Because actually, that's one of the risks of frying your wings. They are so small to begin with, that if you leave them in too long, you will just have crispy bones and little else. In the oven, on the other hand, your wings can be cooked to perfection, and remain super meaty, soak up the flavorings in the flour mixture and still become perfectly crispy. You just have to plan ahead a bit more since the coated wings need to be in the fridge for at least an hour to set up. And then you need about 45 minutes to bake them.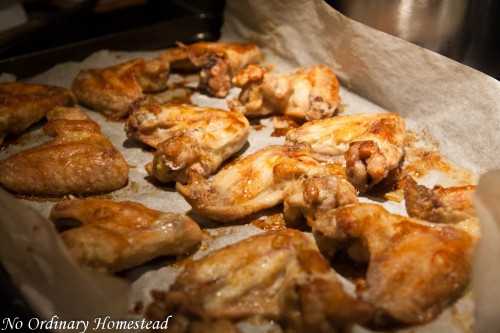 To be honest, I'm totally in love with this method now, and love that I can do the flouring earlier in the day whenever I think about it as well as make the blue cheese dressing. Then once Stefan is on his way home (or Mack has gone to bed), we throw the wings in, whip up a batch of sauce, and we're good to go. You can even double or triple the sauce if you'd like to bottle it for more wings later on or to use in other recipes which require wing sauce.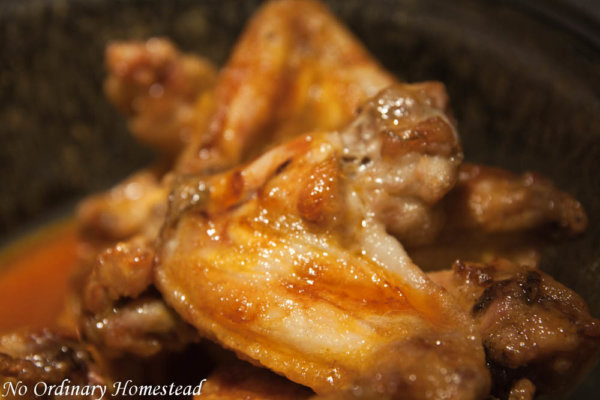 | | |
| --- | --- |
| | |
Line a baking sheet with aluminum foil, and lightly grease with cooking spray. Place the flour, cayenne pepper, garlic powder, and salt into a resealable plastic bag, and shake to mix. Add the chicken wings, seal, and toss until well coated with the flour mixture. Place the wings onto the prepared baking sheet, and place into the refrigerator. Refrigerate at least 1 hour.

Preheat oven to 400 degrees F (200 degrees C).

Bake in the preheated oven until the chicken is no longer pink in the center, and crispy on the outside, about 45 minutes. Turn the wings over halfway during cooking so they cook evenly.

Whisk together the sauce ingredients a small saucepan over low heat, until the margarine is completely melted.

Place wings in a big bowl with lid, plastic bag or other container which you can use to toss them in. Add sauce and coat wings.

Serve with carrot sticks, celery and blue cheese dressing.
0