A good meatball sub can be hard to find…and one key part of making them yourself is being certain that your meatballs are not too big and not too small. And of course you want to use a tasty tomato sauce as well or the sandwich just won't taste good in general. Somehow, I managed to fulfill those requirements when I made these the other day and they turned out awesome (although I think with homemade tomato sauce they will be SO much better!)
For bread, I usually go with a large baguette and cut it in half. Or you can also use mini-baguettes. You want a bread that isn't going to be overly crunchy on the outside and so that you can squish it a bit to get the whole sandwich into your mouth.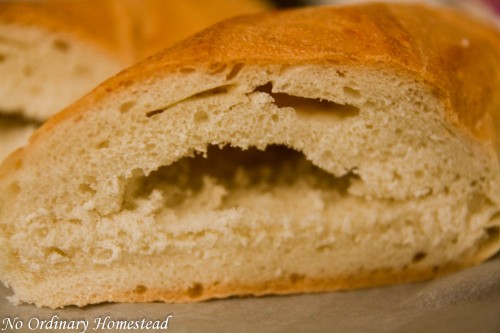 We often use mozzarella on these subs because provolone can be hard to find here in Germany…but maybe that's just because I'm not a fan of going to the cheese counter and talking to someone. We also recently used Gruyère on them and it was really delicious. But this is an excellent, easy recipe for some incredibly tasty meatball sandwiches.
If you don't have Italian Seasoning, you might also be able to make some quickly with what you have at home, or you can try other herbs in its place. I've also used basil and parsley combos. And even a rosemary/savory BBQ herb blend recently that was really, really good Your hands will get a little dirty during the meatball-making phase, but this might also be a fun time to get the kids involved if they aren't too grossed out about touching the cold meat. 🙂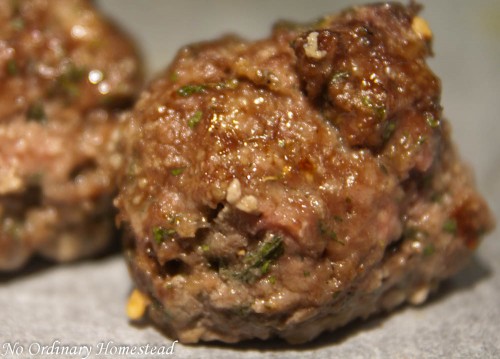 If you have space in your freezer, make enough to freeze some of the meatballs with sauce in your freezer and you'll have a really fast, extremely tasty quick meal ready in no time!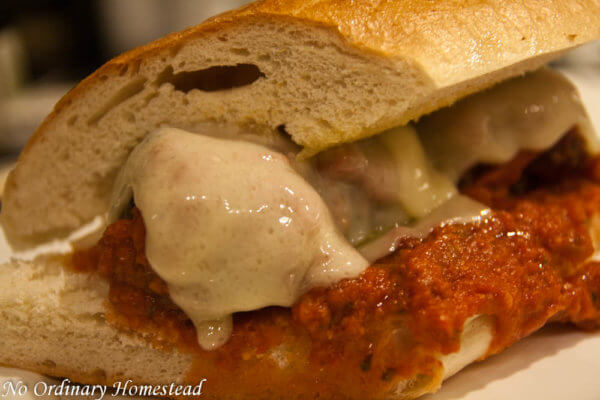 | | |
| --- | --- |
| | |
Preheat the oven to 350 degrees F (175 degrees C).

In a medium bowl, gently mix by hand the ground beef, bread crumbs, Italian seasoning, garlic, parsley, Parmesan cheese, and egg. Shape into 12 meatballs, and place in a baking dish.

Bake for 15 to 20 minutes in the preheated oven, or until cooked through. Meanwhile, cut the baguette in half lengthwise, and remove some of the bread from the inside to make a well for the meatballs. Brush with olive oil, and season with garlic powder, onion powder, salt and pepper. Slip the baguette into the oven during the last 5 minutes of the meatball's time, or until lightly toasted.

While the bread toasts, warm the spaghetti sauce in a saucepan over medium heat. When the meatballs are done, use a slotted spoon to transfer them to the sauce. Spoon onto the baguette and top with shredded mozzarella cheese. Return to the oven for 2 to 3 minutes to melt the cheese. Cool slightly, cut into servings, and enjoy!