Thanksgiving shortcuts are hard to pull off here in Germany. So when I go on about making my own dressing from scratch and you just want to hurl, remember that I can't get things like Stove Top Dressing Mix here in Germany. If I could, I might very well use it. Or I could use a copycat recipe for Stovetop. But I also find this dressing recipe a great way to use up old baguettes and rolls that I've had in the freezer for a bit – and it's really not that much more effort.
If you want to spice up a regular box of dressing mix, take 2 boxes store bought Dressing Mix. Brown one chopped onion, 2 stalks celery & 1 bell pepper in 4 tablespoons of butter. Add broth instead of water with the package seasoning; bring to a boil. Add one chopped apple. Remove from heat. Add dried bread package and stir until bread absorbs liquid. Grease a casserole dish with butter. Add dressing and bake in 350 oven for about 20 minutes until top is crusty.
For those taking a more traditional approach, use this fantastic recipe.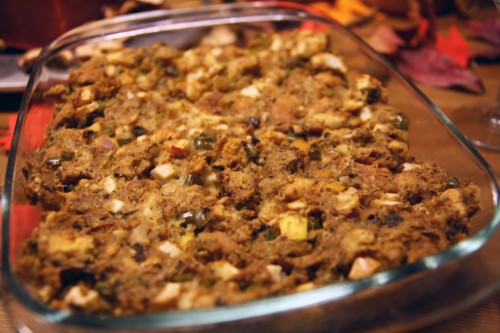 Cranberry or Currant Relish
| | |
| --- | --- |
| Cranberry or Currant Relish | |
Brown onion, bell pepper, and celery in butter. Add broth, spices and chopped apple.

Add bread cubes. Blend until liquid is absorbed. Add more bread if it seems a little mushy or more broth if it seems a little too dry.

Place in buttered casserole dish. Bake at 350 for about 20 minutes until crusty.
Cranberry or Currant Relish
Rinse berries. In a saucepan, mix sugar and water. Bring to a boil; boil 5 minutes.

Add berries, return to a boil. Turn down heat and boil gently until skins begin to pop (about 5 minutes). Remove from heat and add orange zest. Refrigerate.
Cranberries are not as common here as in the US (in fact they import Ocean Spray cranberries around here) so instead of spending a fortune for them, we use frozen red currants from the bush in our garden. The taste is the same and we always have them on hand.
0