When I was young, my mom used to make cornbread all the time. I grew up in Texas — it's a staple there. But cornmeal here in Germany is not quite as course as the cornmeal you buy in America. And it can be rather hard to find. I guess it's really more cornflour than cornmeal which creates a much more cake-like cornbread but also makes some traditional cornbread recipes taste downright terrible. Taking a regular recipe off the back of the cornmeal box resulted in cornbread that was flat and flavorless. So the quest for the perfect cornbread recipe began. If I wasn't so fearful of freezing to it, I would just get outside and turn some corn in my Country Living Grain Mill with the perfect texture. I guess throwing a little polenta into the corn flour would probably give it a similar consistency to the American version I am used to, but with the following recipe, it's not really necessary anymore.
This recipe will make a cake-like, moist, wonderful cornbread that looks as good as it tastes. The key seems to be letting the milk and cornmeal sit together for at least 15 minutes. I prefer to leave them together for an hour or so and I've even let mine soak for a couple of hours while we walk the dog and put the munchkin to bed. The resulting cornbread was absolutely wonderful. Regardless of how long you have to let it soak, just make sure you don't omit the soaking step because the cornbread will not live up to your expectations.
I really wanted to use my KitchenAid when I made this the other day, but Mackenzie was already in bed when I got to mixing everything together. But I think that a little help from it could make this cornbread even more fantastic; not to mention incredibly easy. Then I won't be able to stop myself from just gobbling it down straight out of the oven!
This recipe was featured in Mouthwatering Monday on A Southern Fairytale – pop over there to find more great recipes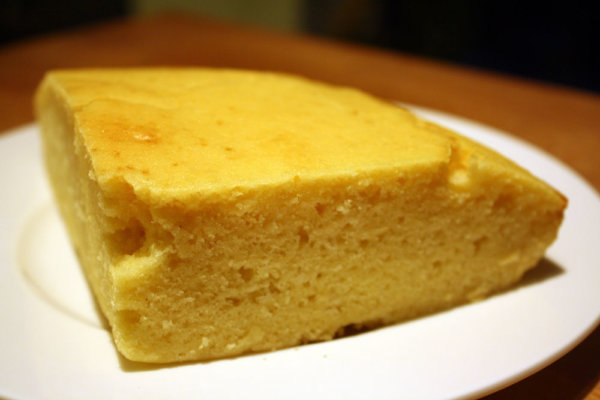 | | |
| --- | --- |
| | |
Preheat oven to 400 degrees F (200 degrees C). In a small bowl, combine cornmeal and milk; let stand for 15 minutes or more. Grease a 9×13 inch baking pan.

In a large bowl, whisk together flour, baking powder, salt and sugar. Mix in the cornmeal mixture, eggs and oil until smooth. Pour batter into prepared pan.

Bake in preheated oven for 30 to 35 minutes, or until a knife inserted into the center of the cornbread comes out clean.
10