I've been wanting to try a recipe from one of my favorite foodie blogs, Homesick Texan, for a while now but just been putting it off. It turns out that this recipe is incredibly easy and tastes fantastic. It's sort of like a Mexican lasagna, using tortillas instead of noodles. I used broiled chicken breasts and a sprinkling of dried cilantro since I didn't have any on hand. I think with some sour cream, this could be a tiny bit better…or maybe guacamole. I will definitely be making this again and we have some leftovers for the next couple days. Next time I might try to make two smaller casseroles so I can freeze one.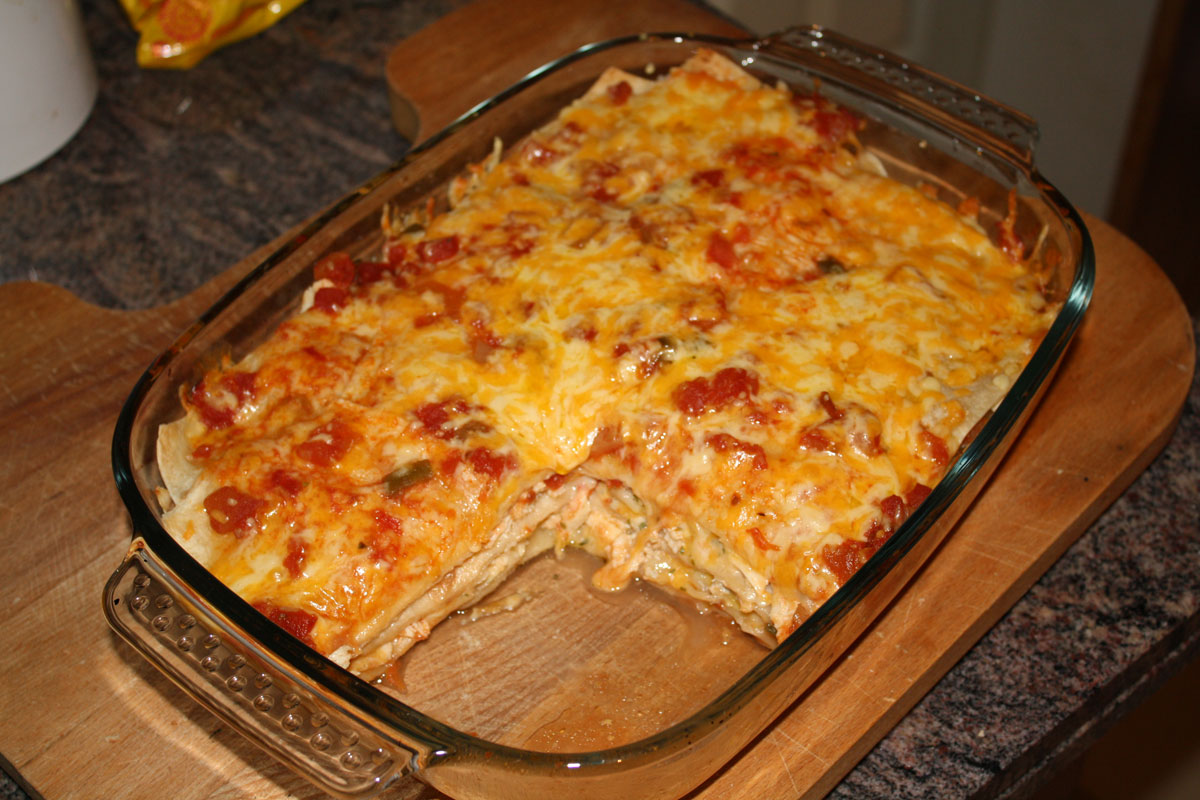 Enchilada Casserole
Serves 8
Ingredients:
9 six-inch flour tortillas
2 cups of protein, such as refried beans, shredded chicken, ground beef, cubed tofu, etc.
4 cups of salsa, either red or green
1 1/2 cups of cheddar
1 1/2 cups of Monterrey Jack
1/2 cup of diced onion
1/2 cup of sliced black olives
1/2 cup of cilantro
Salt and pepper to taste
Method:
Preheat oven to 350 degrees.
Pour one cup of salsa into a 9×12 pan.
Layer 3 flour tortillas along the bottom (may have to tear one to make it fit).
Add one cup of protein, 1 cup of cheese, 1/4 cup each of onion, olives and cilantro and 1 cup of cheese.
Layer 3 flour tortillas on top, and again add 1 cup of protein, 1 cup of cheese, 1/4 cup each of onion, olives and cilantro.
Add last 3 tortillas on top, sprinkle over them 1 cup of salsa and 1 cup of cheese.
Cover with foil and bake for 20 minutes. Remove foil and bake for 15 more minutes or until bubbly.
Variations: The nice thing about this is you can add just about anything you like to it: mushrooms, bell peppers, carrots, broccoli, cauliflower or any other vegetable you have taking up space in your refrigerator. You can also add more or less cheese, more or less protein or whatever else you desire.
I made picante sauce today since we can't get anything decent here. It turned out VERY spicy since I used Rotel tomatoes in it…but it's heavenly. The recipe is based on a copycat version of Pace picante sauce. It tends to thicken up quite a bit after it cools.
Thick & Chunky Picante Sauce
Ingredients:
28 ounces crushed tomatoes
10 ounces water
1 medium yellow onion, minced
2 fresh jalapeno peppers, with seeds, minced
1/4 cup juice from jarred jalepenos or white vinegar
1 teaspoon salt
1 tablespoon onion powder
1/2 teaspoon garlic powder
Directions:
Bring all ingredients to a boil in saucepan over med-high heat.
Reduce heat and simmer for 60 minutes or until thick.
Remove from heat and cool.
Store in an airtight jar in refrigerator until serving.