During The Hive European Bloggers Conference (hard to believe that was more than a week ago), I got to participate in a workshop that really helped to open my eyes when it comes to food photography. Since the first day that Stefan gave me my beloved Canon DSLR, I have done my best to take good photos with it. Sometimes I even manage to take great ones. It just seems a bit easier when you've got a chance to take dozens of photos until you get it right, versus the old days when you didn't want to entirely waste (expensive) film.
When I heard that there would be a food photography workshop going on, I just knew I had to find some way to participate. I have loved many foodie blogs for a long while due to their photography alone, and there's something really special and inviting about food that is photographed well.
Our class was led by the lovely Ailine who is a professional photographer in "real life" — but also writes a lovely food blog in both German and English called Aicuisine. Definitely be sure to go check it out not only for the great photos but also the yummy recipes.
Use what you've got around you
If you think you need fancy props, plates or other things to take beautiful food photos, it's simply not true. Actually, if you start looking more closely at other examples of lovely food blogs, I bet you will notice more and more that they don't use any props at all besides extra ingredients, pieces of food, spoons, knives and so forth. Sprinkle some cinnamon on a dish or pepper, and leave the spice jar or pepper mill nearby to be in the shot.
You don't need to have a closet full of special plates or anything like that — just use what you have. And if you happen to come across something special for a bargain, sure you can buy it. But using things you already have at home and use on a regular basis is far more practical so you don't need a studio to store all your stuff — and you don't take an hour just to stage your photo.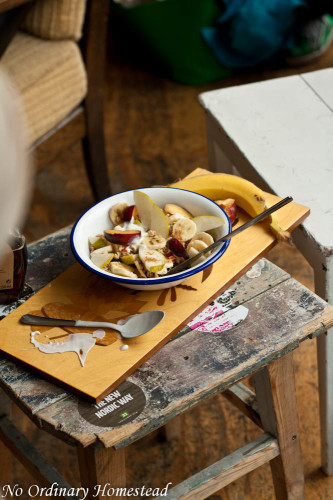 Which brings me to…
Make it natural looking
There's no reason to go overboard with making everything look just perfect. Sure, if you're at a restaurant plating can make all the difference. And a well presented plate will come off nicely in your photos. But if you were carrying the roasting pan with a towel and you set it down with stuff in your hand, just leave it that way. Give the shot meaning and feeling instead of forcing something out of the shot. And don't always do a closeup of only the food because it gets a bit boring. You want to almost tell a story and give serving suggestions while making the shot look pretty.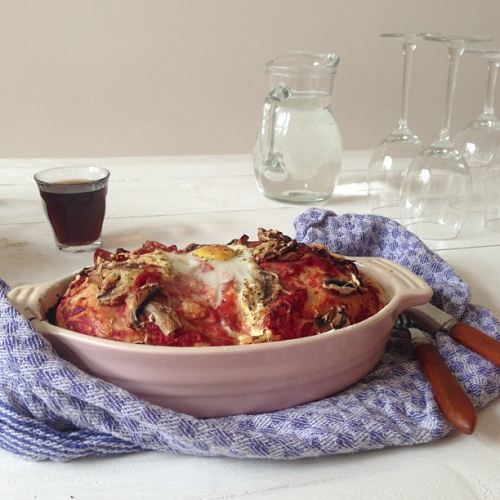 Use the right lens

A 50mm lens with a low F-stop is optimal and get one with a macro option or some macro filters. This will allow you to have sharp, beautiful photos up close, but a really nice blur and bokeh in the background. You should be able to get a good lens for as little as $100 and it's not only fabulous for food, but also great for capturing people. I have a Canon 50mm F 1.8 lens that I love, and use a couple of macro filters in various strengths that I can screw on and off. Many times you've got to push in on the food to really get the capture you want. But also keep in mind that with a 50mm, you might end up much further from the food than you expect if you are taking a picture of a plate and several things nearby. Lately, I've been standing on my kitchen counter to allow for both the right light and the angle I want. It's not entirely safe but it looks good. 😉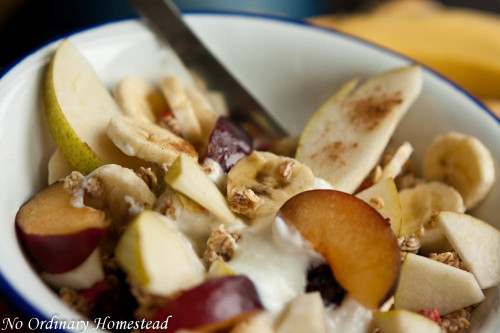 Use natural light whenever possible
I actually didn't entirely learn this trick from the workshop, but rather from A Southern Fairytale quite a while ago. She also takes amazing photos, and was talking about a photo shoot she had done with Southern Living (how awesome is that, right?!) where they took all the plates over to the window or outdoors. You don't want direct sunlight and can definitely get enough light on most overcast days, but you want to get that full round color from the food you are photographing that really only comes with natural light. I set my plates near a huge window in our kitchen, and in our old house, I would actually bring the plates over to the floor near our big glass door so I could capture the shots there. If you have a child or a dog at home, you'll want to make sure your camera is ready to go so you don't have to dash off somewhere — otherwise the food might not still be there! If you find a corner of your counter or home that works best, try to reserve that as your food photography spot and keep it cleaned off and ready for whenever you need to photograph something.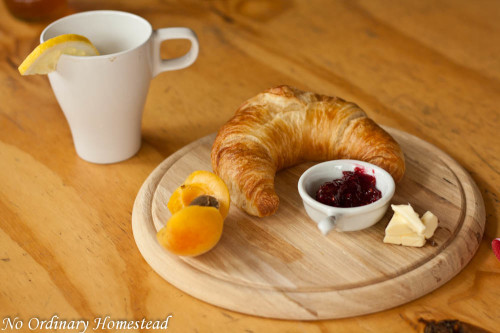 Trust your instincts
This is my own tip — but I think that anyone can be a great food photographer if you just think through the shot a little. Sometimes if you just do a test shot or two, you will immediately notice that the shot looks a bit dull in your camera. Throw in a bit of color to brighten up the shot and try not to have everything be monotone (unless that is what you are aiming for, of course). Natural colors will almost always mesh well together, and when you put food together on the plate that you'd usually eat together, those looking at the photo won't feel something is odd or out of place.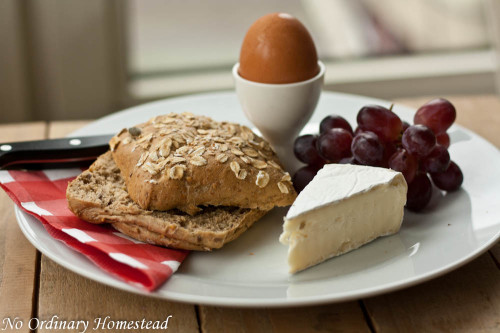 And here are a couple more shots from Ailene's blog to inspire you! And now go out and photograph some food! 😉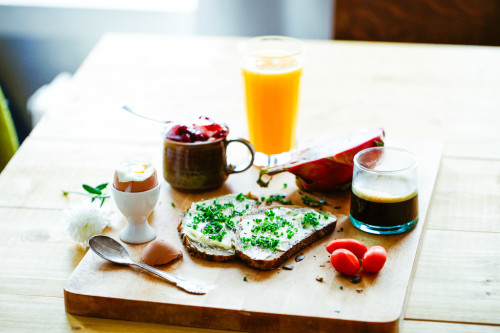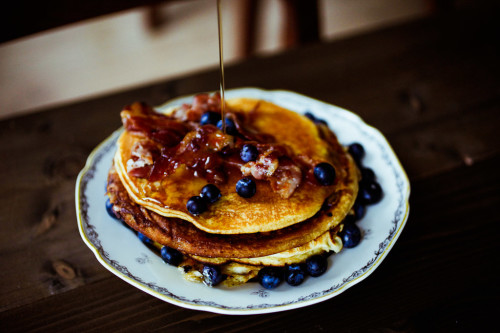 What food blogs inspire you? Please share the links below (so I can go stalk them too!) Do you have any food photography tips to share?