This post is part of the Before & After series I've started about the renovation of our house. If you'd like to read more about our projects on the house, please visit our Farmhouse page.
When we bought the house in August 2006, the kitchen in the main house was this room. The counter wasn't quite as cluttered as it was here but otherwise this is what it looked like.
All the appliances actually work and we still have all of this stuff stored in our barn. Still trying to see if we can get any money for it or will just give it away.
We took it all out in one day. Turned out not to be too horrible aside from a few of the pieces being really heavy.

The room looked pretty sad once we had the linoleum out too. And then we noticed the water damage and drooping corners at the far side of the room.

When we pulled up the plywood we found hardwood floors. Unfortunately a big portion of the kitchen flooring not only had water damage but worm damage too. So we had to remove it. That experience taught us a bit about our house and the old styles of insulation used in it. For example, under this floor is about 12 inches of sand. The living room has the same construction judging from all the sand that comes out if you have the vacuum suction level up to high when cleaning in there.


To read the entire ordeal about us taking out the old kitchen and replacing the floor, read the posts below:
After we had the old floor out, we installed a new hardwood floor with the help of my mom who happened to be here (and knows what she's doing.) This is more or less what the room looks like now. We added a door to the room to close it off from the world…and the dog. This project actually isn't 100% finished yet because I will be redecorating in here at some point. The desk and other furniture replacements are going to be a while. But as you can see, it's come a long way from that nasty old kitchen.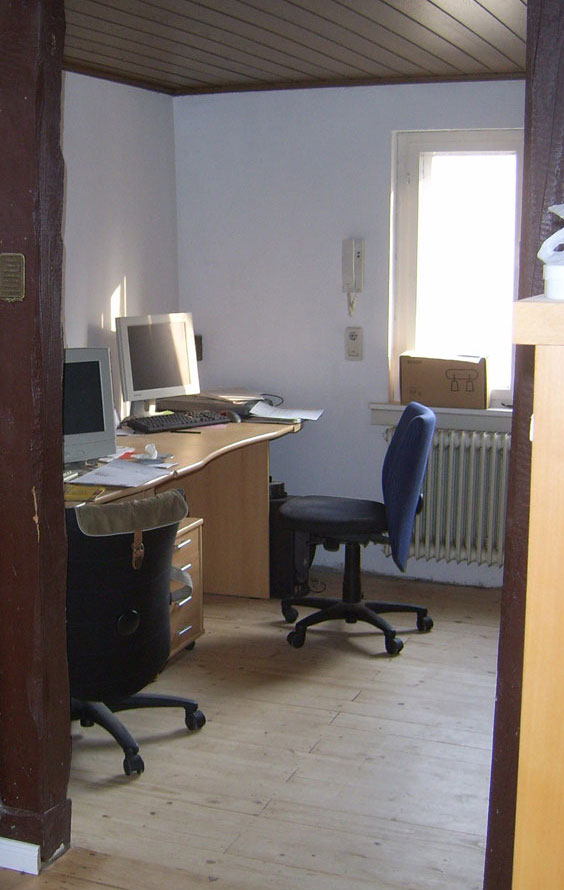 0