Since we are weekly visitors to our local farmers' market here in Berlin, it's not difficult to see the seasons (and the foods) changing right before you eyes. And one of the more exciting things that floods the market are chanterelle mushrooms (known asPfifferling here in Germany), which begin arriving during late summer to early fall. Mackenzie also likes this time of year, because that's when the majority of the strawberries, raspberries and blueberries also are hitting the market! 😉
These tasty mushrooms are really easy to cook with, and one of the most common dishes you will find which includes a healthy portion of them is a simple pasta dish with a cream sauce and fresh parsley. The parsley is such standard fair with chanterelles that you'll often even get it for free, just because you bought the mushrooms. They go together like lamb and tuna fish…wait, no. I meant spaghetti and meatballs. (I have not watched Big Daddy lately but really need too! lol)
Although you can find chaterelle pasta being served up all over the place, you're also going to end up paying €12 or more for a very simple dish that only takes about 10-15 minutes to prepare and costs just a few bucks. So before you think about shelling out a bunch of money to enjoy fresh mushrooms, think about just making it yourself. Who knows, you might even be able to go out and harvest your own fresh chanterelle mushrooms nearby.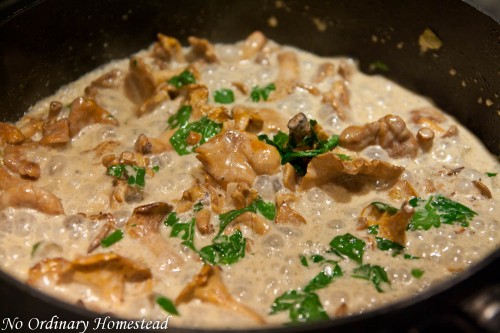 What to look for when buying Chanterelles
Like with any mushroom, you want them fresh and flavorful, not lifeless and gray. So here are a few tips to keep in mind when you go to buy chanterelles at your local market.
Look for a golden or apricot-like color. If there are gray or decaying parts, keep moving.
Do a smell test. They should smell sweet, a bit like a peach or apricot.
How do they feel? If they are slimy you don't want them. They should feel dry and slightly spongy but not hard.
The gills underneath should be long lines with no fragmenting.
Don't bother buying dried chanterelle mushrooms. They maintain little to no flavor often turn out rubbery when you bring them back to life.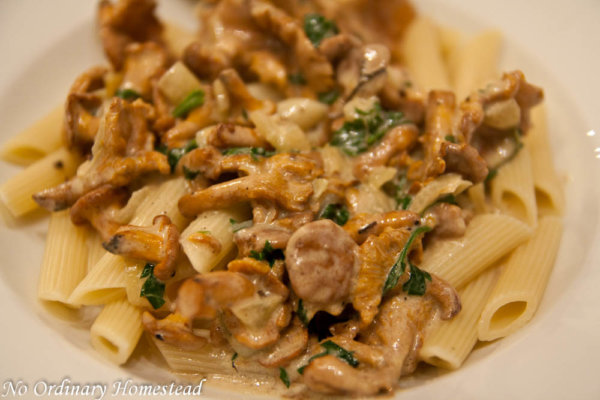 | | |
| --- | --- |
| | |
Cook pasta according to package instructions.

Sweat shallot in olive oil at medium-high heat until transparent, about 1 minute.

Add mushrooms, salt and pepper and saute at medium heat until mushrooms soften (about 4 minutes).

Add wine and continue to saute for another minute or two.

Add heavy cream and parsley. Taste the sauce and add additional salt and pepper to taste.

Cook until thickened, 1-2 minutes. Serve over favorite pasta noodles.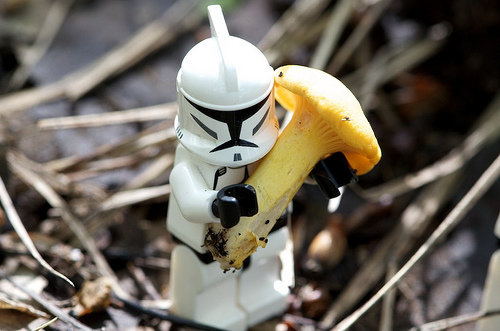 Because we bought so many mushrooms the last time we made this, we ended up having chanterelle pasta multiple times within a few days of each other. And we were working hard on decimating our wine collection (which we've depleted for now until we go back to visit the farm) so we tried two different wines with it. Again, I'm no wine sommelier — just someone who enjoys drinking a good wine from time to time. The first night we opened a bottle of Lenotre Chardonnay (2009) which is actually available just down the street from us at KaDeWe. But honestly, I don't really recommend picking up a bottle of this one in particular. The taste was sharp and dry, but there were no nice fruity undertones or anything pleasant at all. You could only taste the alcohol (which is 13.5%) and we just weren't thrilled about it overall.
But the next time we made this chanterelle mushroom pasta recipe, we tried a Grauer Burgunder from Villa Tabernus which was really, really tasty. It really complimented the meal and is a wine we'd be happy to drink again.
1