There are many, many different ways to make potato salad and most of them taste great. One common way of making potato salad in Germany is with what seems like a pound of mayonnaise in it. If that is what you're looking for, this is definitely not it. Mostly because I find that version disgusting.
Instead, this is a simple, light potato salad version that tastes great served with Wiener schnitzel or anything from the grill on a warm summer day.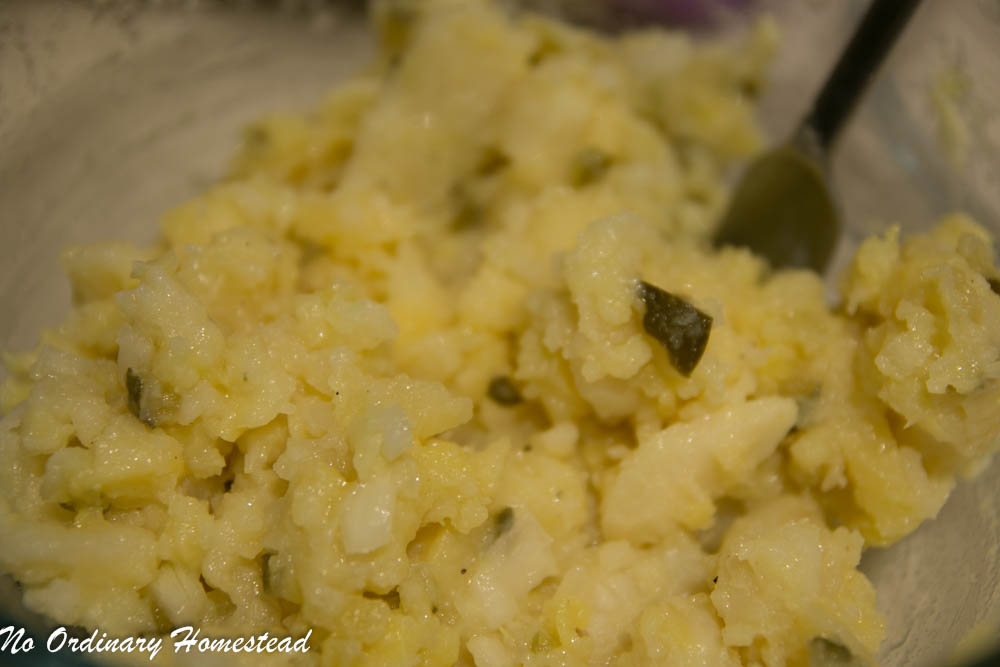 This recipe comes from my mother-in-law, and when I do it right, it tastes just like it's coming from a typical, down-home German restaurant. You can even make it with American bread & butter pickles instead of German ones and still get the same great flavor. Who knew.
Potatoes in Germany vs America can be a challenge because you can actually people at the market stand if the potatoes are hard / "fest" or crumbly / "Mehlig". Or you can just ask which is better or potato salad. In America, we've been going more with a trial and error method. So far, a mix of Russets with red potatoes worked well. The texture was soft but not smooshy, and there should definitely be some firmness to this potato salad recipe.
Are there tricks for potato peeling that I'm missing? My mother-in-law uses a special twisted fork to hold the hot potatoes and peels them with a small knife. I tried a regular fork as a substitute and all I came up with was a mess. I am hoping to get one of these little gadgets soon, though. And when I do, I'll share the details with you!!
The next time we have a potluck to go to, I'm going to try out this recipe as well. No mayonnaise means no risk of illness from salmonella or spoilage. And in Florida, heat is something you always have to think about.
I'm republishing this post today, which I originally published on January 28th, 2010, because I made this schnitzel and this potato salad last week So a special thanks to my mother-in-law, who is no doubt reading along with you now, for teaching me these recipes and allowing me to share them on NOH. And to Publix for the delicious ingredients. All three of us thoroughly enjoyed it and are looking forward to having it again soon!
| | |
| --- | --- |
| | |
Add onions, pickles and juice into large bowl. Let them marinate together.

Boil potatoes until they fall off a fork without breaking, about 20 minutes. Peel potatoes and cut into slices. Add to bowl.

Add oil, bouillon, vinegar and mix well. Let sit for at least 30 minutes so flavors can combine.