We eat a LOT of pasta in this house. So much so that we actually bought a really cool automatic pasta machine that mixes everything for you and presses it out in the desired shape. But unfortunately the thing takes forever to make pasta so the electricity we end up spending for the thing is about 4 times the price of pasta in the store. On the other hand, we also know there are no preservatives in the pasta and it tastes SO good…but the time factor really turned us off so we haven't made any in a very long while. (Note to self: pull out machine and give it another go—otherwise put that sucker on eBay stat!)
One type of pasta I have never made (but always love eating) is bolognese. Not sure why I never made it at home but I guess I just never really came across a recipe that interested me. Until the January/February issue of Lecker came out, that is, and featured a very yummy looking plate of spaghetti bolognese.
So I gave it a go and I think it will be added to the favorites list. I have a favorite Southern-style meat sauce that is a little bit similar, but the red wine in this bolognese sauce recipe just makes all the difference. I used a chianti that we picked up in Italy which added a sweet yet distinctly wine-like flavor. Some may also want to really finely chop the carrots and celery but I like my sauce to have a bit more texture so I just hand chopped everything which didn't allow me to make them microscopic. It turns out that the carrots are Mack's favorite part of the dish!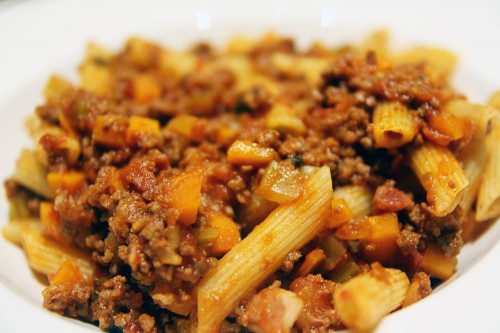 | | |
| --- | --- |
| | |
Fry bacon in a large pan until crispy. Add ground beef and cook 5-8 minutes at medium-high heat until the beef is no longer pink.

Add carrots, celery, onions and garlic to pan and cook about 5 minutes until the celery and carrots begin to soften.

Stir in tomato paste and allow to heat through. Then stir in wine and allow it to reduce down to half. This should only take a few minutes.

Add crushed tomatoes with juices to the pan as well as oregano, salt, pepper and sugar. Mix thoroughly and cook for at least 15-20 minutes. You can also reduce the heat to low at this point and allow it to simmer slowly until ready to serve. Once you've reached your desired thickness, keep it covered to prevent it from reducing further.

Cook pasta per directions on the box. NOTE: If your sauce has thickened too much, add a few tablespoons of noodle-water to the sauce and mix well to give it more moisture.

When the pasta is finished cooking, drain in a colander and add the noodles to your sauce. Toss well to coat all noodles. Then spoon it into bowls, sprinkle with Parmesan and enjoy.
0