Today I am going to share one of our family favorites with you. I discovered this recipe about a year ago, after seeing a pound of ground veal on BOGO at the grocery store. I had NO IDEA what I was going to do with it when I put it in the cart, but after doing a little googling, I determined that this awesome ground veal recipe on Food and Wine was the only way to go. The results were spectacular, which is why I must share it with you now!
---
Publix, our local Florida-based grocery chain "Where Shopping is A Pleasure", is well-known for it's BOGO specials. One of our favorites to catch is the ground veal BOGO, where a pound of ground veal costs not $10.99 a pound, but $5.50! They were running this special about a week ago (end of May 2015) and we stocked up! I bought 4 pounds, but I know it won't last long!
Now I don't know about your family, but in our house, veal is absolutely a crowd favorite. Even Mackenzie wolfs it down! (She has a rich palate – what can I say? Must come from all those fine dining nights in Germany while she was in my belly!)
If you're not familiar with Orecchiette, it's a small little pasta, about the size of your thumb which is just delectable. The name comes from it's shape, which is rather earlike. Orecchiette is actually the the plural form of orecchietta, from orecchio (ear) + etto (small). It originates from southern Italy in a town called Apulia, and while it used to be rather hard to find outside of specialty Italian shops, it's becoming more and more popular and we've found it in Publix as well.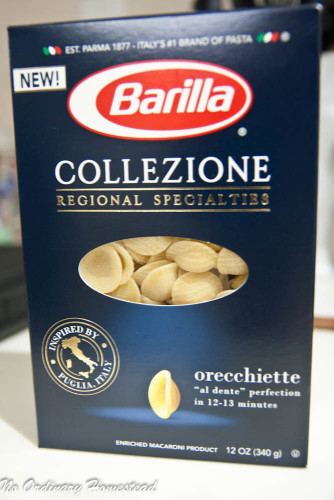 SAVE BIG: If you're a Publix shopper, you can also watch for the Barilla Collezione BOGO special.
While you can use other types of pasta for this recipe, the Orecchiette offer the best consistency with the ground veal sauce. Target also has their own Orecchiette pasta under the Simply Balanced brand which tastes pretty good and is reasonably priced.
About This Recipe
This ground veal recipe creates a savory, hearty dish that would classify as comfort food in most homes. While it does take a little bit of time, this recipe is not particularly difficult and doesn't involve a lot of prepping or chopping aside from the onion and herbs.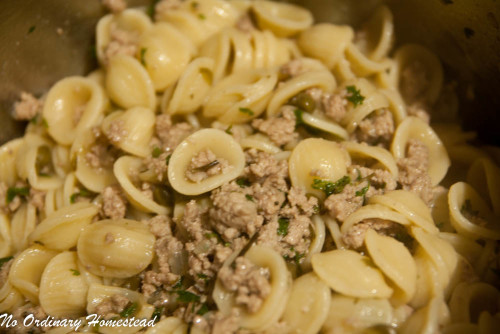 This recipe only has 14 ingredients, most of which are regularly found in our kitchen. You may notice that we buy the MEGA jar of capers from Costco (which are awesome quality) and while some may not care much for them, we LOVE them in this house. Yep, even Mackenzie gets excited about capers which must have something to do with the super yummy dishes we make that usually include them. In fact, whenever a recipe calls for 1 or 2 tablespoons of capers, I throw in at least double that amount, if not triple.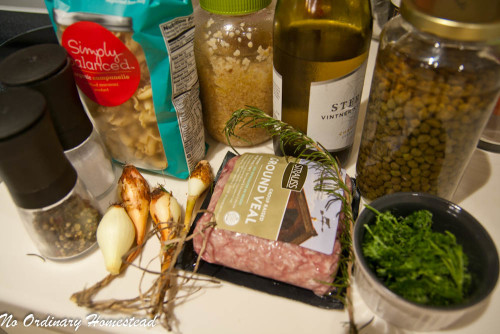 The reason this recipe takes a bit of time to cook is because you are cooking down all of the liquids you add into the veal so that it becomes very tender and delicious. First you let the veal cook in its own liquids, then add wine and cook down again, then chicken or vegetable stock. By the time you reach that point, you're nearly done!
You can also cook this recipe 3/4 of the way through (once you've added the stock, herbs and capers, then cooked it down, but before you add the cheese or cooked pasta) and finish it off by cooking the pasta and adding the final ingredients when you're ready to serve dinner. This allows you to convert it from a somewhat long process into a faster week-night friendly meal.)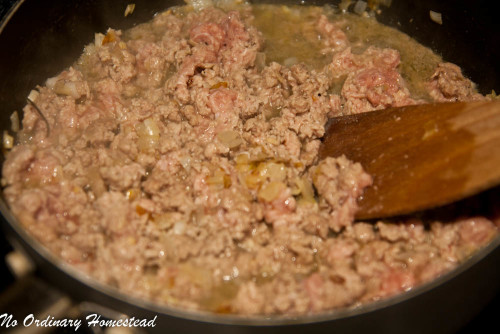 If you're a friend of veal, happen to get a good deal on it or just want something a bit more out of the ordinary for dinner, this is a great recipe to try. It's wonderful for a fancy yet simply dinner meal (couple it with a fresh salad and bread) or just a nice weeknight meal.
Do you have a favorite ground veal recipe? Looking forward to trying this one or already tried it out? Share your thoughts with us below. 
| | |
| --- | --- |
| | |
In a large, deep skillet, heat the olive oil. Add the chopped onion and minced garlic and cook over moderately high heat, stirring frequently, until softened, about 5 minutes. Add the veal, season with salt and pepper and raise the heat to high. Cook, stirring occasionally, until the veal is no longer pink and any liquid has evaporated, about 8 minutes.

Add the white wine to the skillet and boil over high heat until nearly evaporated, about 5 minutes. Add the chicken stock, thyme, rosemary and capers and simmer over moderate heat until the liquid is reduced by half, about 10 minutes.

Meanwhile, cook the orecchiette in a large pot of boiling salted water until al dente. Drain the pasta well and add it to the skillet along with the Parmigiano-Reggiano cheese, chopped parsley and butter. Cook over moderate heat, stirring frequently, until the sauce is thick and creamy, 1 to 2 minutes. Transfer to bowls and serve right away.
3