Love is in the air and what better way to spend the day than to show the love of your life a good time around beautiful Naples, Florida? Depending on your likes and tastes, there are a myriad of options for spending a quality Valentine's Day in Naples. Below, I've put together a few date ideas that should suit any taste.
Thankfully, Naples has the most amazing weather this time of year, so you don't have to worry about staying warm while spending a fun morning, afternoon or evening on your date. You do need to watch out for the 5-0 though, as drunk driving is very frowned upon here in Collier County. Nobody wants to spend Valentine's Night at the Collier County Jail or found online smiling for a mugshot! Keep in mind that services like Uber are alive and well in Naples and we've made sure that each date location is fairly close to the next – so if you're going to drink, make sure to do it responsibly.
Dinner and a Movie
Looking for some low key fun? What's more American than the classic dinner and a movie date? Here is my suggestion for having a fun Valentine's Day Movie date in Naples this year:
Start your evening at the temple of fast-food goodness: Brooks Burgers (North Naples location at 845 Vanderbilt Beach Rd). These are not just any old burgers. The menu features all different creations including a burger between two Donuts (make sure you order the fried egg on the burger…it makes it). This is some serious calorie overload, but it is absolutely worth it. Check out our in-depth review of their original Downtown Naples location (still operating at 330 9th St S, Naples, FL 34102) but the menu at the new location is the same.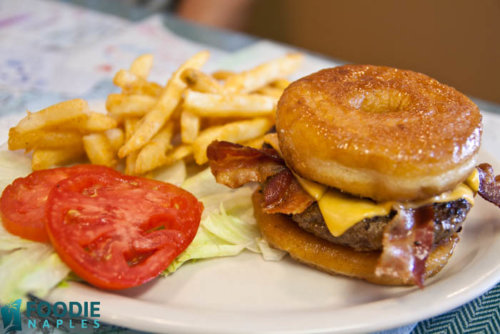 After gorging yourself on gourmet junk food, head a few doors down to the Paragon Pavilion Theater (833 Vanderbilt Beach Rd) for movie time. It is literally about 100ft, within the same shopping center, so feel free to leave your car parked.
The movie theater features electric reclining seats, a beer and wine bar and different types of foods, such as hummus, various wraps, and flatbreads. Of course, you can also find the standard movie theater popcorn and candies – if you are still hungry after your delicious burgers at Brooks. Check for showtimes and seat reservation at Paragon Theater in Naples here.
After the movie is over, head on over to the Beach Box Cafe. A small beach bar at the end of Vanderbilt Beach Road (9020 Gulf Shore Dr). Beware, they close at 10 pm, so if your movie runs late, you might miss them. On Valentine's Day, you'll get to enjoy $3 Chocolate Pudding Shots. I've never had them, but they sound tasty. While there won't be any live music that night, you get to enjoy a fun indoor/outdoor atmosphere with some pretty good drinks and lots of locals.
If all that sitting has gotten you in the mood to move (or you are feeling romantic), there is really no better place to take a beach stroll than through the Vanderbilt Beach Rd beach access. It is just a few steps away from the Beach Box. Take a stroll along the white sandy beaches and the warm waters of the Gulf of Mexico. It might be a bit dark out there on Valentine's Day 2018 as it will be a new moon and the condos along the beach are keeping the lights low due to sea turtle protective ordinances.
A Night on 5th
Next on our list of date night ideas, this tried and true favorite date is a bit more elegant than the previous one. While it's still "Season" in Naples and 5th Avenue will likely be pretty busy (read: make reservations), a night on 5th is always worth braving the crowds.
If you are heading downtown by car, a great place to park is the 6th Avenue parking garage (right across from Cambier Park) as it puts your ride home within just a few steps of the last stage of this date night.
Start your night with a drink at HobNob (720 5th Ave S #101). This hip place features an extensive bar menu and a huge community table to get the evening started the right way. It's easy to lose track of time here, but don't linger because it's time to head out for a beautiful SW Florida Sunset.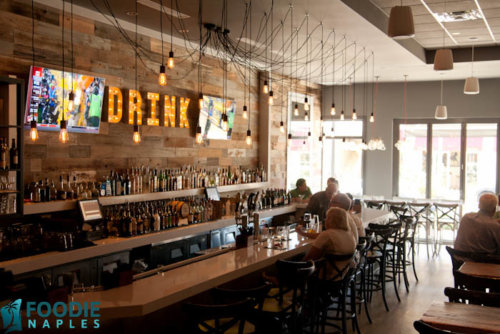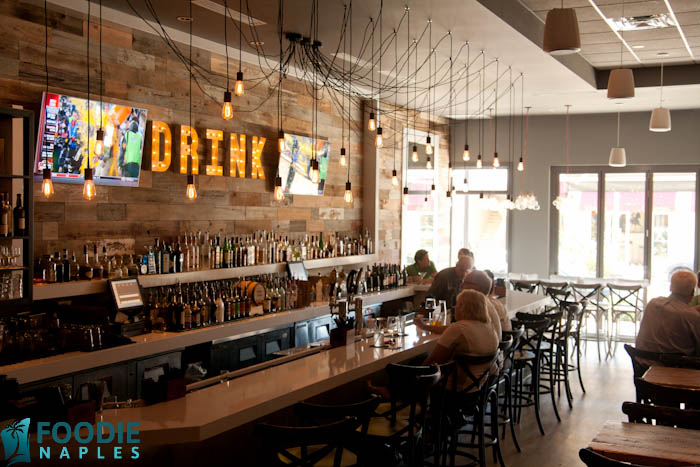 One of my favorite date night activities is strolling along 5th Avenue South. People-watching is a beloved past time and around sunset and early evening, you are bound to find lots of people milling about and window shopping. From HobNob, it's only about 0.5 miles to the beach for a stunning view of the fabulous Naples sunsets.
Heading down all the way to the end of 5th Avenue South, the sugary white sands of the Gulf beaches await. The sunset on Valentine's Day this year will be at 6:19 PM. You won't be by yourself, but this area of the beach is definitely less crowded during sunset than just a few blocks away at the Naples Pier.
There are literally dozens of restaurants to chose from on 5th Avenue South, ranging from just OK to excellent and there is going to a more detailed post about this in the future, but tonight head on over to The French (365 5th Ave S.). Opened recently, it is the third eatery on 5th Avenue South owned by Chef Vincenzo Betulia.
Somehow it seems that whenever we have something special to celebrate, we end up eating at a French restaurant. So for Valentine's Day, this restaurant seems fitting. Plus French is such a romantic language.
The French (as you may have guessed by the name) serves French-style Brasserie food. Their wine list has nice selections of our favorites and the service has always been excellent every time we have been there.
To round out the night, it's time to head back up the Avenue for a final nightcap. Depending on how sporty you feel, you can either hoof it, or jump aboard the free electric Slydr shuttles. One of our favorite date night stops for a nightcap is 7th Avenue Social (849 7th Ave S #101). Conveniently, it's just around the corner from the 6th Avenue S. Parking garage and has a great parking lot to meet your Uber.
More importantly, the Social has a cozy patio outside which is a great place to wind down and enjoy their delicious cocktails.
A Long Good Morning
Who says a Valentine's Day date has to take place in the evening (or perhaps the date went to so good you want to carry on into Thursday?…. Good for you!) Whatever the reason for your morning date, here is how we would spend a morning date in Naples.
There are quite a few really, really good breakfast places in Naples. But many of those are a little bit more on the greasy spoon side and not quite Valentine's Day material. For an excellent Valentine's Day breakfast date (that still serves tasty food), you can't beat the courtyard at Jane's Cafe (1209 3rd St S).
Their menu features classic breakfast favorites like Eggs Benedict (and also quite a few healthier choices), but my absolute favorite is their fruity, homemade lemonade – teaming with fresh pieces of fruit.
While it's easy to linger and have a few more of those delicious lemonades, it's time to work off some of those calories. Third Avenue South tends to be a bit quiet during weekday mornings, but there are still plenty of things to see. Small shops invite you to spend your hard earned money and you can still see a few of the old historical Naples buildings. This area of old town was the site of some of the original developments of Naples and one of the few areas where you can still see what remains of those days.
The famous Naples pier (which is only open halfway right now as it undergoes repairs from Hurricane Irma) is also only a few steps away. There are great views from the pier and chances are good to spot a dolphin or two frolicking around the pilings, pissing off the fishermen by scaring away the fish.
After all that strolling, head over to Barbatella (1290 Third Street South) to cool yourself down. They serve over 16 amazing flavors of Gelato, which they will also make into a killer sundae for you, and other Italian delights.
An Afternoon Affair
Prefer another daytime Valentine's Day date idea? This time, let's go a bit more off the beaten path along Bayshore Boulevard. Not really known to be the romantic corner of town, there are some gems here that make for a beautiful, romantic, relaxing afternoon.
Start your date with lunch on the patio at Three60 Market (2891 Bayview Dr). They serve a lot of great things, but you can't miss the homemade pasta. If you are looking to booze it up, this is the place to do it. The "deal" for Three60 is that they will sell you any bottle of wine in their collection (which is constantly growing) at their cost, plus $3.60. You can also drink your own bottle of wine along with lunch for a corkage fee of $5.00.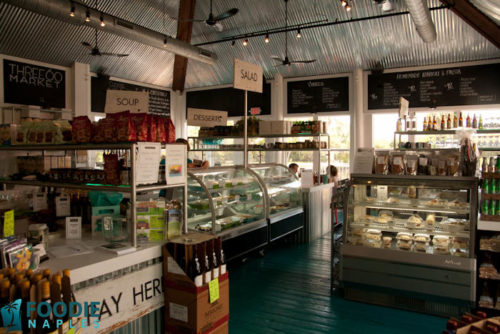 After lunch, head on down Bayshore a few blocks to the Naples Botanical Garden (4820 Bayshore Dr.) where you will find 170 acres of cultivated gardens nestled within the city. The garden is constantly changing their exhibits and features not only artists but also fun installations like Dinos in the Garden and Lego sculptures at various times of the year. You'll want to spend several hours just exploring the various types of gardens, including Japanese gardens, orchids, roses, water plants and a children's garden.
Once you're done strolling through the garden, head back up Bayshore Drive for some libations at The Real Macaw (3275 Bayshore Dr.) This fun and funky Caribbean-inspired restaurant has been a Naples staple for decades. There's a fun outdoor bar where they start the day off with happy hour from 3 – 6 pm and often have live music. And if you've worked up an appetite, they also serve excellent food in the dining room.
Romance at Home
Not brave enough to deal with the crowds during Season or not here in Naples? Do what we have planned for Valentine's Day and stay home. (To tell you a secret, we are not really big on Valentine's Day anyway…we love each other all the time. *Cue the sappy music). But just because you are staying at home doesn't mean you need to just Netflix and chill in footie pajamas (no we do not own any of those) with delivery pizza.
How about using the opportunity to cook a nice meal and enjoy some of your favorite beverages all in the comfort of your own home?
While Naples has tons of shopping opportunities at every corner, if you want dinner to include some of the best ingredients, you have to visit Oakes Farms Market (2205 Davis Blvd.) They carry everything from Fresh Produce to Meat (with their own butcher shop) and Fresh Seafood. Really it operates like a classic country grocery store. While there, you should be able to find everything you need for a wonderful date night at home.
While we all have our favorites to cook at home for special occasions here, is some inspiration from some of our absolute favorites. How about starting your night with steamed mussels in white wine and tomato as an appetizer (the recipe is super simple and quick) and following up with a classic Osso Bucco (Italian Veal Shanks) and Risotto Milanese. For a killer pairing, a nice Amarone red wine will kiss your taste buds during dinner.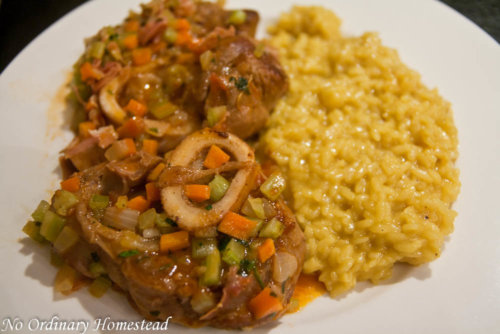 So now you have my suggestions — are you going to try any of these? Or what do you like to do for Valentine's Day? Leave your best ideas in the comments below.