Osso bucco (aka ossobuchi or occobuco) is a Milanese specialty of cross-cut veal shanks braised with vegetables, white wine and broth. The first time Stefan made it for me was a little over a year ago and I was instantly in love with it. I'm very blessed to have a husband who loves to cook…especially on weekend date nights when he can show off some of his skills and get a bit crazy behind the stove. He's quite the culinary expert!
Despite the fancy name and it's high-class reputation, I find Osso bucco to be remarkably comforting to eat and a wonderful meal for cooler nights. It is also absolutely heaven when accompanied with a delicious Amarone red wine. They don't come cheap, but if you get a decent one, you will not regret it. Even if you aren't much of a red wine drinker — it's just the perfect wine for osso buco.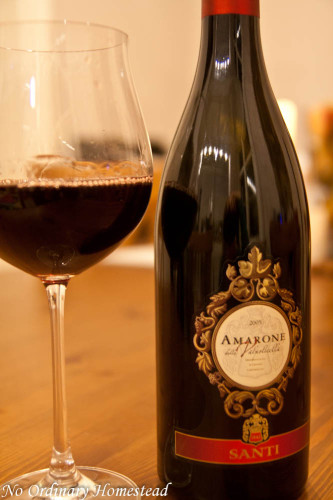 A little bit about Osso Bucco
Literally translated, Ossobuco is Italian for "bone with a hole" (osso bone, buco hole), a reference to the marrow hole at the center of the cross-cut veal shank. There are two types of ossobuco: a modern version that has tomatoes, carrots, celery and onions, and the original version which does not. The older version, ossobuco in bianco, is flavored with cinnamon, bay leaf and an herb mixture called gremolata (the latter is optional). Today I'm going to show you how to cook the modern version.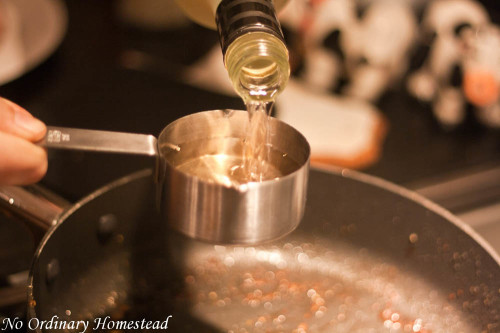 This dish's primary ingredient, veal shank, is common, relatively cheap and flavorful. Although often known to be tough, braising the shank makes it very tender. And when you're done cooking, the meat should just fall from the bone. The cut traditionally used Osso Bucco comes from the top of the thigh which has a higher proportion of bone to meat than other meaty cuts of beef. The shank is then cross-cut into sections about 1 1/2-2 inches thick.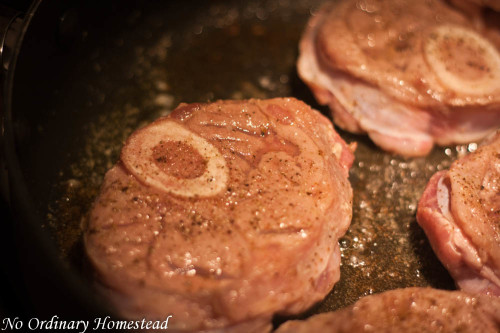 As I sit here typing this, I realize it's been far too long since we last had this dish. And it's one of those special things that my husband loves to cook to show off his creativity in the kitchen. Men, trust me — this recipe will make your women swoon. It's not as difficult as you might think, it doesn't take too many extra steps or hands, and it tastes incredible!
[amd-zlrecipe-recipe:54]
Have you ever had Osso Bucco? Did you make it yourself or were you at a restaurant?