The berry season is winding down here and I happened to pick up some really gorgeous late season strawberries last week, which have now just been sitting in our fridge because my plans to make something with them over the weekend didn't pan out. So I decided to make them into sorbet, as I did a few weeks ago with very tasty results.
This recipe makes a sweet berry sorbet with a bit of a punch (depending on the amount of sugar you use and the tartness of your limes. It's a great summer sorbet, and we really enjoyed it in combination with freshly canned peaches as dessert, but you could combine it with all sorts of other berries or fruits.
I love this sorbet because it's just so incredibly easy to make, yet so delicious. And people seem to think you've gone out of your way to make something difficult despite this being so simple (especially thanks to an electric ice cream machine!)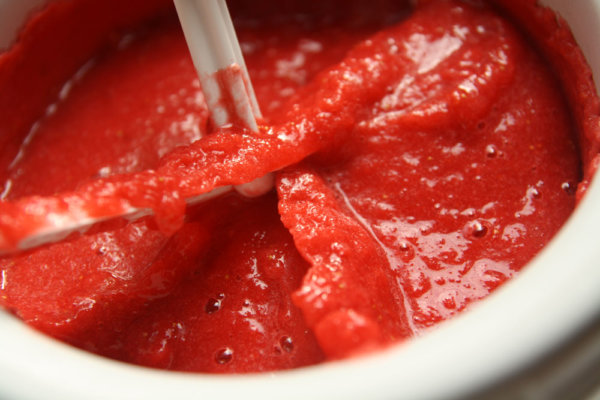 | | |
| --- | --- |
| | |
Combine berries, lime juice, sugar and vodka in an electric mixer and puree until smooth and sugar is dissolved.

Refrigerate mixture overnight for best results, or until mixture is no more than 40 degrees.

Pour mixture into bowl of an ice cream machine and follow the directions for your particular machine (probably around 20 minutes to freeze already cold mixture).

Scoop sorbet into a container and freeze for several hours to allow mixture to become firm.
0