It's gotten to be that time of year here when I'm going through the pantry and trying to use up many of the things which have been stuck in the corner for a long while. One of those items in our own home tends to be rye flour — a castaway from the best intentions of my desire to learn how to bake "real" German-style bread in my own kitchen. While my interest in achieving that goal waned with our move to the city, I am still trying to do some baking every few weeks (less so in the last two weeks since it was quite warm in our kitchen in the afternoons) and an all time favorite around here is zucchini bread.
I've made a modified zucchini bread in the past with fresh blueberries and nutmeg in it (which was SO tasty) and added a bit of whole wheat flour…but I never really experimented much with heavier grains like rye until recently. With the shredded zucchini already thawed and sitting on the kitchen counter, it was time to get adventurous. So I located a recipe on the Shakefork Community Farm website that intrigued me, and went about modifying it until it matched what we actually had available at home.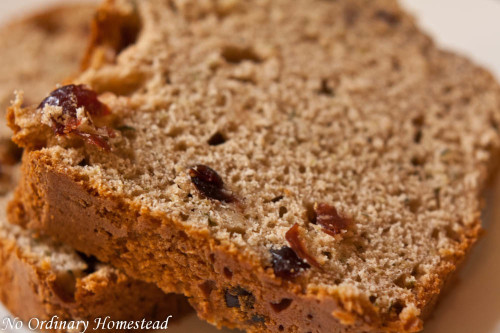 The result was a delicious, heavy, hearty rye zucchini bread with dried cranberries in it. The cranberries plumped up in the bread and absorbed a bit of moisture, and the bread itself is very different than our usual zucchini bread. But a bit to my surprise, everyone in the house really seemed to love it. My favorite way of enjoying this bread was lightly toasting it and then adding a thin layer of butter. I always loved to eat cinnamon-raisin bread this way, and the flavors are very similar in this bread.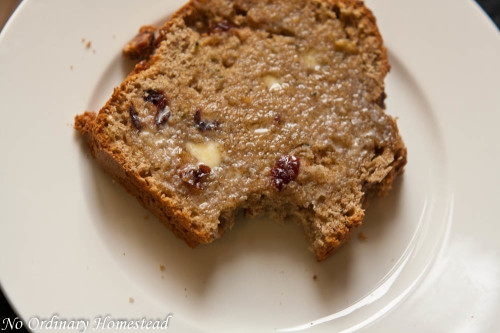 If you are looking for a hearty breakfast bread recipe that will fill you up with one slice, I highly recommend this bread. I plan to make some more in the coming week because I like that there's a lot less fat and sugar in this version, plus it just tastes good. If you have nuts, you can also throw in about 1/2 cup of nuts. I'm probably going to be adding about a cup of dried cranberries on our second batch of this bread since I found them a bit scarce the first time around.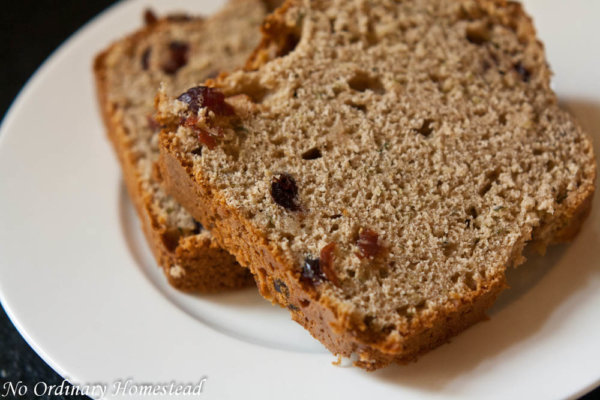 | | |
| --- | --- |
| | |
Preheat the oven to 350˚ F. Lightly butter a 9x5-inch loaf pan.

Whisk together flours, sugar, baking powder, salt and nutmeg in a large bowl. Whisk eggs, milk and oil in a small bowl or large mixing cup. Stir wet mixture into dry ingredients until everything is evenly moistened. Add zucchini and dried cranberries and stir until combined.

Pour batter into the prepared pan. Bake for 1 hour. Test for doneness with a toothpick -- if anything sticks to it, bake another 5 minutes and retest.

Remove bread from oven and let cool in pan for 15 minutes. Remove from pan and let finish cooling on rack.