Although we've had some weather that was hotter than Hades here in the Midwest, I have been going through my closet a bit and was reminded of a few super cute items which I received back before the world stopped (aka Pre-COVID). Unfortunately, I lost them in the depths of my closet during a cleaning frenzy and never got a moment to talk about them. It was horribly rude of me! So here goes and I hope you enjoy the peek into my closet.
Introducing Femme Luxe
At the beginning of the year, I was selected to try and review a few items from the online fashion brand Femme Luxe out of Europe and I was intrigued with the selections they had to offer which are flirty and fun…and may push the envelope for many moms who don't dress quite so revealing.
You may not have heard of this brand yet as it hasn't done much marketing in the United States. But if you are looking for sexy, sassy fashion, I would definitely take a look. Their items are not what you'll typically find in stores here, which is what I like. I really enjoy the European cuts of clothing after living there for more than a decade, and it's not something you always find on the racks in the United States. I also find their pricing is very fair, especially for the nice quality of the clothes you'll receive.
My Selections
I'm always looking for selections that are multi-purpose and can be used for business as well as casual events. When I made my selections a few months, it was quite cold outside still, so I went for a few winter dresses to help balance out my wardrobe. Going from Florida to the Midwest, my warm attire was seriously lacking. I even had to buy more closed-toed shoes as my array of sandals and flip-flops wasn't doing the trick.
But what does wear in the cold winters anyway without looking like you're wearing a potato sack or sweatpants? A couple of the sweater-style dresses caught my eye because honestly with legs as long as mine, I tend to stay away from pants if I can't try them on or see exactly what their inseam measurements are. It's difficult to find a 33-34 inch inseam that will fit my legs (*tall girl's problems*) and although Femme Luxe was offering some very cute pants, I was fairly sure they'd end up looking like capris or high-waters on me.
There were many options to choose from and their website gives you lots of filters and categories to guide you through your quest for something fabulous to wear. In the end, I went for the Ribbed V Neck Midi Jumper Dress in two different colors (Stone and Black). And although it's perhaps a bit more form-fitting than I might wear to most events, it's a very nice looking dress and has a certain understated sexiness to it that makes it great for my next date night outfit.
These dresses could be styled up with a nice necklace, scarf, or belt as well, depending on the occasion. I also preferred to wear mine with sandals as the weather favored them, but you have many other shoe options to explore as well, even cowboy boots.
Both the front and the back have a deep-V swoop which can make keeping your bra straps hidden tricky at times – nothing a little double stick tape wouldn't fix.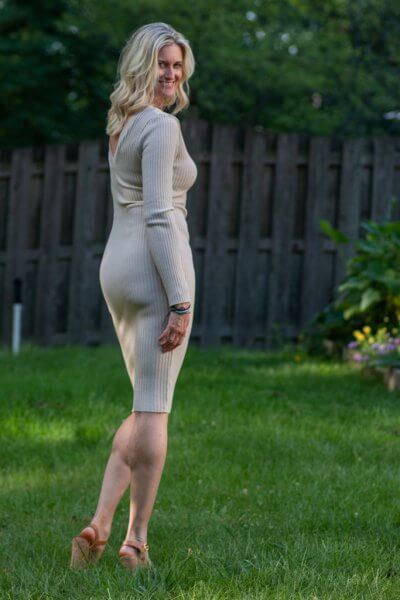 I also selected a Black Utility Mini Shirt Dress which really is more shirt than dress — at least on my body. Coupled with a pair of dressy shorts I have from Express, it makes a good summer outfit for work or beyond. Or you can also pair it with white pants and low black boots for a warmer approach. The fabric of the shirt/dress is thick and hangs well on the body. I also really like the cinch seatbelt-like belt which came with it which is a very fun accessory.
The next time you are looking for something to make you feel all woman and incredibly sexy, be sure to browse the Femme Luxe website. They have lots of high-quality selections at reasonable prices. Their customer service is also very helpful and responsive which is always important when shopping online.