We've bought quite a few cookbooks in the nearly 8 years we've been together…but few have gotten as much use as this one: The Harley Biker's Cookbook: Big Bites for Hungry Bikers!
If you think you can shovel away some food, this is a great cookbook for you because the portions are biker sized…and most of them are also quite spicy! You'll never hear us complaining but I'm sure it might be an issue for some. This book is no longer in print but I'm sure you could track down a copy somewhere online…we happened to find this one by accident in an outlet mall bookstore!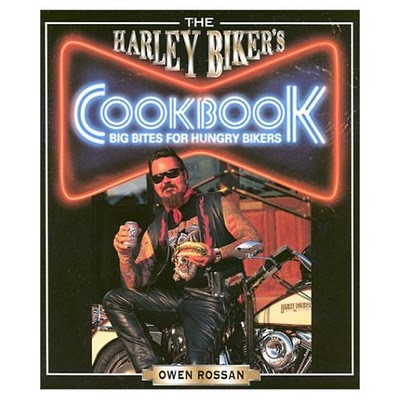 Since I'm pitching the cookbook so much already, I'll mention a few of our favorite recipes: Bad Boy Beef Tacos (these are out of this world!!), Torque Master Meatloaf (just serve with mashed potatoes and LOTS of ketchup cause this meatloaf is a spicy one and loaded with all sorts of yummy stuff – but no bread!) and last but not least, Lone Star BBQ Spareribs.
I'm going to indulge you with the spareribs recipe (at the risk of being shut down by the author and publisher of this book) but it's just too good not to share…and if you're lucky I'll also share my new coleslaw recipe next which I made for the first time to accompany these ribs (along with some fries that were also totally awesome which I'll have to share about) but those will have to be in another post!
The original recipe suggests cooking the ribs in the oven but that's just not proper in our house! Ribs have to be done on the grill or in a smoker…they're just not ribs otherwise! 😉
Cut all fat off the ribs and make a 1-inch cut between each rib at both ends. Sprinkle lightly with salt.

Heat gently all sauce ingredients for about 30 minutes, stirring occasionally. Do not let boil.

Cook ribs slowly over charcoal for about an hour. If you've got really meaty ribs, it can take up to two hours or more.

Serve ribs with any extra sauce, French fries, coleslaw and lots of cold beer.
0