There are few German foods that I find more heavenly than stewed red cabbage. I don't know what it is exactly but I could seriously eat my weight in the stuff. I know I've mentioned it before, but I mean it. To be honest, it seems to be something about shredded cabbage in general that I love. Cole slaw, German red cabbage, sauerkraut…I pretty much like it all. No, I swear I'm not pregnant — I just love me some well cooked or marinated cabbage.
If you're going to make stewed German red cabbage from scratch, you should make it a day in advance. The red cabbage really needs time to cook down and soften…otherwise it's just not going to taste the same. Once you've cooked it, just put it into the fridge overnight. If your pot is cool enough, you can put the whole thing in the fridge which will save you from dirtying more dishes and pots. Before you begin cooking your Schweinebraten (or whatever else you are making), take the red cabbage out of the fridge and warm it up slowly on the stove.
When you're rushed for time, you can also use the canned red cabbage (do they have that in the US?) and just add the apples, cloves, bay leaves and pepper. Also make sure to start it several hours in advance to allow it to really soak in all the flavors.
Now in case you're wondering, in Bavaria and southern Germany, red cabbage (cooked or growing in your garden) is called Blaukraut — which actually means "blue cabbage." And in Austria and central Germany (like Frankfurt), it's called Rotkraut (red cabbage). But in northern Germany (Hamburg, Berlin), they call it Rotkohl. That also means red cabbage. Confused yet? Cabbage is usually called Kopfkohl (head cabbage) but there are many dialects in Germany and in the North, people call it "Kohl" while those in the south called it "Kraut." As for why it's referred to as red or blue in various places, it is believed that that there was no word to describe the color purple (lila) until the 18th century so people had to make a decision whether they would call the cabbage blue or red. In addition, depending on where the recipe comes from, the resulting stewed red cabbage could end up being red or purple in color. In the north, they added vinegar or wine to the recipe which gave it a redder color — hence Rotkohl. In the south, they added sugar and other alkaline ingredients that gave it a more blue or purple color.
Warning: Your house is going to smell so good while you cook this red cabbage and the other parts of your meal that you and all family members may go insane with hunger!

Coming up on Thursday: the surprisingly easy bread dumplings that will rounded out this deliciously killer meal! By the way, you can serve red cabbage with many things besides Schweinebraten. It's also great with Sauerbraten, duck, goose or venison.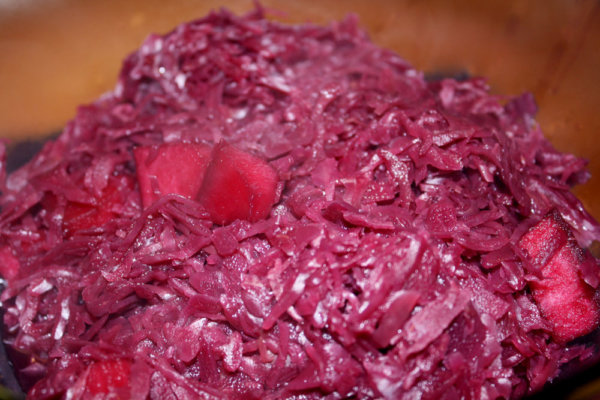 | | |
| --- | --- |
| | |
Wash red cabbage, cut into quarters and cut out the hard stalk. Cut cabbage into thin strips, put into a bowl and add salt. Mix well with your hands.

Add re-solidified butter to a pot and melt at medium heat. Add onions and apples and lightly steam. Add vinegar and red cabbage. Cook at medium-heat for 7 minutes.

Add wine, stock, cloves, bay leaves, sugar and pepper, mixing in completely. Reduce temperature to low and let stew for at least 45 minutes.
0