With fall approaching in so many places (we're even supposed to get a cool front here in South Florida — which for us means a low of 68 and a high of 84), I have been missing the seasons just a bit. Although when I walk outside and see a glorious sunset or think about the fact that we're going to head to the beach tonight with friends to let the kids build sandcastles while we watch the sun sink behind the horizon, I know we're fully blessed and just where we should be.
But even in our neck of the woods where it sometimes seems that the seasons never change, we do actually get different types of produce. So when I saw a butternut squash peeking up at me in the produce section of Publix a few days ago, I knew I had to grab it.
I first created this recipe out of demand (and by combining a few recipes I found online) because I could not resist buying a butternut squash for Thanksgiving one year, way back in 2012. I knew it would make a nice addition to our table as far as looks go, but I had never actually eaten one. And when I finally did try this squash, I was hooked.
The nutty yet sweet and pumpkin-like flavor of fresh butternut squash cannot be compared to anything else. In fact, when I was cutting my squash yesterday, I was amazed again at the deliciously sweet smell, almost like a watermelon.
Butternut squash is rather versatile, especially when you make a soup like this. Just by adding a few different spices or proteins, you can have a completely new soup experience every time. Unless you're in our house…and we just make this particular recipe over and over because it's SO GOOD!
About This Recipe
This Spicy Thai Butternut Squash Soup has a nice kick to it, but if you end up with something a bit too spicy for your liking, you can add a bit more cream or even sour cream to the finished product to make it milder. I'm always really apprehensive about making soups around my husband because he's typically not a fan, but he absolutely loved this. And the shrimp is an awesome complimenting flavor that gives you a nice protein boost…especially if you're getting it fresh from the Gulf which we now have the pleasure of doing. I know, we're totally spoiled!
The basis of this soup is roasted butternut squash which is really simple to do as long as you have a good knife.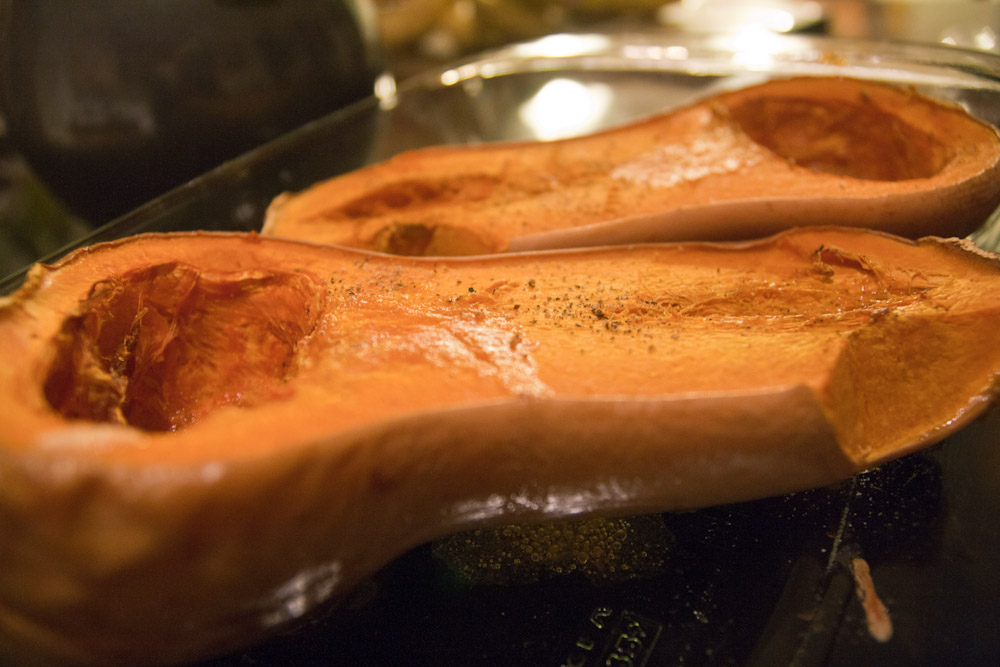 Other useful tools for this recipe are a puree stick, blender or food processor because you're going to want to create a uniform soup consistency instead of a stew.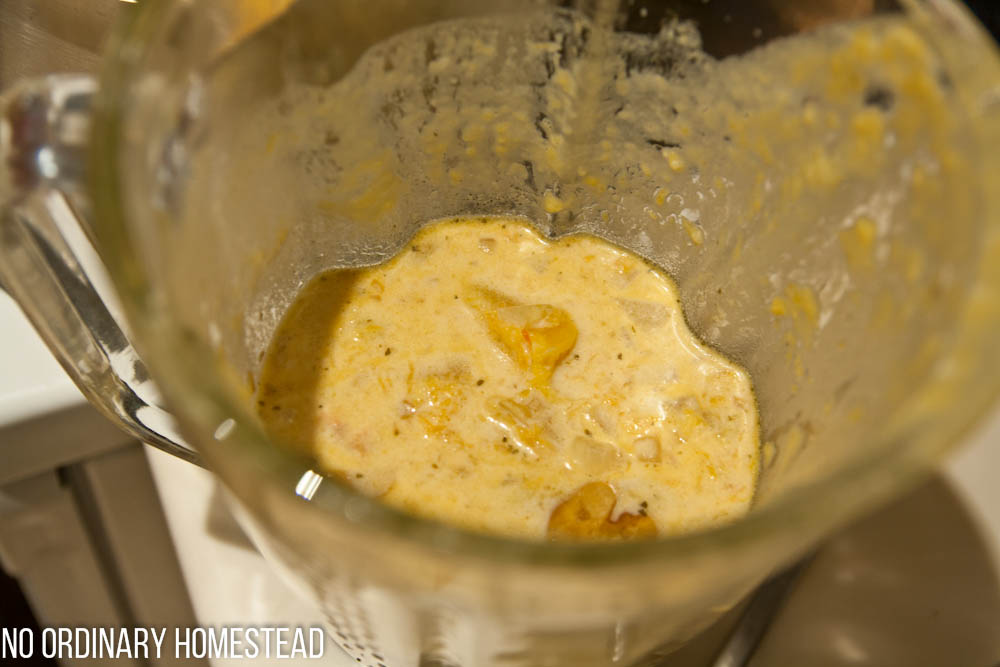 Butternut squash recipes are generally quite low-carb friendly, with this particular squash having about half the carbs of potatoes. In fact, this soup reminds me a lot of potato soup although butternut squash has a slightly sweeter taste to start off. So if you want to omit the cream and use more coconut milk or almond milk, you can do that too.
Hope you enjoy the recipe. And tell me — what are your favorite butternut squash recipes??

| | |
| --- | --- |
| | |
Split the squash in half with a large knife, add a few dashes of salt & pepper and put 1/2 tablespoon butter on top of each half or in the seed hull. Roast 1-1 1/2 hours at 360°F (180°C), flesh side up. When you can easily stick a fork into the center of the squash, it is finished. If you end up with any liquids that have collected in your pan, pour them into your soup pot before cutting so you don't lose the liquid.

Let cool, then chop squash into 1/2-1" cubes. Set aside.

Melt 1 tablespoon butter in a large pot over medium heat. Stir in the onion, cooking and stirring until the onion has softened and turned translucent, about 7 minutes. Add the ginger and jalapeno pepper, cooking about 2 minutes until fragrant. Add the butternut squash and chicken broth and bring to a boil over high heat. Reduce heat to medium-low.

Stir in evaporated milk, coconut milk, sugar, salt and pepper. Cook and stir 5 minutes more.

In a separate pan, add 1-2 tablespoons butter or olive oil and bring to medium heat. Add shrimp and saute until opaque.

Now it's time to puree the soup. I used a stick blender stuck right into the pot, pureeing for a few minutes then checking for lumps. Puree again if needed. Or you can pour the soup into a blender or food processor, filling the pitcher no more than halfway full. Hold down the lid of the blender (use something to keep your hand from burning like a pot holder or folded towel since the soup is hot), and carefully start the blender, using a few quick pulses to get the soup moving before leaving it on to puree. Puree in batches until smooth, and pour into a clean pot or container -- or ladle directly into bowls.

Serve with crunchy toasted bread if desired.
0