Have you ever made a dish for the first time and knew immediately that it was going to be a recipe that was with you for the rest of your life?
For us, the following is one such recipe.
I think the first time we made this, it was 2001. We were in our first purchased kitchen here in Germany (since Germans take their kitchens with them when they move) and we were so thrilled to finally be cooking in a real kitchen instead of just eating take out…and using our bathroom since as a cooler to keep drinks cold.
From the moment we popped the first bite of beef into our mouths, we were hooked.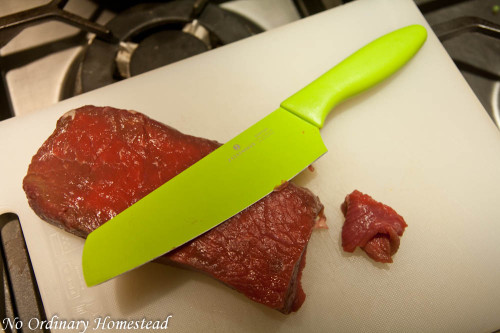 Although we've probably eaten this at least 100 times in the last 11 years, this super easy stir fry recipe never gets old. Somehow, even if you use exactly the same amounts of ingredients every time, it always tastes just a little bit different. And some might find that annoying — but we find it delicious. Needless to say, it has been many years since we actually followed a recipe to make szechuan beef, and of course our balance of things always differs a little. But we have literally made it two night in a row, exactly the same way, and it didn't taste the same at all.
And the beauty of it is that it takes no time at all to prepare. If you like, you can cut and marinate the beef ahead of time. But it really only needs to sit for a few minutes to really get the flavors.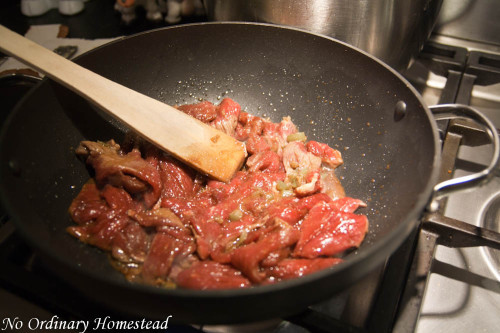 It's also great because we always have these ingredients on hand, although we rarely use the sake and roasted sesame oil for anything else. But this recipe is worth picking up those two items for just this recipe. Trust me, you're going to want to make it again.
Any cheap sake will do. Actually, a white wine will work as well if you don't have any sake. But don't make the mistake of getting plain sesame oil — it's just not going to do this recipe justice. And the flavor of it will highly influence the outcome of the meal, so go for a mid-priced oil or better if you have a choice.
If you like to cook by feeling (or are trying to learn how), try to remember to keep the mounds of jalapeños and garlic that you add to the dish about equal. Everything else goes in dashes, and the sugar at the end is basically a pinch or two.
Also don't forget to start the rice before you start cooking. The szechuan beef only needs a few minutes to actually cook — while your rice will need at least 10 minutes. So you want to make sure that's going before you get too far along with everything else.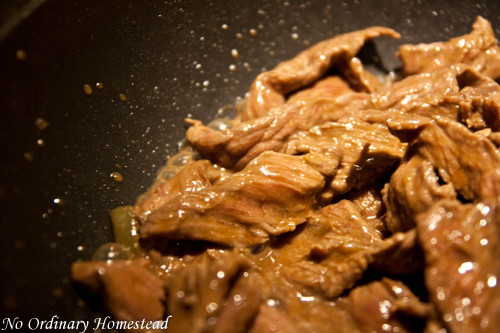 Quick & Easy Szechuan Beef
A spicy, quick and delicious meal that always comes out different and leaves you wanting more!
Ingredients
1 pound flank steak, rump steak or filet tips, sliced very thinly
1 tablespoon soy sauce
1 teaspoon sake
2 teaspoons cornstarch
4 tablespoons vegetable oil
1 tablespoon fresh garlic, thinly sliced (about 3 medium-large cloves)
1 whole jalapeño pepper (or about 1 tablespoon of slices), chopped
1/2 teaspoon salt
1/2 teaspoon sugar
1/4 teaspoon black pepper
1/2 teaspoon roasted sesame oil
Instructions
Mix the sliced beef with soy sauce, cooking wine, and cornstarch and set aside.
Heat the wok and vegetable oil. Stir-fry garlic and jalapeño pepper until fragrant, about 1 minute. Add beef and sauce ingredients (salt, sugar, black pepper and sesame oil) and stir-fry over high heat just until the beef is no longer pink on the outside, about 2 to 3 minutes.
Serve with steamed rice.
Notes
You can also add sliced carrots, bell pepper and onions for a more diverse meal. To make it easier to slice the beef really thin, freeze it for about 30 minutes, or if you're thawing it out, slice it before it's completely thawed.
http://www.noordinaryhomestead.com/easy-szechuan-beef-recipe/