As you may recall, we are huge fans of zucchini bread in this house and I make a couple loaves almost every week. Now that Stefan is back at work and I want him to have something in his belly every morning, I'm back to baking. But I was feeling a bit bored with the usual zucchini bread and had a bunch of blueberries in the fridge to use up…and so this recipe was born.
I basically just took my original recipe and modified it according to what I actually had in the kitchen. For reasons beyond my comprehension, I actually didn't have any cinnamon at home so I threw in a bit of nutmeg instead.
I make this bread in my KitchenAid and just hand mix the dry stuff first in a large bowl, then throw the eggs, sugar and so on into the KitchenAid bowl. Mix with your flat beater attachment at speed 2 for about a minute and slowly add in the dry mixture after that. Once it gets towards the end of the process, you may need to turn it up to level 3. Then I always stop the mixer and scrape the sides and bottom of the bowl to make sure all the flour mixture is combined in. Then you're ready to throw in the zucchini. Mix again at level 2 until everything is combined well and fold in the blueberries by hand at the end.
This turned out to be some of the moistest, most delicious breakfast bread I've ever eaten…and it's been a pleasure to devour a slice of this every morning. And because I used fresh blueberries instead of frozen (this was actually the first time I've ever made baked with fresh blueberries) my bread remained white instead of turning blue!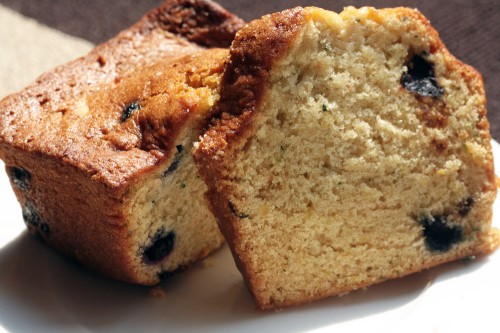 | | |
| --- | --- |
| | |
Grease and flour two 8 x 4 inch pans. Preheat oven to 325 degrees F (165 degrees C).

Mix flour, salt, baking powder, baking soda, and nutmeg together in a medium bowl.

Beat eggs, oil, vanilla, and sugar together in a large bowl. Slowly add flour mixture to the creamed mixture, mixing it in thoroughly as you go.

Stir in zucchini until well combined. Fold in blueberries. Pour batter into prepared pans.

Bake 45- 60 minutes, or until tester inserted in the center comes out clean. Cool in pan on rack for 10 minutes. Remove bread from pan, and completely cool.
If you enjoyed this recipe, be sure to visit A Southern Fairytale for The Best Chocolate Chip Cookies Ever and more Mouthwatering Monday recipes.
0