On one of the homesteading groups I subscribe to, a member was just sending this recipe around. If you are addicted to Stove Top Stuffing but would rather try something from scratch, here are a few recipes to make your own.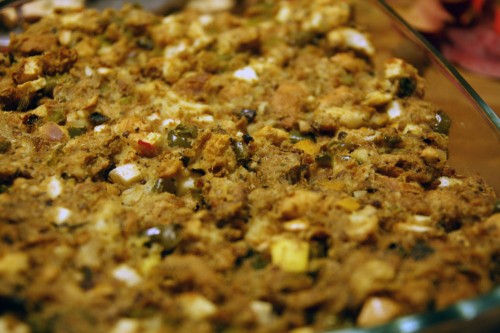 | | |
| --- | --- |
| | |
If desired, mix the Seasoning Mix ingredients together and store for up to 6 months. Label with date and contents. Store in a cool, dry place.

To make the stuffing, in a medium saucepan, combine water, butter or margarine and Stuffing Seasoning Mix. Bring to a boil over medium high heat.

Reduce the heat to medium, simmer for about 5 minutes. Stir in the bread cubes. Cook for 1 to 2 minutes until the liquid is absorbed, stirring constantly.

Cover; remove from heat. Let stand for 5 minutes before serving.
Whole Wheat Stuffing: Substitute 2 cups partially dried whole wheat bread pieces for half of the bread cubes. Cornbread Stuffing: Use 3 cups crumbled cornbread for bread cubes. Nut Stuffing: Add 1/4 cup walnuts or diced water chestnuts.