I first heard about clay pots and Römertopfs several years ago. A friend was talking about how simple and easy they are to cook in. And that it takes virtually no time to make a meal. Plus, you can rarely go wrong, no matter what you throw into it. So naturally I was intrigued. A magic pot that you can throw random ingredients into (within reason) and expect a delicious meal to come out of it, with barely a need to make other side dishes. Seems too good to be true.
Over the years, I managed to pick up a Romertopf as blogger swag — and the previous owners of the farmhouse "gave" us one too. As luck would have it, mine was suitable to feed a family of four — and the other I inherited (in the photo below) is a very tradition model, which will hold enough food for a 6- or 8-person meal. Naturally, I knew I needed them both. I know, not very William Morris minded of me. But they are just too awesome.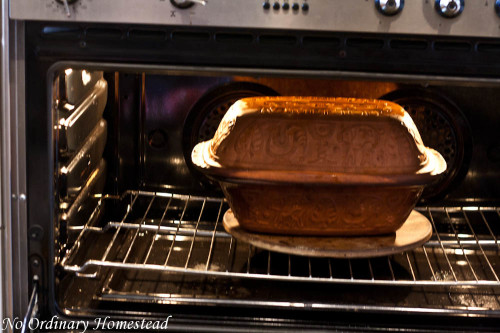 In fact, last week, I decided to go on a mission to find some clay pot recipes since I can not always make the same beer poached salmon. I mean sure it's delicious and our fish counter at the market is insanely good, but we need a change from time to time. So last weekend, I threw together a beer roasted chicken that just fell off the bone. In fact, Mackenzie liked it so much that she asked for seconds…and fourths. I have no idea how one little girl can fit so much chicken inside of her at once. But I can recall often being told I had a "hollow leg" when I was growing up — so it's really no wonder. Some days, she eats so much I think she must be planning to grow a centimeter by the next morning.
Anywho, back to the food!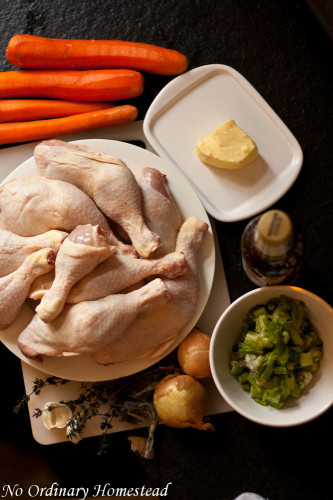 The beauty of a Römertopf or clay pot is the simplicity. Just throw a few pure ingredients like chicken, onions, celery, thyme, sage, salt and pepper together (classics that always taste great together) and you're good to go. Oh, and of course, don't forget the beer!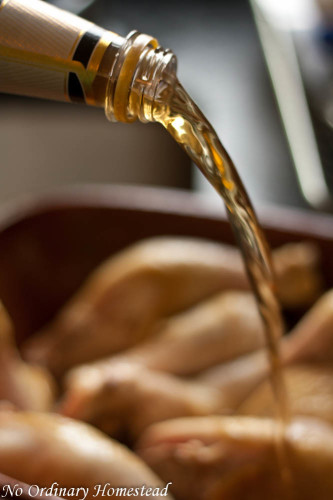 And a Romertopf is especially nice because you don't need to remember to preheat the oven…or wasting electricity. But you do have to remember to soak the pot! 😉 And you also don't need to worry about filling up the pot with too many liquids because there will be a lot of steaming going on as well. Which reminds me — be extra careful when you open the lid because you are going to encounter a serious steam burn if you're not careful!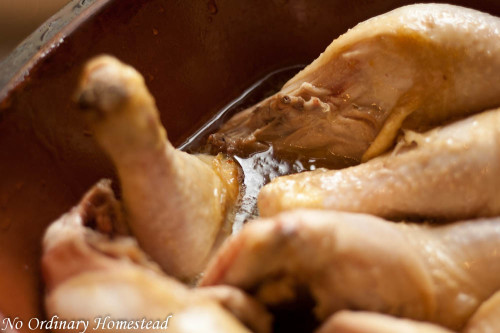 I use many of the ingredients just for their flavor. But the carrots we actually eat along with the chicken. It never ceases to amaze me that you can cook them for 2 hours in the Römertopf and they come out perfectly cooked. I mean really, what is with that??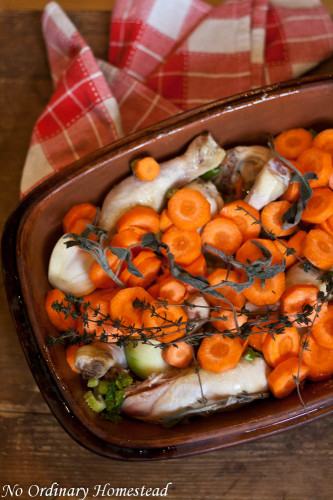 Cooking in the Römertopf is quickly becoming one of my favorite ways to treat the family on a Sunday. And the lovely thing is that we're getting really creative when it comes to using up chicken leftovers. So far, we've made wraps and pasta, and both were very delicious but worlds apart in flavor. Gotta love cooking in bulk — and don't worry, those recipes are already in the works! 😉
I know, I know; I sound like a commercial. But if you've tried one, I'm sure you love it. And if you haven't, I know you're going to just fall in love when you do with the tender, juicy food it creates! So go track one down and try this recipe. 😉
Gotta love cooking in bulk — and don't worry, those recipes are already in the works! ":
In order to cook the juiciest chicken, check out this guide from the unclutterer on the best sous vides that will help you to choose the perfect one for your needs.
| | |
| --- | --- |
| | |
Soak Römertopf for 15+ minutes in water. Prep veggies. Empty out water.

Put butter in bottom of Römertopf.

Brown chicken on both sides for a few minutes until light golden, then place into the clay pot. Reserve the browning pan to make gravy in later.

Add bottle of beer, garlic, onions, celery, carrots and spices. Stick some into the beer, and pile the rest up on top of the chicken.

Place the lid on top and put the entire thing into the oven. Turn on oven to 365°F (180°C). Roast for 1 1/2 - 2 hours (or until the smell is too entoxicating and you just have to eat it already!)

Spoon out juices and place into browning pan. Heat to high heat and thicken. (Use 1:1 tablespoon cornstarch & water mixed well together to speed the process, and when adding to pan, stir until thickened.) Add salt, pepper and other spices to taste (garlic, garlic pepper, thyme, etc).

Serve with white rice, carrots from the Römertopf and other veggies of choice like asparagus or green beans.