This summer, while we were on vacation with friends in that lovely little house in Key West, we all took turns cooking dinner. One day, we had a LOT of leftover sirloin…so we decided to make sandwiches from it. Luke, one of our friends, insisted that we must have "au jus" with the sandwiches to turn them into a feast. I apparently had been living under a rock, because I had never had a steak sandwich with au jus…
Boy was I missing out!
It quickly became a favorite in our home and if you happen to find yourself with leftover steak, this is one of our favorite go-to steak recipes. in fact, we often cook extra steak just to have these sandwiches for lunch or dinner the next day. Delicious!
The type of broth you use will directly influence the flavor of your au jus – so don't be stingy. Also keep in mind that if you heavily season your steaks (and we usually do) many of those spices will also be released into your au jus as you warm the beef. Make sure you taste it before serving for final tweaks.
We've also found that to accentuate a sandwich, you may want to saute fresh vegetables. Or if you have some leftover from grilling, throw those in as well.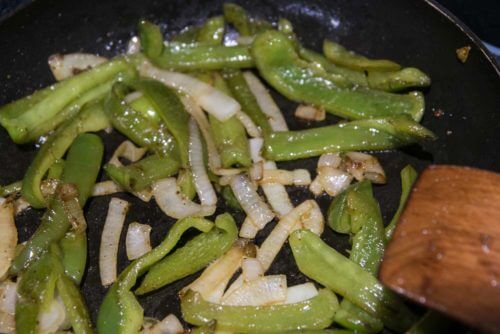 To flatten the sandwiches a bit and keep them from becoming mouth splitters, I once learned a helpful tip while making meatball sandwiches. The recipe suggested removing some of the inner soft bread-part of the roll to make a trench for the meatballs and create a more compact sandwich. Since then, I have started doing that for more and more sandwiches, but make sure you don't pull too much out of the bottom if you have a juicy sandwich to avoid blowouts.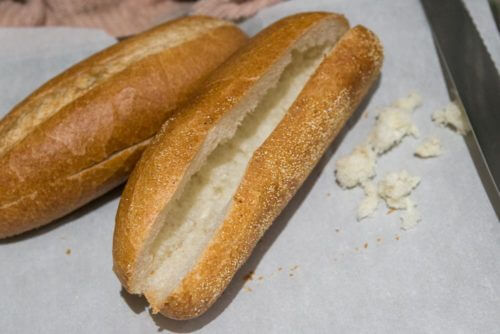 I like to use everything in the kitchen, especially when it's food. Instead of tossing or immediately eating the bread you remove, I repurpose it. Toast it in the oven with your rolls and then crush it up to use as bread crumbs.
Or if you have a big dog in our house, give in to the sad looks. Ours is always willing to meet new foods and gobble them down for us.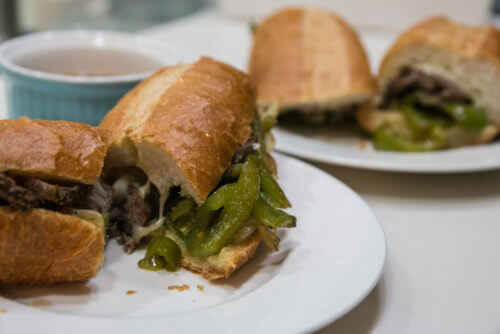 These sandwiches are easy and filling, and you can prepare the au jus and leave the steak warming in it for several hours on the stove if needed.  I hope you enjoy making and eating them!

| | |
| --- | --- |
| | |
Melt grease and butter a small pot over medium-high heat.

Whisk flour into grease; cook, whisking constantly, until the mixture thickens, about 3 minutes.

Pour beef broth into grease mixture; increase heat to high and bring mixture to a boil.

Boil mixture until it thickens slightly; season with salt and pepper to taste.

Melt tablespoon of butter in small skillet at high heat. Add onions and bell peppers. Saute until tender. Can also add mushrooms if you like.

Reduce heat to medium and add sliced beef. Warm until heated through. Lightly toast buns while warming beef.
10